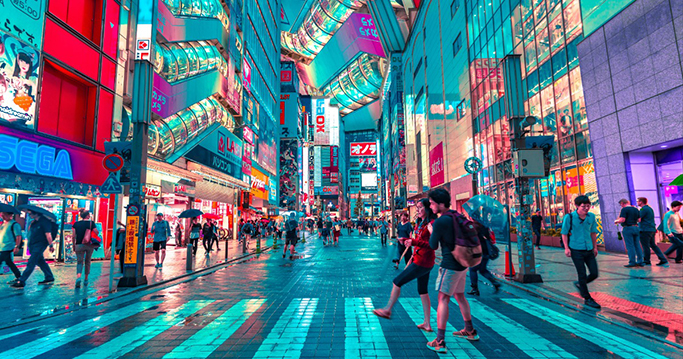 Many new ideas and concepts benefitted shops last year – despite or maybe even because of COVID-19. They show how important shops will continue to be in cities, but also that their role is changing. Established retail virtues such as environmental compatibility, good service or straightforward shopping processes are being taken up and developed further. Many things are being rethought. This article talks about the most important impulses of 2020, which will continue to gain momentum this year.
Future Retail Trend 2021: Sustainability
Everyone is talking about sustainability. However, paying lip service is no longer enough today. It is high time to walk the talk. All too often, retailers adorn themselves with green laurels while still conducting business as usual in their everyday business. Furthermore, there are still situations in which the activities of companies collide with social values or ecological concerns.
This shows that the need for true, transformative sustainability is more acute than ever – not only because ecological and social issues are becoming more threatening every day. In addition, the pressure on companies to act is increasing from several sides at once: regulators, customers and investors are demanding verifiable sustainability. Not responding to this represents a business risk.
The fact that the topics of sustainability and conscious consumption are currently more relevant than ever in the fashion business is shown not least by the growing success of platforms for products from sustainable production such as Avocadostore or the merger of the fashion giant H&M with Sweden's largest second-hand online shop Sellpy.
Making sustainability visible is at least as relevant to companies as implementing it. There is hardly any company that does not have a »green landing page«, i.e. a section on sustainability. icebreaker, a Dutch brand for sustainable outdoor clothing, even completely integrates the topic into the »Our Story« section of its online shop. This section allows users to look at the company's vision and mission and trace the entire value chain – from sheep breeders to factories. Those who buy an item will find a direct link on the label to the sheep that gave its wool for it – and this has been the case for years.
Eco is IN and fair trade is a big seller. Sustainability has long since moved from its former niche into the mainstream. The market as a whole demands it today: it is not only the frequently cited millennials who are interested in sustainable, healthy and environmentally compatible products and nutrition, but also more and more other population groups. Countless start-ups run by dedicated young entrepreneurs have addressed this very issue – from vegan nutrition to recycling. Those who do not take advantage of this trend on the market will quickly be left behind by sustainable competitors – especially in 2021.
Future Retail Trend 2021: Connected Retail
PCs, laptops, smartphones, tablets, wearables: the possibilities for shopping, getting advice or simply browsing are limitless. Detailed product presentations and descriptions, chatbots as well as live chats are increasingly replacing salespeople in brick-and-mortar retail. Deliveries are becoming increasingly free of charge and ever faster, thus saving time and nerves. In addition, big data helps to personalise e-commerce and find products more quickly or even get the right suggestion for something you did not even know you were looking for. 1-0 for the online shop, you might think.
For some time, however, a countertrend has been observed: shopping in brick-and-mortar stores has become more valuable for customers again. Of course, this is only the case if customers expect added value. For consumers, it is no longer a question of »either/or«. They want both online shopping and shopping in brick-and-mortar stores, and they want them to be intelligently linked. This brings brick-and-mortar retail back into the game.
However, achieving the famous »seamless customer journey« requires far more than just equipping salespeople with tablets or setting up digital consultation terminals in stores to ensure the connection to the online shop. Beacon installations in stores, tracking of mobile devices or voice services such as Amazon's Alexa make it possible to address customers where they last started, paused or ended their journey – namely online.
This shows that connected retail is more than just click and collect. The number of digitised stores is increasing. Video walls, touchscreens, interactive mirrors and intelligent fitting rooms like those at Mango or Macy's are only the beginning. What the future of digitised brick-and-mortar stores could look like can be seen in Paris, where both adidas and Nike offer visitors fully digitised experience worlds.
However, a simple checkout also contributes to an ideal connected retail experience. Cashierless stores such as Amazon Go are already common in the USA and Great Britain. In Germany, however, the concept has been limited to pop-up stores so far. Self-service checkouts like those at IKEA or self-scanners as offered by Netto and HORNBACH are steps in the right direction and improve one of the main shortcomings of brick-and-mortar shopping: long queue times. These must also be avoided in 2021 and beyond.
Future Retail Trend 2021: Quick Commerce
Waiting up to two years for a tea delivery – that was pretty normal in the Late Middle Ages around 1400. Back then, camel caravans brought the precious commodity overland from the Far East via the Silk Road. Whether it would really arrive was uncertain: on their routes through deserts and high mountains, merchants often put themselves in mortal danger. However, technical progress and the opening up of sea and air routes greatly accelerated trade in the centuries that followed.
The average delivery time for online orders is currently three to five working days – and the majority of consumers think that is fine. E-commerce has established itself as an additional supply infrastructure, especially for everyday products, and it has done so in the long term because according to a survey conducted by the bevh (the Federal Association of German E-Commerce and Mail Order Business), one in two people want to order more groceries, drugstore products and medication online in the future as a result of these experiences.
The crisis has revealed both the necessity and the advantages of quick commerce. Platforms such as Delivery Hero have benefitted enormously and recorded a 98 per cent increase in orders in the second quarter of 2020. Going forward, the Berlin delivery platform wants to make ultra-fast deliveries in 15 minutes the new standard. Delivery Hero is currently rolling out its instant delivery service in 35 countries. Besides the actual core business of delivering restaurant food, the couriers will also deliver supermarket groceries, flowers and medication within minutes in the future.
Since April 2020, the company has been promoting this business field to investors under the title »Q-Commerce«. This is a neologism combining »quick« and »e-commerce«. The reasoning behind it: those who deliver quickly have happy customers. This, in turn, strengthens customer loyalty, increases the frequency of orders and should ultimately result in growing sales.
However, Delivery Hero is not the only company banking on ultra-fast deliveries – and not the first one either. The industry leader Amazon already proclaimed maximum speed as its goal 15 years ago when it launched the Amazon Prime membership programme in the USA. Recently, Amazon has also reaffirmed its ambitions to offer instant delivery. Since October 2020, the company has been providing the »Ultra Fast Fresh« service in the USA, which delivers groceries in a few hours in cooperation with the acquired supermarket chain Whole Foods.
In Germany, where Delivery Hero withdrew from the market at the end of 2018 and Amazon's »Ultra Fast Fresh« service has not yet been launched, the first start-ups are also positioning themselves with ultra-fast deliveries. One of them is the company Gorillas from Berlin. The start-up promises a delivery time of less than ten minutes for supermarket groceries – and delivered on that promise in a test.
It varies from case to case to what extent quick commerce pays off for one's own company in the end. However, one thing is certain: quick delivery means happy customers – also in 2021.
Future Retail Trend 2021: Gamification
In recent years, many yoga studios, climbing walls and football goals have been installed in sports stores. This makes retailers a regular meeting place for the community and encourages every visitor to do sports. Nike also tried this in its stores, but did not have the desired success. After all, not everyone is a super athlete – people have inhibitions about getting active. If you want to activate them, you have to break down these inhibitions, and that works particularly well with playful, digital concepts, for example.
Nike's new »House of Innovation« retail concept, whose first European store opened in Paris in July 2020, includes interactive games and test stations for children. In Shanghai, where the very first House of Innovation opened, a digital wall installation spanning several storeys and featuring a digital floor was realised, with specially developed movement games running on the screens. These games are designed to encourage people to join in spontaneously – from grandfather to grandchild. In Nike's Houses of Innovation, they support product launches, for example, which help to explain special product features or reflect the product design: technical innovations tend to be accompanied by performance-driven games on digital surfaces, while the fun aspect predominates in gaming concepts for casual shoes.
Puma also uses gamification elements in the Skill Cube in its New York store, where customers receive training tips from Puma's brand ambassadors in a cube fully equipped with multi-sensory screens. The approach of the Chinese streetwear brand Hipanda is exciting as well. In its Tokyo flagship store, the company has installed an interactive ghost house – sometimes analogue, sometimes digital with augmented reality.
Reactivating the gaming instinct in people and thus boosting sales? This is not an entirely new concept, but definitely an ongoing trend thanks to digital support mechanisms.
Future Retail Trend 2021: Service & Customer Focus
There are currently 173 online marketplaces in the DACH area (Germany, Austria and Switzerland). In 2014, there were only 81. Not only has the new marketplace world become more dense, it has also become more complex. Compared to 2015, for example, there is a remarkably high proportion of companies with a dual role, namely almost 30 per cent. Breuninger, Real and Douglas are among these platforms that – just like Amazon – are marketplace and online shop at the same time while also operating branches. Not only does this create competition within the own ranks, but it also increases the overall pressure to hold one's own in the conglomerate of superlatives. The widest range of products, the best price, the fastest logistics – all these aspects are important, but service is indispensable.
As a study conducted by ecom consulting and gominga shows, interaction with customers usually does not take place on marketplaces. This is disastrous in the age of the attention economy. The situation is different at OBI and hagebau: with @createbyobi or the »Nachgefragt bei hagebaumarkt« (»Ask hagebaumarkt«) podcast, the two companies integrate DIY tutorials and consulting into their marketplace strategy as special service concepts. With its digital competence centre, the experience gift provider mydays is developing a new business model and advises companies on the digitisation of events. In terms of service through interaction and customer focus, everyone can learn from concepts like these. They remain in the memory and create trust.
For increased customer focus, retailers should also:
Facilitate product search
Inspire customers by not only showing individual products, but also by presenting alternatives on product pages – maybe the more sophisticated ones, certainly the ones that are popular with other customers, possibly the cheaper ones.
Communicate intensively with customers
Via Facebook or WhatsApp messenger, questions can be answered, but attention can also be drawn directly to special offers and promotion weeks. Moreover, it is possible to make the ordering process more transparent.
Create trust
Consumers trust the judgements of others. Reviews also offer many opportunities to advertise one's own services and products. In the medium term, customer reviews can help to replace common seals of quality such as Trusted Shops and TÜV because they create more trust.
Place emphasis on data protection
The date of birth is not always necessary, and neither are bank account details when purchasing on account. Those companies that do without the not always useful information on salutation, country and state in their forms make it easier to place orders. It makes a much friendlier impression if customers are not asked to create an account at the beginning of the ordering process, but if they can save all the data they have entered at the end in order to simplify future orders or track the status of orders.
Our 5 Reading Tips of the Week
2021 Retail Industry Outlook [Deloitte]
The Future of Retail [Oliver Wyman]
From Gamification to Retail-as-a-Service [ISPO]
Delivery Hero will Lebensmittel, Blumen und Medikamente in 15 Minuten liefern — und fordert damit Amazon heraus [Business Insider]
Connected Retail: Warum Online- und Offline-Handel gut zusammenpassen [INTERNET WORLD]