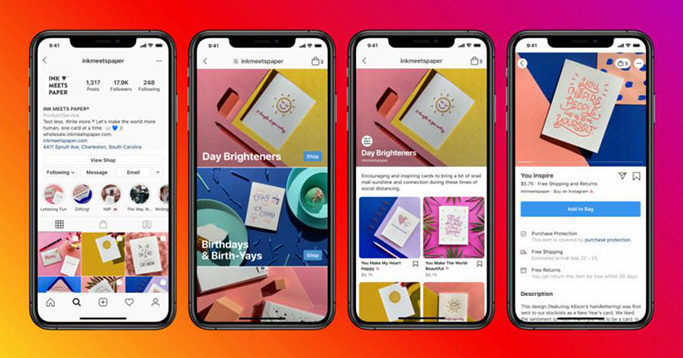 At the end of May 2020, the new Facebook and Instagram Shops were presented. The shop feature enables companies all over the world to offer a shop on their own profile – completely regardless of company size, number of fans or advertising budget.
Shopping on Facebook or Instagram is no big news and no incredible feature per se. In today's reading tips, however, we show what features the shops have, what is new, what is still being developed and what companies can already do to impress customers.
Facebook Wants to Become a Platform for Online Retail
Zuckerberg's company has recently opened up a »new« business field and apparently wants to establish itself in the e-commerce industry in the long term. A wide range of retailers can now easily create online shops that can be reached via Facebook and Instagram. There is also the »live shopping« option.
The shops are intended to help smaller companies in particular to survive the Corona crisis. In general, setting up a shop is free for retailers; fees are only incurred during the final payment process. What a big-hearted gesture – at least if you ignore the fact that Facebook collects data on customer behaviour through the shopping platform. This way, the social network can further improve its ability to help advertisers find the right people for their ads.
Facebook's Personalised Shopping Experience
What is really new about the announcement of Facebook Shops is above all how the shops can be presented to the outside world. It is possible to personalise the shop like a microsite: to do this, you create categories, upload header images, add texts, adjust colours and you have your very own shop in no time.
Moreover, this shop can be personalised for a specific user group. For example, it is possible to display different products to men than to women. A similar layout had already existed before, but without the option to customise it.
Live shopping will probably also play an even more important role in the future. Those who have set up a shop can choose a defined selection of products and highlight them in a live stream. Viewers are then able to look at the products without leaving the live stream.
Facebook's Messenger as a Bonus Point
Facebook also wants to impress by connecting its various services. It will therefore be possible to contact an online shop via WhatsApp, Facebook Messenger or Instagram's chat function and receive information on products, shipping terms or special offers.
If your credit card information is stored in the Facebook system, you can pay directly by credit card. Trying on clothes is to be made easier with the help of augmented reality, where virtual content on the display is mixed with real images.
With its 2.6 billion users and a perfectly interlinked advertising system, Facebook can become one of the big online retail platforms alongside Amazon and Ebay. The shopping initiative is also expected to attract the attention of regulators. The development in this regard will be exciting. We will keep you posted.
Our 5 Reading Tips of the Week
Introducing Facebook Shops [Facebook]
Facebook rollt Plattform für Onlineshops aus [Onlinehändler News]
"Facebook Shops": Was ein E-Commerce-Experte von Facebooks neuem Angebot hält [OMR]
Der Überblick zu Instagram- und Facebook-Shops. Alle Funktionen im Überblick [allfacebook]
Deutschland eines der ersten Länder: Facebook startet Plattform für Online-Handel [Business Insider]