»Brutto«, the German word for gross (e.g. gross income), is Italian and means »brutal, ugly, mean«. Since the Renaissance, this word has been used in economic contexts to refer to a sum without deductions, for example the monthly salary before taxes and insurance are deducted.
»Netto«, the German word for net (e.g. net profit), is the opposite of »Brutto«, i.e. the sum of what you actually have – or what you actually have to pay. An obvious name choice for the food retailer – and a popular term on Google. This means that Netto can benefit from a lot of traffic if it pursues a cutting-edge digital marketing strategy. In today's article, we show you how the large B2C food retailer Netto eStores GmbH managed to do this by implementing SEO and web analytics measures.
Increased Reach and Web Analytics for a Food Retailer
Netto eStores (NeS) is the e-commerce division of Netto Markendiscount AG & Co. KG. Netto operates more than 4,200 stores throughout Germany and is also successful in e-commerce with its own online platform netto-online.de where it offers a wide range of products.
Netto eStores and dotSource have been working together successfully since October 2016. The online shop was successfully modernised and migrated. This allows Netto to
operate a high-performance online platform,
take its modern cross-channel commerce to the next level,
reach customers across all touchpoints
and offer holistic customer experiences with excellent offers and high-quality content.
Another subproject with the dotSource digital success team focused on
making the excellent range of products more visible online,
increasing the shop's reach,
developing and implementing a modern SEO and a modern tracking concept,
holding training courses
as well as providing intensive support over an extended period of time.
Gaining Reach with Google
After a professional audit, joint consulting meetings followed in order to plan measures to increase the visibility and reach of the Netto platforms. The SEO concept covered the fields of technical SEO, content SEO and off-page SEO, which were specified in the joint meetings.
In order to check the effectiveness of measures taken and keyword histories, regular crawling cycles and further check-ups took place. dotSource also took care of the monitoring and the complete documentation of results.
Increased Reach and Efficient Tracking with Google Technologies
The digital marketing project also focused on establishing a modern tracking concept. In interviews and workshops, use cases were developed and KPIs as well as the required technologies Google Tag Manager and Google Analytics were identified.
The integration of the tracking parameters was then carried out in close cooperation with precisely that dotSource development team that has been supporting Netto in e-commerce for years. Thanks to individual dashboards in Google Data Studio, Netto employees can always keep an eye on central KPIs.
Gaining Reach and Visibility with Modern Digital Marketing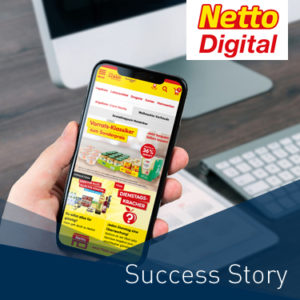 The digital marketing measures strengthened the Netto brand overall and made the range of products offered by Netto eStores significantly more visible across all channels. Professional SEO measures ensure an improved ranking and the modern tracking concept with Google Tag Manager and Google Analytics facilitates the continuous optimisation of the multi-client platform in a data-based manner.
This is how Netto manages to deliver cutting-edge cross-channel commerce experiences – an achievement that won the company the »Top Shop 2019« award presented by COMPUTER BILD and was awarded the »German Brand Award« for excellent brand communication in June 2020.
Curious? Find out more in our new success story.