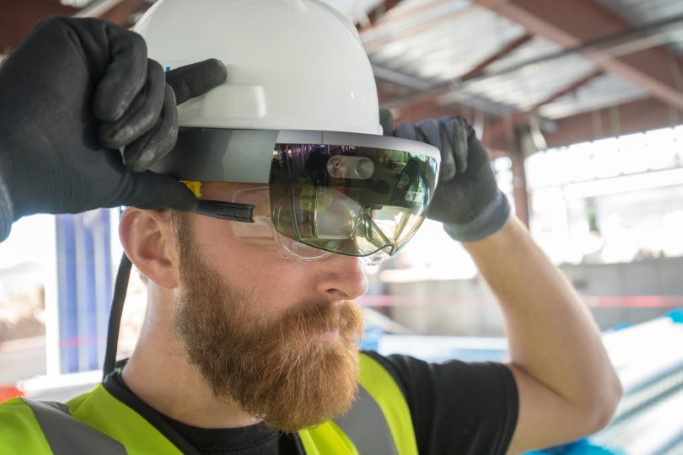 Expectant fathers were catching virtual monsters in the delivery room when their child was being born. That happened with Pokémon Go. The game that triggered a veritable boom in the summer of 2016 and led the path for AR and even VR to take off in gaming. Although the hype about virtual monsters has somewhat flattened, the technology behind it has not stopped evolving. Three years later, its promising its users impressive experiences.
In a list of trending technology, American analytical firm Gartner said that VR and AR continue to be firm contenders. What's more, according to the latest estimates, by the year 2025 they are even as omnipresent as mobile devices today are. More and more companies from different industries are integrating these technologies to facilitate customer decision-making or the work of professionals.
Not just IKEA or ASOS, but also B2B companies from previously less digitised industries such as construction, are beginning to take an interest in the benefits of immersive experiences. How can the construction industry benefit from this? What can architects, craftsmen, real estate agents, or retailers use this technology for? Today we'll give answers using concrete examples!
Extended reality as an advantage for the construction industry
From design to model to finished building that can be visited for sale: VR and AR are used in all phases of a construction project, albeit in different ways.
Augmented reality: By combining digital and physical views, AR is able to geographically display, update, and display real-time data as the user moves through the construction zone. Information such as timetables, operational details, and structural plans are readily available, allowing construction workers to partially automate the construction process and make data-based decisions on-site, even if the structure is not built or some element is hidden.
Virtual reality: Using VR configurators to build a whole new, virtual world of the real world and digitally simulate possibilities is increasingly changing the architectural and interior design, how sightseeing works, or even how renovations are approached. Customers can now configure their dream home individually from home before it's even built. But you can also test which new washbasin best suits an existing bathroom. With VR, builders can also view the state of affairs of their construction project remotely at any time, thus avoiding expensive mistakes, for example.
Many of the best practices in this area come from specialized startups that build AR and VR projects in close collaboration with tech companies and large construction companies. Where does the use of this immersive technology have a lot of potential?
Case studies for advanced digital building experiences
The use of AR and VR technology allows you to expand your own imagination and take advantage of this to facilitate collaboration with professionals and reduce costs in the long run.
Calculate material costs and order directly
The Canadian start-up Sensopia was founded in 2010 and has developed the app Magicplan. Magicplan can automatically measure, draw, and deploy floorplans. The cloud: Any mobile device, such as your own smartphone, can be used for recording. The AR-controlled software allows for estimating material costs and direct ordering of required building materials.
Interactive briefings for complex machines
HIAB is the Swedish leading global supplier of on-road load handling equipment, smart cranes, and smart and connected solutions. HIAB offers an AR + app that allows operators to scan images or markers via their smartphone as well as display 3D models or videos on their device.
Thanks to AR features, operators can be virtually supported in the crane's maintenance and operation, making their work more precise and secure, a veritable best practice example of how other manufacturers of complex products can expand their service in addition to product information and operating instructions.
Visual data for complex tasks
Trimble is a California-based company specialising in the manufacturing, sale, and support of 3D CAD/CAE building software products. It helps companies integrate 3D-compatible BIM solutions. Since early this year, Trimble has been working with Microsoft to provide a type of helmet called XR10 that integrates a HoloLens 2 to generate holographic data for fieldwork. Design models can be examined, complex instructions can be better understood, and collaboration with experts in the office can be synchronised.
<iframe src="https://www.youtube.com/embed/tAmImhdWYjA" width="560″ height="315″ frameborder="0″ allowfullscreen="allowfullscreen"></iframe>
Personalisation before implementation
The Austrian pre-built house manufacturer Vario-Haus offers a »virtual home staging«. Vario-Haus uses the VR online planning tool from the start-up Roomle. This tool contains all the floor plans and sections of available houses in 3D and serves as a basis for individual planning.
In this way, prospects can move from the couch, various components such as outer and inner walls, windows or doors, and test how the individual requirements could best be met. From the data generated in this way, the sales team can also gain insights and tailor offers accordingly to prospective customers.
Challenges for AR/VR in the construction industry
Despite its potential, AR / VR is not as widespread as the Gartner report suggests. What impulses do you derive from the construction industry?
Comfort and safety, for example, are particularly important aspects for users when they wear VR/AR headsets for several hours. In addition, price is an issue because the technology is relatively new and acquisition costs are quite high. But the more popular the use in companies becomes, the more attractive the price will be.
You can find even more use cases in our five reading tips of the week!
Our 5 reading tips of the week
AR/MR/VR etablieren sich im Enterprise-Umfeld [Computerwoche]
3 ways extended reality can help your employees [Siliconrepublic]
AR-Trainingslösung ersetzt sperrige Handbücher [Industry-of-things]
Augmented Reality: The Future of Building [Interesting Engineering]
9 Augmented Reality Technologies for Architecture and Construction [Archdaily]