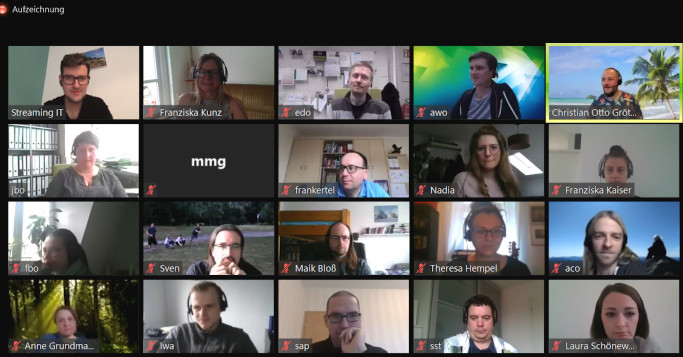 At the beginning of March, a friend of mine who works in a Parisian design office posted on social media: »Salut, mes chers, je passe au télétravail!« She was asked to leave her open-plan office due to the coronavirus. Télétravail is the French word for something for which we do not have a proper German word in German: we call it home office whereas real native speakers would rather describe it as »working from home« or »remote work«.
The word component »tele« is not even French but ancient Greek. It means far away. The French thus work discretely from far away these days. At least conceptually, they do not let themselves be nailed to any place in times of curfews (sorry, I mean contact bans) when they are not working from their office.
No matter whether they are working from far away, from home or via mobile devices: while the world is standing still to flatten an infection curve, the global working world is in fact changing rapidly. But what was the so-called New Work all about before the coronavirus? Why can such impulses lead to great benefits, in particular for many companies that now believe they are sliding into a crisis?
New Work and Corona: Agile Working Is More Than Just Working from Home
Whether it is the Handelskraft Conference that did not take place in Stuttgart but online without further ado. Whether it is the Digital Business School that has turned its workshops and seminars into video conferences, or the dotSource Code Camp in which interested pupils can participate to further educate themselves in the field of computer science during the unscheduled school holidays: #digitalisthenewreal is currently all about working together productively or continuing one's education. Even though all these three impulses came from a digital agency, they inspire industries and branches beyond the IT business.
After all, it is a prejudice that this form of freer work and management is reserved for the IT industry. Whether Shanghai or Schwetzingen, Vancouver or Vechta, Dubai or Düsseldorf: New Work is more than just allowing employees to put the laptop on their knees and their feet on the balcony railing at home. For a company to permanently survive in a world that is becoming increasingly digital, a cross-departmental cultural change is required.
Agile principles have to be transferred into an agile way of working. What is that supposed to mean?
New Work and Corona: The New Way of Working Requires Good Role Models
It is one of the basic ideas of agile leadership to let go of responsibilities and delegate them. You do not ask: Who has the power? Instead, you ask: Who has the expertise? You do not ask: What can I accomplish on my own? Instead, you ask: What can we accomplish as a team?
Agile ways of working may not be something new for some employees – and that's great! They can take over a flagship role in the New Work movement within a company. Right now would be the time to come up with interesting ideas and gathered experiences. You should by no means leave it at the experience of having worked from home for a few weeks. And even more is possible – the keywords are change management, Scrum as well as digital education.
New Work and Corona: It's Not Either/Or, It's Both/And!
Working from home therefore only is part of the bigger New Work complex. In the USA, for example, many companies are concerned about the security of their data.
After 9/11, they started to rent ghost offices which were to be used in critical cases or put into operation additionally, for example to maintain the minimum distance in open-plan offices. However, the offices in this report do not seem particularly comfortable and inspired by New Work.
Companies should therefore rather choose the option of working from home – we would like to see more of it in the future – because it is proven to save CO2. But even if the coronavirus may lead to less compulsory presence in the future, we are looking forward to seeing personal exchanges return.
Our 5 Reading Tips Of The Week:
Will the coronavirus change the way we work from home? [DW]
How Covid-19 led to a nationwide work-from-home experiment [BBC]
How firms move to secret offices amid Covid-19 [BBC]
Ganz nette Reflexion zum Thema New Work [BASICthinking]
Egal ob remote oder persönlich: Gute Tipps für effiziente Meetings [Süddeutsche Zeitung]