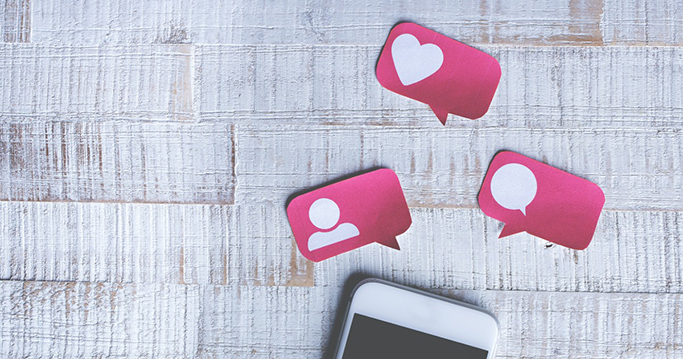 Without social media, branding and customer engagement no longer work. Messengers are the new customer hotlines, influencers the new superheroes and online tutorials the new cookbooks and guides. It remains to be seen how marketers will design the digital shopping experience without it being perceived as annoying advertising or being clicked away with an eye roll.
It is therefore time to take a closer look at this incredibly fast-changing and innovative business field and to look for answers to the question of how »social« can be turned into commerce.
Social Media as an Entertaining Shopping Experience
The pandemic has thwarted many efforts to create traditional offline customer experiences. All of a sudden, there were no more samples available in shops, no more attractive shop windows, no more discount battles and no more in-person customer service from knowledgeable employees.
In 2021, marketers can still increase ROI in the short term by using social media ads to attract new customers. However, they also have to offer innovative online experiences that help to build customer relationships and brand loyalty. With short social media videos, for example, you can create brand loyalty, but you can also promote sales. TikTok has already started offering in-app purchases – and on Taobao, China's largest e-commerce platform, 42 per cent of all product pages already contain short videos.
Live stream events also open up new ways for brands, experts, influencers and customers to connect with each other. In China, a Tommy Hilfiger live stream event had 14 million viewers. Within just two minutes, the company managed to sell 1,300 hoodies. In the USA, shopping events via live stream are forecast to generate 25 billion US dollars in revenue by 2023.
Social Media Tips – From Cross-Channel to Live Sessions
Multiply ROI by distributing content on more channels
Each additional channel can improve the ROI and effectiveness of campaigns by up to 35 per cent. Start by integrating user-generated content from social media into e-mail marketing campaigns – or combine search ads and social media ads.
Turn inspiration into revenue
Get some fun back into the purchasing process by using Instagram Live or Pinterest as virtual sales rooms. Inspire your fans by presenting them with things they did not know they needed or wanted.
Bring the social element back into shopping
Host live sessions. Work together with influencers. Share user-generated content. All these methods allow you to increase confidence in a product that customers can neither see nor touch.
Customer loyalty
Social media connects companies with their most loyal customers. Practise proactive social listening. Then collaborate with other teams in your company to address key issues.
Understanding Social Media as a Communication Medium
Sometimes, companies should listen rather than talk. After all, in times of crisis, people mainly use social media to distract and entertain themselves – and they want to engage with each other, not with brands.
On average, 32 per cent of Generation Z, millennials, Generation X and baby boomers state that their main reason for using social media is to discover funny or entertaining content. Current data also shows that useful and entertaining advertising is most likely to encourage people to make a purchase.
The most successful campaigns of 2020 helped to create connections between people – or provided much-needed moments of levity and fun. These are exactly the reasons why most people are active on social media.
Take a look at this example: the Ocean Spray challenge. It started when Nathan Apodaca posted a TikTok that showed him gliding on his longboard while lip-syncing to Fleetwood Mac's »Dreams« and drinking from a large bottle of Ocean Spray.
So thanks for the love and support an here it is my original video same as all going around but yes thanks for the love n donations it's very appreciated an much needed 🤙🏼 vibe on world pic.twitter.com/gkCgc1U9As

— *BLAZIN*4*1*NATION* (@doggface208) September 27, 2020 «
The video quickly became a viral hit. In true TikTok fashion, people from all over the world re-enacted the scene. Celebrities, influencers, American governors and even band members of Fleetwood Mac jumped on the trend. Only Ocean Spray remained silent for more than a week.
The company then had its CEO re-enact the longboard scene on TikTok. Afterwards, the CEO presented Apodaca with a new truck (loaded with Ocean Spray bottles). The fact that the company gave something back to the original creator of the video and did not just try to capitalise on the free publicity earned Ocean Spray many positive reactions.
The smartest brands in 2021 will understand how their social media presence fits into their customers' lives – and they will find creative ways to engage in the conversation instead of trying to dominate it.
Social Media Tips – Between Hype Train and Passive Consumption
Social listening
It is not that easy to monitor conversations on Instagram Stories, LinkedIn, TikTok or messaging services to the same extent as on Twitter or Facebook. Nevertheless, companies should always know which hype train to jump on and what fans and customers are inspired by.
User-generated content > expensive content creation
User-generated content is both cheap and useful for building trust. According to Edelman Trust Barometer, consumers are more likely to listen to like-minded people than to brands themselves.
Passive content consumption is also consumption
In the last 30 days, the average Facebook user has only shared one post. Reach and reactions are much more realistic engagement goals than mass participation. Provide added value to the people who see your content, rather than just getting them to share it.
TikTok is business-relevant as well
Do we need to say more? Those who want to invest in the future are already building up a solid community on the Chinese video portal. Think about tomorrow today. The numbers speak for themselves!
Think about Social Commerce in B2B Terms
Influencers do not only promote and market products in the areas of fashion, beauty or lifestyle, but also in B2B. It is not necessarily the high reach of profile pages and blogs that is relevant in B2B, but mainly the professional content and the influencers' areas of expertise. It is important that products and services are presented in an equally emotional and inspiring way – just like people are used to in B2C.
B2B influencers are primarily selected based on relevance of content (58 per cent), personal reputation (50 per cent) and qualitative reach (47 per cent). American Express leads by example and recently engaged an influential blogger from the design industry who helped companies and shops to raise awareness of the acceptance of Amex credit cards by means of small stickers. The campaign generated more than five million impressions on social media channels – a remarkable success.
The best example and a pioneer in B2B influencer marketing is the business platform LinkedIn. As compared to the previous year, the business network generated ten per cent more revenue and recorded 27 per cent more user sessions in 2020. Thanks to new features, authentic influencer marketing measures are also becoming increasingly interesting for companies on this platform. LinkedIn groups in particular are suitable for initiating discussions on relevant industry topics and contributing the expertise of business influencers.
The main goal of LinkedIn group activity should usually be to encourage thought leadership. Thought leaders are considered experts in their field, whose expertise is highly valued by both the public and industry circles. The focus of LinkedIn group activity should not be on self-promotion, but rather on giving impetus and asking interesting questions about industry topics. Only then can an exchange with potential target groups take place at eye level.
In order to develop the right measures, it also needs to be clear which influencers are suitable for which companies – they have to fit the brand and the niche. Only those who are aware of their niche and can acquire suitable thought leaders will be perceived as a source of inspiration on business networks.
Social Media Tips – B2B Content
Find thought leaders
You can only reach your target group on B2B platforms with one (or several) thought leader(s). They are able to develop your ideas further and present them authentically to the right people.
Attract affluent new customers with LinkedIn
The social network has recently published a guide for successful content marketing in the form of a »tactical plan«, which presents various possibilities for companies to pursue their goals.
It is not really surprising that LinkedIn is a promising option for reaching a relevant business target group. However, only those who know how to stage themselves on this social network benefit.
Our 5 Reading Tips of the Week
2021 Social Media Trends for Businesses [Lightbox Digital]
Social Media Trends to Keep an Eye out for in 2021 [Digital Leaders Club]
Stories Now Also on LinkedIn – What They Can Do and How to Use Them for Your Business [Handelskraft]
TikTok for Business [Handelskraft]
Facebook Shops – How Retailers Can Use the Potential of the Social Commerce Platform [Handelskraft]