Digital success is not just a question of technology. In the end, it always comes down to the people using the technology. How well they do so depends not least on how they are introduced to the system. People are creatures of habit. They have always been. Whether in their private or professional lives: people shy away from change because it is (often) associated with hassle and stress.
»Never change a running system« is a popular argument for postponing changes. This statement is definitely true to a certain extent, but does it also justify adopting procedures and workflows that are sometimes more cumbersome even though they could be made much simpler and more efficient with minor changes? No, it doesn't, especially not when it comes to replacing inefficient processes and thus saving time – even if this means creating trails first so that they can eventually become easily accessible paths.
Investing in user acceptance is therefore at least as important as a well thought out system selection or migration. Unitedprint, one of Europe's leading online print shops, did just that when it migrated from Salesforce Classic as part of Salesforce Service Cloud to the modern Salesforce Lightning.
Migration from Salesforce Classic to Lightning: About Unitedprint
Unitedprint SE is headquartered in Radebeul (Saxony) and one of Europe's leading online print shops. The innovation-oriented e-commerce company currently has over 700 employees in 26 countries worldwide.
The websites Print24 and easyprint.de also belong to the company. The range of products and services is just as diverse as Unitedprint's customers. The online print shop is both a B2B service provider and a B2C player. Its customer base includes not only companies, but also more than one million resellers and private customers.
This diversity brings with it a complex set of customer data that needs to be managed efficiently – up until the migration to Salesforce Lightning, this presented an increasing challenge for the company, its employees and Salesforce Classic, the CRM solution used at the time.
With the increasing demands on the CRM system, the lack of options for further development of the software and the expiring updates, it was time for Unitedprint to upgrade the old CRM system to a new version. Unitedprint planned the migration from Salesforce Classic to Lightning together with the employees who use the system on a daily basis.
Migration from Salesforce Classic to Lightning: High Level of User Acceptance Through Active Feedback Loops
In order to establish the software among users as quickly as possible and to ensure a high level of acceptance among them, it was decided to make user acceptance tests an integral part of the project. These tests were used to obtain direct feedback from the individual company departments, evaluate it and take it into account when migrating to the new version. This way, the employees were strongly involved in the migration from the very beginning and their needs, wishes and requirements were taken into account when it came to redesigning the layout of the service console.
Moreover, these tests made it possible to analyse predefined click paths in order to evaluate whether it makes sense to use them for the workflows of user groups.
Migration from Salesforce Classic to Lightning: Optimised CRM Solution for Future-Proof Customer Service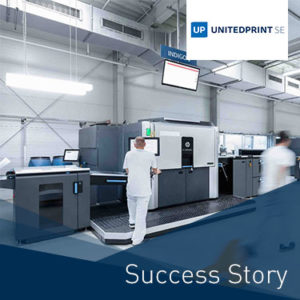 The successful, user-centric migration from Salesforce Classic to Lightning allows Unitedprint to benefit from the following advantages:
Time Savings

Service employees can resolve customer queries more quickly and keep response times low

No Data Silos

Service employees get more information at a glance, for example on cases and call logs
Knowledge Building

Service employees benefit from Salesforce Knowledge – a database that not only allows users to view and edit FAQs, help and how-to articles, but also to manage e-mail templates

Increase in Efficiency

Workflows ensure better organisation
employees, the CRM solution is a central tool. Especially when hundreds of thousands of customers, over half a million product combinations and services have to be managed with it, an up-to-date system such as
and the migration to a new version make sense in order to
keep track of everything
be able to optimally respond to customers' orders
benefit from the latest features
ensure responsible handling of valuable data
More details on the CRM project with Unitedprint can be found in our new »Migration to Salesforce Lightning: Unitedprint Expands Its Customer Service with an Eye to the Future« success story.