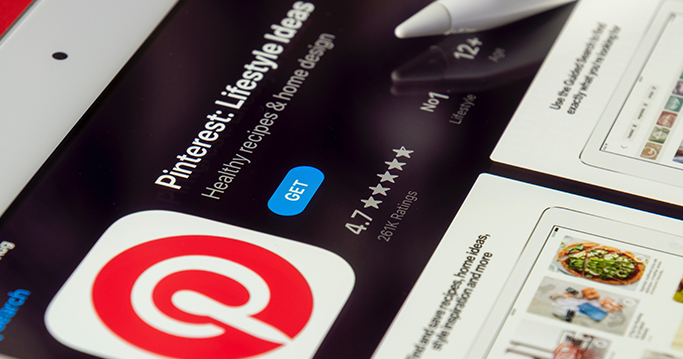 It is well known that the photo platform Pinterest is no longer strictly about inspirational content, but also about directly purchasing the products displayed. In spring 2021, Pinterest expanded its cooperation with Shopify to an international level, followed in June by the launch of shopping features in Germany and other countries. Now, the platform has announced several more e-commerce updates.
Pinterest Expands Its »Shop the Look« Feature
Pinterest's »Shop the Look« feature has already been up and running for a few years. Instead of displaying a shopping bag, products on the pinboard platform are tagged with a white dot. If users click on this dot, they are redirected to the corresponding online shops or get recommendations for similar products. The path to the shopping cart, for example, is much shorter here than on other social shopping portals such as Instagram.
However, there is more to Pinterest than just that: the community is also valuable and has a lot of purchasing power. According to the company itself, the shopping cart values of the approximately 450 million monthly active Pinterest users worldwide are 85 per cent higher compared to users of other platforms. Collection ads are intended to harness this potential for merchants even further. Collection Slideshow ads allow advertisers to present their products and services in the form of slideshows and turn their catalogues into purchasable content. Based on algorithms, these ads display tagged products to users in a personalised way.
Pinterest: What Do Users Actually Want There?
89 per cent of weekly active users use the platform for inspiration on their way to making a purchase. The reason for this is quite simple: the platform offers inspiration at every conceivable stage of the purchasing process – not only for users, but also for advertisers, merchants and content creators.
According to Pinterest, 64 per cent of Pinners use the app to search for ideas, products and services that they have trusted in the past and can trust in the future. In order to keep it that way, the new merchant details are intended to ensure that brands can present themselves more transparently and communicate their values to consumers. For example, seals of quality such as
eco-friendly,
invested in good,
responsibly sourced,
personal touch and
inclusive
can now be obtained. Recently, Pinterest has also expanded its Verified Merchant Programme to other countries, e.g. Spain, Italy, Brazil and Austria.
Pinterest: What Does the Future Hold?
In order to support content creators, who are very important for any social media network, in building their business on Pinterest, the company is also experimenting with Idea Pin ads – with paid partnerships. This brand new format allows advertisers to promote Idea Pins of content creators they work with, thus tapping into new audiences. Brands can also promote Idea Pins to their own audiences and track their performance. However, the beta version of Idea Pin ads with paid partnerships will not only be rolled out in Germany, but also in 14 other countries.
In addition, Pinterest is introducing a few more changes to make the use of existing tools more efficient for merchants, for example better product filtering and automated budget solutions. An updated guide to optimising one's own feed includes best practice examples for merchants and illustrates how they can generate reach and achieve relevance to improve their shopping performance.
The company has also launched a marketing campaign in the USA, which will soon be rolled out in other countries and focuses on the customer journey on Pinterest.
Our 5 Reading Tips of the Week
Why You Should Be Using Pinterest for Business [Zelst]
Underestimating Pinterest's Worth as a Platform [ClickTap Media]
Pinterest Introduces New Shopping Features to Help Shoppers Find What They Actually Love [Pinterest]
What Are Pinterest Ads and Should You Be Using Them? [We Influence]
Pinterest Adds New Shopping Features, Including Brand Profile Details and Sponsored Idea Pins [Social Media Today]