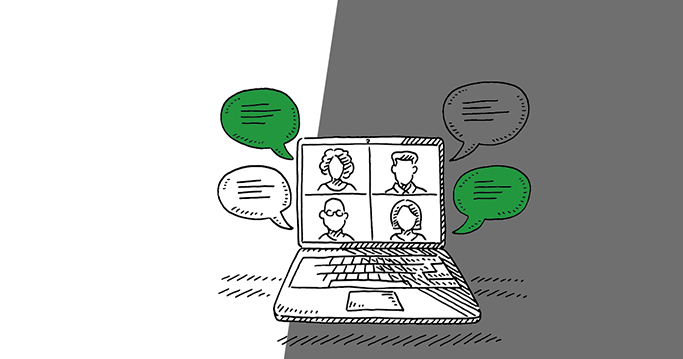 In the first part of our New Work trends for 2021, we mainly talked about hybrid workplaces and virtual corporate culture. Today, we take a look at new trends in change management, secure collaboration and innovation developments.
New Work Trend 2021: Long-Term Change Management
Besides all the technological advances and developments, the human factor must not be neglected either – and this is all the more important in 2021. After all, it is employees who must back and support change in order for it to be successful. While companies were forced to rethink their approach and enable remote work in 2020, it is important for them to rely on well thought-out, long-term change management in 2021 – if they have not already done so. Assessing the current situation, looking to the future and involving employees in change are the three key factors that need to be taken into account. Do employees need support to work efficiently from home? Are there training courses or workshops that can help in this regard? Do they even have the right equipment for their individual needs?
These questions must first be answered and appropriate measures must be taken before turning one's attention to the future. Many employees want hybrid working models even after COVID-19, while some wish to return to the office permanently. In this respect, companies also have to check individually which models can be implemented for which employees and jobs. Companies still have a lot of work to do in these areas, but they should also see the crisis as an opportunity to change and improve long-established structures. This way, they will be ideally prepared for the future and will continue to be attractive employees for young talents.
New Work Trend 2021: Secure Collaboration
Not only has remote work reached another level due to the Corona crisis, but collaboration in offices is also changing permanently. With a gradual return to normality and employees coming back to office for at least part of the week, companies have to make changes to conference and meeting rooms in particular. Before COVID-19, ten participants might have fit in one room, but with current hygiene and safety regulations, it might only be three employees who have to sit at a safe distance from each other – although it is precisely the collaboration with others that currently motivates many employees to come to office in the first place. However, some employees may belong to at-risk groups or are in quarantine and therefore keep working from home for a longer period of time.
During this time, and with the general trend towards more flexible working (probably even beyond COVID-19), it is necessary to hold hybrid meetings. This means that companies need to use video technology that enables collaboration at a safe distance while at the same time providing excellent video quality. In 2021, topics such as people counting and usage analyses of meetings rooms will play a more important role in order to optimally use rooms under the current circumstances.
If you think a little more broadly about »secure collaboration«, data protection issues also come into play. The IT department of a company has to make sure, among other things, that employees' laptops are equipped with up-to-date anti-virus software, that internal company communication is encrypted and that sensitive corporate data is accessed via VPN clients, for example. This is the only way to ensure that employees can also work securely from home.
New Work Trend 2021: Thirst for Innovation
Organisations must constantly evolve in order to remain competitive. One of the most important prerequisites for good ideas not to fail due to internal hurdles, but to grow into innovations is an open corporate culture.
One approach to developing innovations is called »bootlegging«. During the prohibition era, this term described the smuggling and trafficking of banned substances. In business jargon, it is used for projects that are secretly driven forward during the early phase of an innovation process. There are often no predefined resources, employees are given freedom to innovate and superiors are only involved in the process at a later stage so that they do not influence it.
Google has repeatedly shown successful examples of bootlegging. For many years, the company has been relying on the 20 per cent rule for employee satisfaction and innovative spirit: software engineers are allowed to spend a fifth of their working time on business projects of their choice in order to optimise processes or develop something completely new. This leads to more responsibility being passed on to employees and motivates them to create real innovations.
One day a week, Google engineers thus work on projects that they think might be important for the company, rather than on the priorities that the management sets for them. AdSense for Content, Gmail and Google Maps, for example, were implemented as 20 per cent projects. Other prominent examples such as Nespresso's coffee capsules or 3M's Post-its were also created in such contexts and showed that idea generators acted with organisational wisdom – always under the premise of linking their own ideas to the core business of the company they worked for.
Innovating is not a linear process, but often takes place throughout the company at different times in different phases. The tricky part is to develop the right feeling for innovations at the right time and to give them space. Whether it is more efficient tools for employee communication, the organisation of hybrid working spaces or the virtual mapping of corporate culture: innovation paths are created to be walked on. This can be done even more quickly with the right footwear and a knowledgeable tour guide.
Our 5 Reading Tips of the Week
9 Work Trends That HR Leaders Can't Ignore in 2021 [Gartner]
The Year Of Redefining Work: Three Employment Trends For 2021 [Forbes]
Workplace Design Trends 2021 [Area]
Fünf Entwicklungen für den Modern Workplace [it-business]
Ein moderner Arbeitsplatz für alle: Die 7 Top-Trends [staffbase]