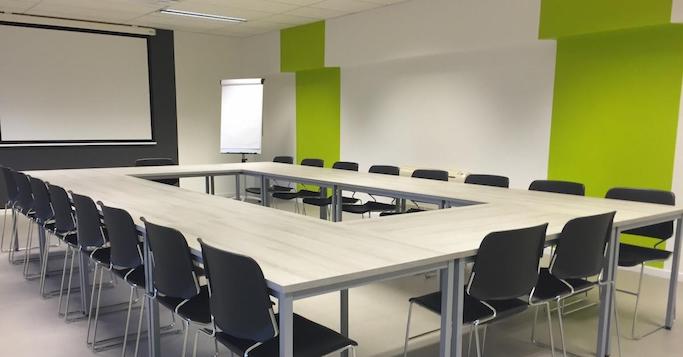 The Corona crisis forces us to react to new circumstances in a flexible and agile way. Because many things are simply no longer possible given the current situation, we have to come up with new solutions. And of course, the first thought that comes to mind is often »How is this supposed to work out?« or »This cannot be digitally mapped«. However, the experiences we have had over the past few weeks have shown us that it is very well possible to find solutions for the new circumstances – because if we have to act, our creativity and flexibility will not let us down.
We use collaboration tools for working from home and holding meetings is no problem at all thanks to video conferencing. Events that had to be cancelled in the last few weeks and will probably have to be cancelled in the months to come have been hit particularly badly by the crisis and the omnipresent contact restrictions. This means that event organisers are also forced to find and implement new solutions, for example turning offline events into online events.
Remote Business: Online Events
However, there are some challenges when it comes to organising events online. How do you manage to transfer fundamental components of a conference such as networking and exchanging experiences from analogue to digital?
At this year's Handelskraft Conference, which was supposed to take place in Stuttgart on the 19th of March, we experienced this for ourselves and were able to gain valuable insights. In just under two weeks, we turned the offline into an online conference. The presentations of our speakers were held in a webinar style format with chat function and integrated surveys, and virtual meet-the-speaker rooms were set up for networking. The feedback for this new format has been positive throughout.
Using the right tools is obviously a decisive factor for successfully organising online events and remote workshops. The weekly download numbers of business apps increased by up to 90 per cent as compared to 2019. In particular Microsoft Teams, Zoom and Google Hangout were the winners of the crisis in terms of downloads. We also decided to use Zoom for the debut of the Handelskraft Online Edition.
Remote Business: Zoom vs. MS Teams
Between the 22nd of February and the 22nd of March, downloads of the video conferencing platform Zoom even increased by 1,270 per cent. The boom of different tools has intensified the competition between providers who tout for new users.
Especially in the beginning, users are still willing to change to another tool. To make a proper decision, they thoroughly assess the quality and the weaknesses of solutions. However, providers are not standing still: they constantly develop new functions.
As a response to its competitor Zoom, Microsoft has upgraded its solution for online events called Microsoft Teams Live Events. It can now host meetings with up to 100,000 participants. We can only agree with the saying »competition is good for business« because everyone is happy when new features are released.
Remote Business: Workshops with Microsoft Teams & Whiteboard App
On-site workshops with clients or colleagues are obviously not possible in times of the Corona crisis. This means that there won't be any Post-its on the walls and the surface hubs won't be painted.
However, there are once again alternatives to digitally map this use case, for example Microsoft Teams in connection with Microsoft's whiteboard app.
On the digital whiteboard, ideas can be developed together. The verbal and visual communication takes place via Teams. So there's no problem at all, right?
Our 5 Reading Tips Of The Week
Remote Business: Successfully Mastering Remote Work, Online Events & Online Training [dotSource]
Video conferencing apps saw record downloads in March [Techcrunch]
Zoom downloads increase by 1270% [workflowotg]
Webinar – Durchführung von Remote Workshops mit Microsoft Teams Whiteboard [Handelskraft]
Teams Live Events [Microsoft]