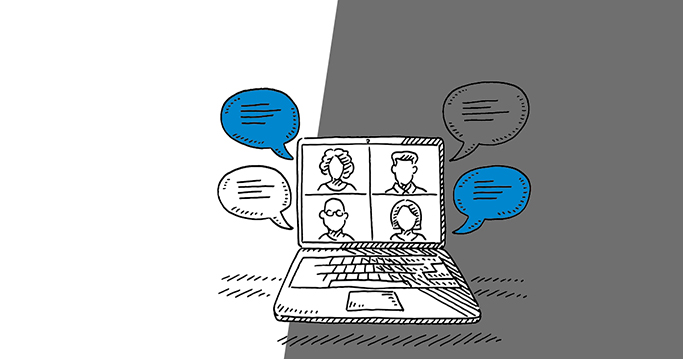 In 2020, the understanding of one's own workplace has changed fundamentally and permanently. The Corona crisis has given rise to numerous new problems and has made flexible working a must all of a sudden. Especially maintaining and promoting productivity, efficiency and satisfaction among employees has proven to be a major challenge for almost every company.
As a result, many companies are asking themselves the following questions: »How can the social aspect be preserved?«, »How do I onboard new employees?« and »How do I build employee loyalty in times of remote work?«. The answers are: hybrid workplaces and not only virtual but also real corporate culture. The prerequisites for this are room for innovation, smart knowledge management and a modern leadership style.
With that being said, here comes the first of two articles on New Work trends in 2021.
New Work Trend 2021: Hybrid Workplaces
Crowded meetings, hallway conversations and handshake greetings are most likely a thing of the past. Instead, greater distance between desks and the alternating presence of different employees depending on the day of the week are to be expected.
The changes to our physical working environment are only part of the innovation. With many employees having spent months working from home, the expectations they have for their work-life balance have evolved. Some may be happy to return to the office, others may choose to spend more time working from home, and yet others may not return to the office at all. This new working landscape is called hybrid working – and many organisations are currently addressing the issue of introducing hybrid working models as a standard option.
Hybrid? Until recently, this word has been associated more with cars. Since the pandemic, hybrid workplaces have stood for a mix of presence in the office and working from home.
The switch to working from home requires some preparation, for example the right equipment to maintain social cohesion as well. According to a survey commissioned by Randstad, 61 per cent of employees in Germany worked from home in 2020. However, the potential has not yet been fully realised because, theoretically, up to 80 per cent of employees can work from home.
A trend that has long been established in other countries, for example the Netherlands, is flexible working. The hybrid workplace – the freedom to work independently of location or in the office – is also becoming increasingly popular with German employers. In the long term, flexible working leads to cost reductions, more productive employees and makes companies more attractive for potential applicants. Hybrid workplaces completely redefine the term »office«. It is evolving from a simple workplace into a meeting place for collaborative activities and networking.
However, the successful implementation of a hybrid model also depends on a corporate culture that is built on mutual trust between companies and their employees and can replicate it virtually.
New Work Trend 2021: Virtual Corporate Culture
When companies tackle digital transformation, it is not only workplaces and working environments that change. Employees and executives are encouraged to play their part in the cultural change – from customer focus to collaboration.
Corporate culture is defined as a set of values and practices within a corporate community that guides the behaviour of employees and executives. Many employees used to go to work in the morning without knowing that they would spend the next eight hours in the microcosm of a corporate culture. The more talk there is about digital transformation, however, the more this corporate culture comes to the fore – a culture that, in some cases, people did not even know existed.
And this corporate culture can be felt everywhere, for example at the office coffee machine. It may not always have the best coffee, but it is irreplaceable as a social get-together. It is the place where you find out who is currently working on what, which restaurants are suitable for business lunches or what the childcare situation is like.
Office grapevine binds employees together and also works digitally. Teams can take the liberty to set aside a few minutes in the morning to discuss pending and completed tasks, organise digital lunch dates or plan virtual team events in the evening. In short: maintaining the »we« feeling. Although employees are in different places, they should continue to work together as a team. To do so, they need to keep their office routines, for example by using a chat to welcome colleagues in the morning and say goodbye to them in the evening. Is it someone's birthday on the team? Then it is time for a joint message or a flower bouquet on the doorstep.
A big video chat meeting for all employees at the end of each month is also a good way to build a sense of togetherness and present a comprehensive, personal business update instead of writing an e-mail. Features such as breakout rooms at the end of such a conference, i.e. randomly splitting participants into smaller video chat rooms, can also simulate the random encounters at the coffee machine online and strengthen the feeling of togetherness. Therefore, you must always find innovative ways to develop as a company and to take your employees with you – and that only works by implementing change.
Our 5 Reading Tips of the Week
How the Pandemic Will Shape the Workplace Trends of 2021 [The Conversation]
10 Tips for Running a Remote Business [Remote.co]
Digital Transformation (DX): How to Get Your Employees Ready? [Smarp]
Fünf Entwicklungen für den Modern Workplace [it-business]
Ein moderner Arbeitsplatz für alle: Die 7 Top-Trends [staffbase]