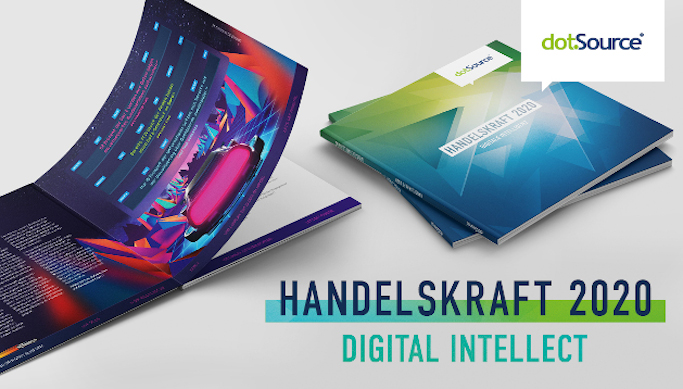 Trends are no longer what they once were. There is no »For real?«, no wow effect, no shock. A solution, a service or a mindset does not necessarily have to be something completely new in order to have the potential to become a trend.
Just take a look at long-time favourites: personalisation, big data (the buzzword of the year), TV relics such as live shopping or terms that have been around for a long time, for example international and cross-channel commerce. None of these things are inventions of the year 2020. Nevertheless, it is worth taking (at least) a second look to recognise new potential. Our brand new Handelskraft Trend Book 2020 »Digital Intellect«, which is now available for free download exclusively for retailers, manufacturers and publishers, shows just how worthwhile this is.
Digital Business: No Success Without Digital Intellect
Intelligence comes from the Latin word intelligere which means to understand, to recognise, but also from inter legere which means choosing between different things, in other words making well-founded decisions. Therefore, being intelligent does not only mean being smart (that does not mean a lot…), but mainly to act intelligently and to be able to make good decisions.
The process of understanding, recognising and finally making the (right) decision is exactly what makes up social, emotional and cognitive intellect, but also digital intellect. It is about:
understanding that digital business will always remain people's business despite all the technological advances,
recognising that established things have just as much potential for innovation as the supposedly new hot stuff,
deciding which solutions and services fit your business,
and which culture you want to establish in your own company in this context.
Sounds like a tight training schedule – and it is because every type of intellect can be trained. Without social, emotional and cognitive intellect, it will not work out anyway. If you cannot motivate employees to do good work together and enjoy it, you cannot think from the perspective of (potential) customers and offer them emotional experiences with the right solutions and services. In a nutshell, you cannot be successful in digital business. In order to survive in this business and to be able to make well-founded decisions, digital intellect is therefore required.
Based on the following topics, we show in our brand new Handelskraft Trend Book 2020 how to develop and use digital intellect:
The initially mentioned second look at long-running issues and trends opens up new, valuable perspectives and thus offers the chance for new, successful business models.
The End of the AI Revolution?
We are not at the beginning of a revolution or amidst a hype. The AI revolution everyone is talking about is long over.
Modern Work – From Transformation to Innovation
A cross-departmental cultural change is required so that a company can permanently adjust to its digital environment.
Does it even make sense to invest in platform business with all the big players already around? Yes, it is all a question of mindset.
Not least the growing share of cloud solutions forces companies to develop and implement IT migration strategies. This requires agile, cross-functional teams.
Only as a data-driven company, you can realise the full potential of New Work, AI and other tech trends, cross-border e-commerce and digital platforms.
B2B: Companies Are Only Humans As Well
A modern, user-friendly customer experience should not be a question of industry.
What are the trends for brands, retailers and manufacturers to design their customer relationships in a future-proof way?
Thinking Outside the Box in Digital Business
Just like in the gym, you are not on your own when it comes to the training schedule for developing your digital intellect. »Personal trainers« lurk everywhere. They can be digital competitors, from whose successes and failures you can learn. It is also important to have the courage to experiment and make mistakes. Mistakes should not generally be seen as a failure, but as potential – potential to learn, readjust and do better the next time.
All of this is part of thinking outside the box – and so is the second look at trends which do not always have to be surprising or shocking, and which, even if you hear them for the 100th time, have their right to exist. Going to the gym once will not cut it for those who want to become and stay fit.
It is the same in digital business. Companies have to stick to their training schedule, hang in there and take advantage of the equipment that is available. The repertoire of digital opportunities is as far-reaching as never before. And it keeps on growing. Whoever learns to use this repertoire will eventually have the chance to become a digital trendsetter himself.
Digital Business Compass: The Training Schedule for Developing Your Digital Intellect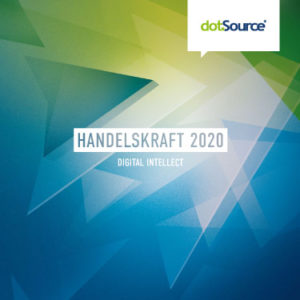 In our current Handelskraft Trend Book 2020, we have set up a training schedule for developing your »digital intellect« based on numerous concrete examples. The Handelskraft Trend Book 2020 also includes the well-known »Facts & Figures« chapter, which illustrates the factors against which companies have to measure themselves, both now and especially in the future.
And it is not just about turnover and growth figures, internationalisation as well as payment methods, but also about the power of AI and the advantages of modern work.