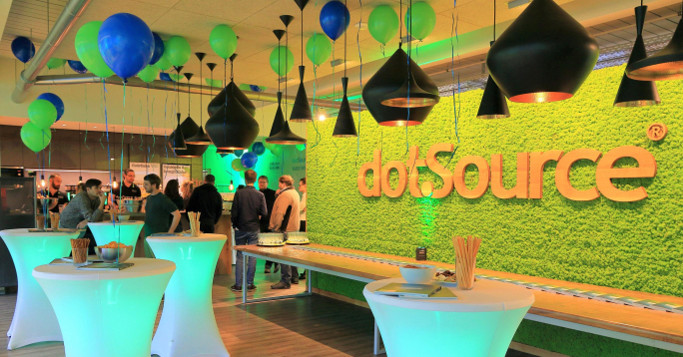 We delivered. We won prizes and awards. We celebrated. It can continue like this in the new year. And what better way to ring in a new year than with a big party? Celebrating yet again? For sure because it's dotSource's birthday. Hip hip hooray! We are 14 years old!
Happy Birthday: Team Spirit as Success Factor
As if this was not reason enough to celebrate, our 14th agency year is also the most successful since our foundation on the 5th of January 2006. New clients, awesome projects, successful national and international launches, two top conferences, one incredible trend book, seven white papers, prizes, awards AND one thing in particular: team spirit which – even with almost 300 employees and four locations – is still unbeatable: unbeatably genuine, homely and: yes! Simply a reason to celebrate.
Because it is team spirit that counts and defines us. Not only our partners and clients feel it, but also the many guests we welcome in Jena, Leipzig and Berlin – for example directly at the beginning of the year when we celebrated dotSource's 13th birthday with more than 250 guests in January 2019. Shortly afterwards, there was another reason to celebrate in February: dotSource won in the »Agency of the Year« category at the E-Commerce Germany Awards 2019.
Sieh dir diesen Beitrag auf Instagram an
And even in March, the potential for celebrations did not flatten out. The fourth Handelskraft conference with more than 200 guests was a thorough success. And we are already really looking forward to the HK20STR conference on the 19th of March at the Wagenhallen in Stuttgart.
Happy Employees Mean Happy Clients
Not only dotSource won prizes and awards in 2019. Our clients were also awarded for the successful design of their digital customer relations. Among them were WÜRTH as the best B2B shop, Netto as TOP Shop 2019 and SLV as the winner of the Shop Usability Award 2019 in the B2B category.
All these awards also encourage us as an agency that our user-oriented strategy is very well received and motivates us to develop it further. Because digital business is and remains people business. In the end, users are not only our clients and their end consumers, but also us and our project teams as well as our partners, of course. The »Rising Star of the Year« award that we received from the specialist for MDM solutions StiboSystems in April showed once again that particularly soft skills are important in order to do a good job together (and enjoy it).
Without strong and trustworthy people in our business, all our partners, networks, associations and our ambitious teams, this would not be possible. Whether it is e-commerce, CRM and marketing automation, PIM, UXD, digital marketing, CMS or AI – together, we have turned missions into reality in countless successful client projects in 2019. We are enormously proud of this and would like to thank all the people who have helped to translate first (and subsequent) ideas, big wishes and clear goals into successful business practice without losing the most important thing – the spirit.
Stay Happy – Team Spirit Needs Team Events
The bigger a company, the bigger the danger that this spirit will be lost. We are not fooling ourselves. Therefore, it is all the more important that we keep at it and preserve our culture despite our huge plans for the new 20s. In addition to the festive annual highlights, namely the team off-site in June, the Christmas party in December and the dotSource birthday in January, all the many small(er) team events are part of this culture, too. It is each team's turn once a year, so to speak. Always in pairs of two. Delivery with Sales, CRM with IT, Marketing with HR – you name it. This is important because with almost 300 colleagues, you do not know everyone's name anymore.
Sieh dir diesen Beitrag auf Instagram an
Getting to know each other, also beyond the own team boundaries and responsibilities, accomplishing something and having fun together – this goes down well and feels good. For us, having fun after work is just as little of a contradiction as having fun at work and at the workplace while delivering a good work performance. Instead, we are of the opinion that they belong together and are mutually dependent.
Having fun thus is a dotSource principle. No joke – it is as much of a principle as: teamplay, flexibility, economic efficiency, reliability, ambition, quality, responsibility, proactivity, innovation, professionalism, openness, creativity, fairness, communication, saying hello, further education, punctuality, manners and orderliness. These are not just empty words that decorate our wall in the Valley. They are our DNA. We are incredibly happy that we have managed to pass these principles on to 66! new family members in 2019. We are glad you are here.
Happy Family
Speaking of family: in 2019, not only the second dotSource family day took place, but also the first »Maustüröffnertag« on which almost 500 children and adults visited our agency. And barely three weeks later, we opened our doors once again for the second dotSource Hackathon. dotSource somehow feels like a home. Not only many of us but also external visitors and juries see it that way.
Believe it or not, we actually won another prize at the end of the year – the »i-work Business Award« presented by JenaWirtschaft and the Friedrich Schiller University Jena. This award is exactly about the things that make up our team spirit in general and are described in this article – the togetherness and the faces behind the scenes. We are therefore all the more pleased that we were able to conclude a successful 2019 with such an honourable award.
We are looking forward to everything ahead of us and are curious what we can tell you at the beginning of next year. Prior to that, there will obviously be an in-depth report on our dotSource birthday party and 361 days full of digital business news, trends, insights AND lots of fun 😊