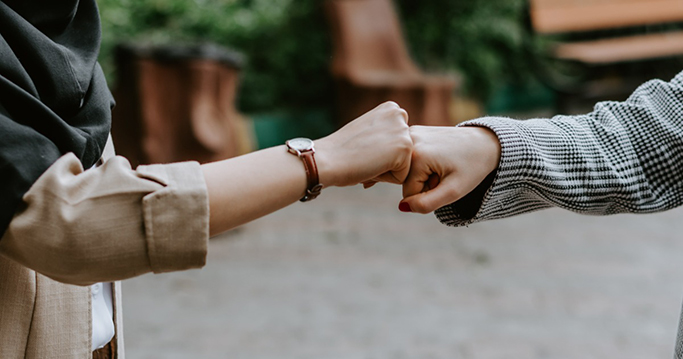 It all started in 1993 with Miles & More, which is now the largest frequent flyer and rewards programme in Europe. Almost 30 years later, there is a large number of such bonus programmes, which are designed to turn customers into repeat buyers by offering something extra.
How does this work? How do loyalty programmes help me to retain customers in the long term? And how do the best of the best do it?
Customer Retention Through VIP Clubs
There is hardly any fashion retailer that does not rely on VIP clubs. Whether it is ESPRIT, H&M or About You: customers who create an account enjoy benefits such as private sales and exclusive discounts. Bonus programmes outside of the fashion industry, however, not only take advantage of the hunting instinct, but also respond to a trend that has become part of everyday life in almost all domains: self-optimisation.
The community programme of eBay Kleinanzeigen shows how to successfully respond to the pursuit of improvement. Users get their own public ranking based on their behaviour on the C2C platform. This includes parameters such as response time, response rate or the quality of the transaction itself. On eBay and Vinted, users not only want to get rid of things that they have sorted out, but they also want to achieve top marks in the rating system.
Customer Retention Thanks to the Urge for Self-Optimisation
Less public but no less effective is the self-optimisation statistic on Audible, the Amazon subsidiary for audiobook streaming. Depending on how long and when users listen to Audible audiobooks, they can collect trophies such as »Wochenendheld« (weekend hero) or »Marathonläufer« (marathon runner). Audible users can share the results from their personal dashboards, but it is not so much about competition – unlike the tracking app Endomondo provided by the sportswear manufacturer Under Armour. This app acts as a coach, supporting over 20 million users in their sports activities, setting goals, measuring successes and comparing them with the digital fitness community.
Sporting activity also plays a key role at the Russian Alfa-Bank. The financial institution takes advantage of the self-optimisation trend and rewards its customers' urge to be active with attractive interest rates. Once users have connected to Alfa-Bank via fitness trackers like Fitbit, they can decide for themselves how much their sweat is worth to them. Depending on the number of steps or metres run, they pay between one and 50 cents into their fitness account – so the more they run, the more they save.
Alfa-Bank's customers do something for their health and the company positions itself as a mobile, attractive everyday companion. The desire to live healthier, learn more and develop further, but also the urge to make this measurable through self-tracking have become indispensable in our society. Those companies that respond to these user habits with suitable offers not only promote customers' desire for self-optimisation, but also create loyalty to their own brand. Ultimately, this gives companies access to valuable data that is essential for optimising their own business processes.
Our 5 Reading Tips of the Week
Charity Shopping: Social Engagement Is Important and Is Rewarded with Customer Loyalty [Handelskraft]
How to Create a Customer Loyalty Program That Works [CandyBar]
How to Build (and Maintain) Customer Loyalty [AdRoll]
Tech Talk While Working from Home: Tech-telmechtel with CRM [Handelskraft]
CRM Between Trend and Duty – How Well Do You Really Serve Your Customers? [Handelskraft]