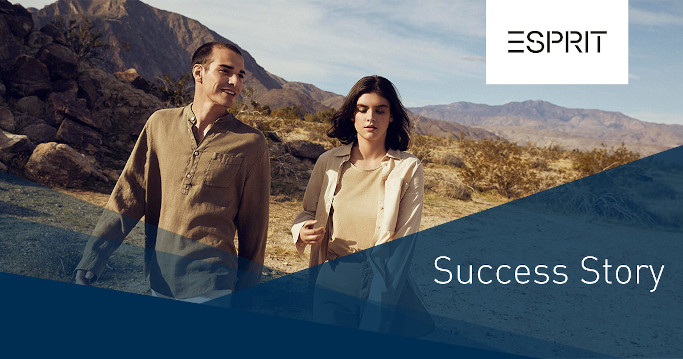 Experience, marketing, omnichannel. Welcome to the buzzword bingo. This is what you would think. However, we all know: even buzzwords have their justification – at least most of them. The tricky part is to make something out of these buzzwords of the moment. In other words: successful business. There is also much more behind the triad from the introduction than temporary hype terms.
In the highly competitive fashion retail industry, a multi-channel sales strategy, an outstanding customer experience and innovative marketing are the key to success.This is confirmed by the »Fashion Retail: Die Zukunft erfolgreich gestalten!« market study conducted by the Bundesverband des Deutschen Textileinzelhandels (Federal Association of German Textile Retailers). Therefore, it is even better if all three criteria can be found on your digital experience profile. ESPRIT, our client and the world's first lifestyle and fashion brand, knows this as well.
In our new »Innovative System Landscape for a Strong Brand Image – ESPRIT Sets the Course for Multi-Cloud Business Close to the Customer with SFB2C« success story, we show how ESPRIT manages to provide a good and unique cross-channel customer experience by integrating Salesforce B2C Commerce Cloud and what it takes for a brand in transition to attract and retain customers through modern brand communication. Long title, smart formula: strong brands need innovative solutions.
Innovation Now and Then: About ESPRIT
With over 50 years of company history, ESPRIT is one of the big names in the fashion industry. The world's first fashion and lifestyle brand was launched in San Francisco in 1968. At that time, the couple Susie and Doug Tompkins sold home-made clothes from their station wagon – and they did so with success. Only three years later, two successful brands, ESPRIT and North Face, were created and a bold idea turned into the independent company Esprit de Corp. with a branch in Hong Kong.
Nowadays, Esprit Holdings Limited is an international fashion group with almost 5000 employees worldwide, headquarters in Pembroke, Bermuda and operational headquarters in Hong Kong and Ratingen. In around 430 branches and its own online shop, ESPRIT sells fashion, shoes and jewellery as well as furniture and home accessories in over 40 countries worldwide.
Innovation Meets Status Quo
ESPRIT Retail B.V. & Co. KG was already well-positioned digitally before the project started. The fashion company's website is based on a modern online set-up as well as established processes and functions. However, this is exactly where the company wants to start: it does not only want to keep the distance to other platforms and competitors small, but rather wants to set itself apart from the competition.
In the highly competitive fashion and lifestyle industry, this can only be accomplished by offering (potential) customers added value. To achieve this, however, the target group has to be tied to the brand more closely, addressed more personally and won over. With the change of CEO in 2018 and a reorientation towards a younger and clear brand image, ESPRIT has already successfully started the race to catch up with the dominant online players.
Innovation for a Brand in Transition
In order to be able to successfully implement the change with regard to systems and particularly in terms of sustainability, ESPRIT was looking for a reliable partner and a solution that would be able to achieve everything the new, agile team had planned for the future in terms of technology. With dotSource as a Salesforce Gold Partner, the fashion brand found the right combination of consulting and development.
dotSource and Salesforce took part in a pitch and were able to prevail against the competition. They proved that the Salesforce B2C Commerce solution is the right system to turn innovative ideas and a clear vision into successful practice.
» Agile, flexible, innovative: this is how everyone who wants to be a player in e-commerce describes themselves today. We have experienced what it really means to think, develop and act in an agile and flexible way. For our customers. Without a doubt, this requires the right technology. However, you also need the right team – the perfect mix of know-how, innovative spirit and trust. We are extremely delighted to have found all of this with dotSource and Salesforce and are looking forward to everything that lies ahead, «
Robert Schmidt, Head of Commerce Technology B2C at ESPRIT, remarks.
International Innovation
Many internationally successful brands also rely on the modern solution from Salesforce. Moreover, Salesforce B2C Commerce Cloud is a solution that enables ESPRIT to work independently on its online presence, develop it further and continuously optimise it while always keeping the focus on the customer.
Internationalisation also plays an important role for ESPRIT. The various country-specific online shops all have different features and are therefore unique to each country. Just like their customers, they have to be looked at and (re)designed separately and carefully.
Innovative System Landscape for a Strong Brand Image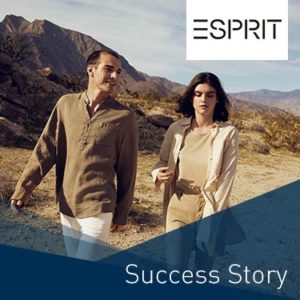 Find out in our new success story how the project team mastered these challenges using A/B testing as well as step-by-step rollouts and what other goals ESPRIT was able to achieve with dotSource and Salesforce.
Buzzwords aside, ESPRIT is the best example of how to turn visions based on hypes, trends and yes, even buzzwords into successful business.