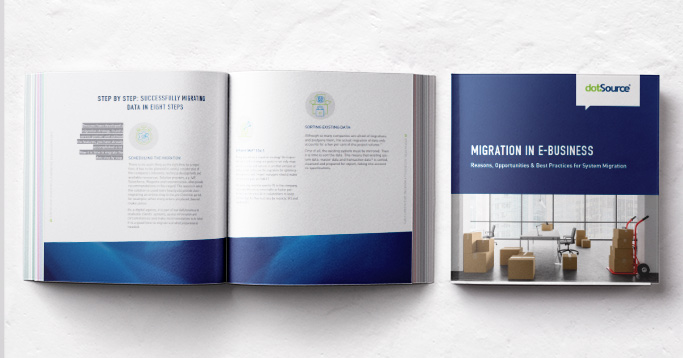 Applied for a new electricity and gas connection? Told everyone about your new address? Packed countless boxes? What we are talking about? About moving. It may be exhausting, but it is often the right step towards a better life with more opportunities for development.
In IT, it is pretty much the same: migrations often work wonders here as well. There are certainly things that need to be optimised: the e-commerce system is outdated and will even have security gaps soon – or it is no longer able to meet the requirements because it is too slow and not scalable enough.
Migrations are usually more than a version change, an update. Migrations offer the opportunity to significantly improve processes and enhance features. But how?
In our new »Migration in E-Business – Reasons, Opportunities & Best Practices for System Migration« white paper, we take an in-depth look at the reasons for migrations and show ways to identify migration needs at an early stage, make excellent plans and master migrations successfully. In any case, migration is a topic that no company can avoid.
Migration as an Opportunity Rather Than a Necessary Evil: It Is All a Question of Planning
One of the reasons why it is necessary to migrate is that the market is changing and evolving: software providers are constantly innovating and support for old systems will be discontinued at some point. When a system is no longer supported, security gaps arise. Such a situation must be avoided at all costs in order to protect valuable customer and corporate data.
Another reason is that companies are evolving at a faster pace and the software they use can no longer keep up: existing systems reach their limits, hosting needs to be more scalable, the performance suffers. Product diversity and user habits require new functionalities, but it is impossible to implement them in the existing system.
Migrations Are an Investment in the Future: Flexible Scalability and a User-Friendly Approach
In our brand new white paper, we show you how migration projects can succeed – and explain why consulting and requirements elicitation are at least as important as IT architecture and feature planning. We explain what steps the actual data exchange consists of, what mistakes to avoid and what a long-term digital business strategy can look like.
In addition, the white paper features experts who explain what to look for from a holistic perspective, for example when migrating e-commerce software, content management solutions, customer relationship management or product information management systems. They also point out why you should always keep an eye on digital marketing and user experience.
Migration in E-Business: Download the White Paper for Free Now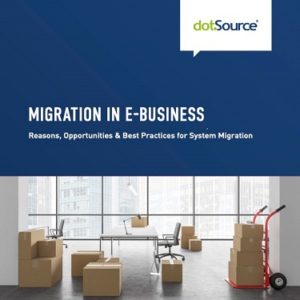 Last but not least, we showcase best practices to encourage you to become an example for others to follow. Curious? The brand new white paper covers all facets of migration projects and helps to estimate efforts.
Exclusively for retailers, manufacturers and publishers, the white paper can be downloaded for free here.