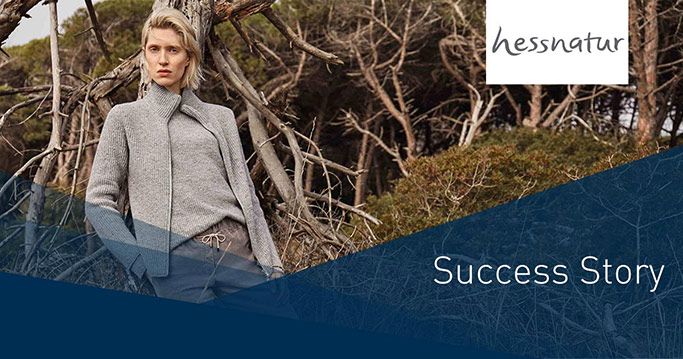 Wool, silk, linen – at hessnatur, these fibres are used for clothing which is not only stylish, but also sustainable and fairly produced. The German slow fashion pioneer is one of the market leaders for natural textiles that meet the highest standards – and has been in this position for 45 years. The company was founded by Heinz and Dorothea Hess in Butzbach (Hesse) in 1976. To this day, it successfully sells organic clothing for children and adults as well as sustainable outdoor wear and home textiles.
hessnatur has around 340 employees and operates stores in Butzbach, Düsseldorf, Frankfurt, Hamburg and Munich. However, the fashion brand's main sources of revenue are its mail order catalogue business and its online shop based on SAP software. With the growth in e-commerce, the shop had to grow as well, so it was time for hessnatur to migrate to a newer, cloud-based e-commerce software. In our new success story, we take a closer look at how this was achieved.
Migration from Hybris to SAP Commerce: Analysis of the Status Quo and Definition of Objectives
In 2018, hessnatur turned to dotSource to receive strategic advice. The IT system landscape was evaluated and new objectives for a successful, digital future were defined.
This included migrating the existing hessnatur online shop from SAP Hybris 5.7 to SAP Commerce 1905 in order to be more future-proof and to make it possible to implement new ideas more quickly. Security aspects also repeatedly played a role when it came to the migration.
Migration from Hybris to SAP Commerce: Shop System with New Features
The bigger the upgrade leap when migrating, the higher the effort and the more profound the necessary changes. In the case of hessnatur, the main challenge was that older modules could not be migrated but had to be replaced with new components.
More details, for example on the new, integrated CMS or the new back office, can be found in our success story. Even beyond the technical aspects, however, the cooperation was successful because hessnatur embraced the migration as an opportunity rather than a necessary evil – an opportunity for a customised online shop of the highest quality.
Migration from Hybris to SAP Commerce: Customised Online Shop for Germany's Most Sustainable Fashion Brand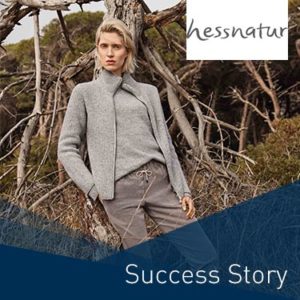 Not only is sustainability very important to hessnatur, it has also been the key aspect of the company's philosophy for a quarter of a century. With the new e-commerce system based on SAP Commerce, hessnatur has a sustainable and future-proof digital presence. This allows the company to operate optimally in the growing slow fashion industry and also to boost its own corporate growth, which has been particularly impressive in 2020, in the best possible way.

Thanks to the successful migration, hessnatur can now tackle further projects together with dotSource as its digitalisation partner, for example setting up a decoupled front end.
Curious? Find out more in our new success story.