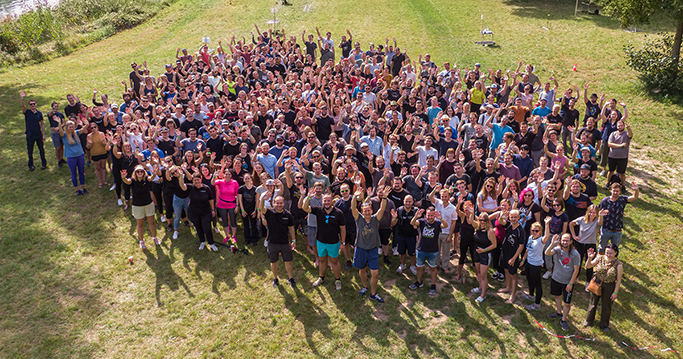 Boom! We are 400.
On the 1st of October 2021, we welcomed our 400th employee – another important step on our »Journey to Jupiter«.
dotSource and the »Journey to Jupiter«
Do you remember the Handelskraft article from last year when we were proud as Punch to have reached 300 employees? Well, time has gone by and employees have joined dotSource. Amazing employees! Creative minds, likeable people, motivated digital natives – and we want even more new faces to join us. The ambitious »Journey to Jupiter«, which was proclaimed in 2020, is taking shape. By 2025, we want to have 1000 employees. The developments of the last few years have shown that this can be achieved. The constant and strategic development of the dotSource family is at the heart of this endeavour:
» dotSource, that is 400 creative and technically adept women and men: industrial engineers, computer scientists, designers, business economists, humanities scholars and many others. For us, it is always the person behind the CV that matters, regardless of whether they are recent graduates, specialists or career changers. Team spirit is particularly important here at dotSource! «
This is how Christian Otto Grötsch, founder and managing director at dotSource, describes the agency's philosophy.
Despite a global pandemic, dotSource has managed to remain attractive to applicants from all over the world. It is not only the focus on employees across all teams and the appreciative corporate culture that have contributed to this – the future-oriented and attractive digital industry keeps on growing and growing, too.
In addition to daily business with clients, the hybrid HR strategy also played an important role. Whether imparting knowledge online via webinars or organising remote team events instead of social distancing: We always came up with ideas to maintain the team spirit – even during lockdown. We were so successful that we were even able to pass on the New Work mechanisms we had developed to our clients and offer remote business services.
dotSource Company Event Tops It All Off
Last but not least, it is also our agency's spectacular summer parties that make working here so enjoyable and create a family-like atmosphere.
On the 10th of September, we celebrated our company event at the Strandschleicher in Jena – an event that normally takes place every year. Normally, because the last one and a half years have been anything but normal for our agency as well: many of the now 400 employees were initially only able to get to know the dotSource family remotely and had to wait until this year's company event to experience the team spirit live.
We were randomly split into different teams, had to build rafts and set sail with them, constructed bridges à la Leonardo da Vinci, laughed, danced, sizzled in the sun and clinked glasses with our colleagues. The team chemistry was just right and made us excited for what is to come.
It is always important for us not to lose the team spirit. That is why we must and want to work together. Curious? Just take a look here, drop by and become a part of our teams in Jena, Leipzig, Dresden, Stuttgart or Berlin. This way!
We are looking forward to meeting you!