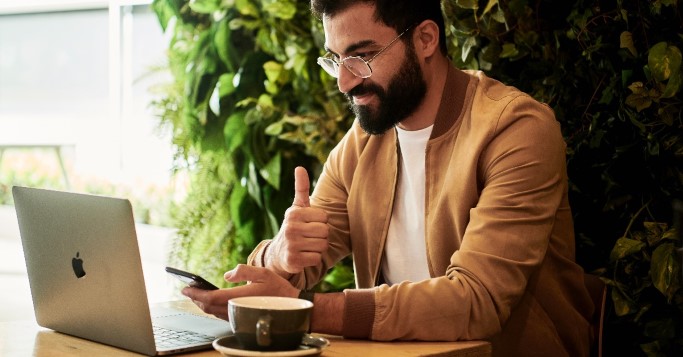 In order to stay ahead of the competition in terms of customer success, you should not let your processes stagnate or be content with merely using innovative solutions. So much for theory. In our new »CRM Best Practices« publication, we show you how to turn customer relationship management from a theoretical business strategy construct into successful digital practice.
Learn from successful client projects in industries such as agriculture, retail and publishing how to
think outside the much-cited box with collaborative and agile methods
take a critical look at your own processes
select the right Salesforce Core products
integrate solutions and optimise processes
CRM Best Practices: Long-Term Customer Success Thanks to Salesforce Expertise
The best practices provide insights into system selection, integration, strategy and further development of the Salesforce Core products Sales, Service and Marketing Cloud. As individual as the companies and their requirements are, as numerous are the insights you gain into different project phases, challenges and solutions.
Find out how INNIO, MEVACO, Unitedprint and RENO benefit from automated service processes with Salesforce Service Cloud and how Salesforce Sales Cloud was used to professionalise customer relationship management for envia THERM, myAGRAR and SWAROVSKI OPTIK.
We also show you how the use of the Salesforce solutions Marketing Cloud and Pardot enabled personalised and automated marketing at RENO, Walter de Gruyter and GRANIT PARTS, which drives personalisation and the provision of customer-relevant content across all channels.
CRM Best Practices: Great Usability for Everyone
It is precisely this balancing act that must be mastered when selecting and implementing a CRM system: How user-friendly is the system for my employees? How does the system improve the relationship with customers?
Regardless of whether it is B2C, B2B or B2B2C: customers expect convenient, inclusive digital experiences at every point of their customer journey. However, it is just as important that the people who use the system also feel comfortable using it, want to use it and are capable of using it to consistently focus on customer needs at all levels.
So how do you ensure that employees do not face insurmountable challenges in daily business?
The perforated sheet manufacturer MEVACO, one of the successful use cases in the »CRM Best Practices« publication, shows where to start in order to master this balancing act.
With regard to customers, this means offering service and inspiration without a long search. Make sure, for example, that customers no longer have to wait in nerve-racking queues, but receive prompt support and good advice via a live agent.
Data-driven processes clearly map when customers are where and what their needs are. This makes it possible to automatically create targeted reactivation campaigns and personalised content for every point of the customer journey without the need for extensive programming knowledge.
What this means for employees is that automated processes give sales staff more time for face-to-face customer service.
CRM Best Practices: Customised System Landscape for Long-Term Customer Relationships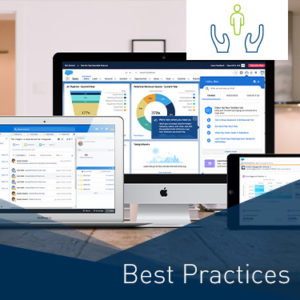 The »CRM Best Practices« publication shows how to make the most of the extensive capabilities of the Salesforce portfolio for B2B and B2C in order to offer both customers and employees user-friendly experiences with an innovative system landscape.