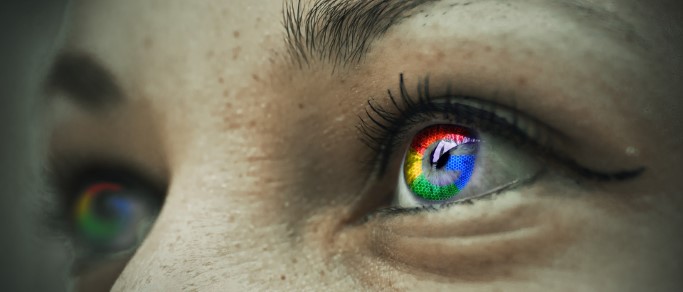 From search to inspiration to final purchase, mobile users interact with multiple touchpoints along the entire customer journey. Consumers currently have less time and more and more options to choose from. The goal for companies is to reach customers at the right time with the best offer.
It's also reflected in the way that advertising looks today, where and how it works. It's in tempting and highly consumable formats, it's a staple of customer engagement, winning through mobile, seamless experiences on and between every channel. Not to mention their functionality as a success.
Two weeks ago, Google presented its new advertising formats at the annual Marketing Live Conference. A clear trend emerged. In addition to AI, visuals are becoming more and more important in the world of online advertising. Which formats are specifically involved? We've put together the most important innovations for you.
Google advertising, the power of visual content
Discovery Ads, Gallery Ads, and Showcase Shopping Ads formats are also conquering other ad space. These formats all have in common that they're not only very visual but automated and displayed across multiple Google platforms. In addition, Google also announced a redesigned and improved shopping experience.
REACH – Discovery Ads
Surf, swipe, scroll, find, and shop in the best possible way! According to a study by Google and Ipsos, 76 per cent of consumers make unexpected discoveries while shopping. This means that consumers are most likely to interact with brands in this first phase. To take full advantage of these opportunities, Google has launched Discovery Ads, which will be available to all advertisers worldwide this year.
What and where? Discovery Ads are native ads that appear in multiple types of Google feeds. This form of advertising is already running through the YouTube's Home Feed as well as Social and Promotion Tabs in Gmail. What's new is that this ad can also run through Google's Discover Feed, which serves more than 800 million people per month.
How do they look? Depending on the platform, these ads look very different. n Gmail, they resemble regular Gmail ads, while appearing on YouTube and Discover as native in-feed ads with large images. Examples of individual ads are shown below.
How are they paid for? Discovery ads are billed on a click-per-click basis, only when users click the thumbnail to view the ad.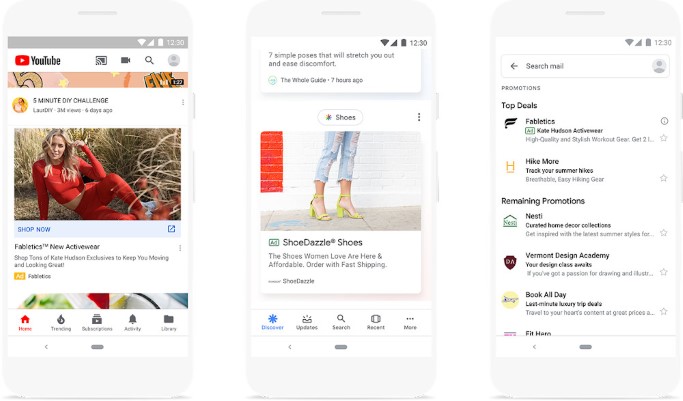 In addition, Showcase Shopping will be launched in other stores in the near future to better serve customers' desires for inspiration and ideas.
What and where Showcase Shopping Ads were first introduced for search in 2016 and are designed to give retailers the ability to present a curated visual list of products when users use a generic term. The announcement extends Showcase Shopping ads to Google Images, the Discover feed, and the YouTube feed. Examples are shown below.
How are they paid for? Billing differs from the pure CPC model. Google is using CPE (cost-per-engagement) here. CPE is calculated when the user views the Showcase ad more than ten seconds or has previously clicked on a product ad.
INPIRATION – Gallery Ads & Showcase Shopping
In response to a trend towards even more visual ads, Gallery Ads were presented. Google claims that this new ad format generates more engagement (25 per cent) than other Ads Ads ads.
What and where? Gallery Ads are visually appealing ads that appear at the top of mobile search results.
How do they look? They provide a scrollable gallery with (for now only) four to eight images and up to 70 characters for each image.
How are they paid for? Advertisers pay for these ads on a per-CPC basis, either when a user clicks through to a landing page or jumps to the third image in the sequence. Some of these ads may not have CTRs, only image swipes.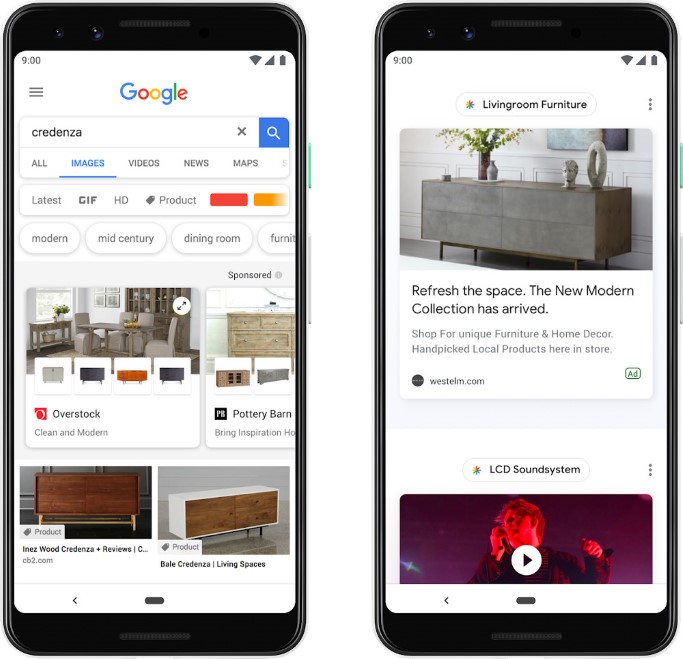 SALE – Personalised Shopping Experiences
Another important announcement is the launch of a redesigned Google Shopping Experience. The aim is to harmonise and improve this experience for consumers. The new Google Shopping, which first launched in March in France, is now even more personalised. Consumers can shop on retailers' sites, at a local business, or directly on Google, where Google manages the transaction via Google Express.
Retailers who are already part of the shopping will choose »this new easy shopping experience,« available on Google.com and also through Google Assistant. Google said that shopping campaigns will also be extended to YouTube and Google Images later this year.
Moving towards mobile, connected experiences
Google is also challenged to deliver smooth and secure user experiences in an increasingly mobile and cross-platform world. Another announcement confirmed that. A deep linking feature for apps through Google Ads.
This will direct app users directly from a search and shopping ad to the corresponding page in the mobile app. These strongly linked advertising experiences will create double conversion rates, Google promised. Above all the measures, the online giant expects the performance of its competitor Amazon to equal.
Video editing made easier with AI
Of course, Google also has eyes for AI. The machine-learning software Bumper Machine will enable automatic creation of six-second short versions of longer videos. It remains to be seen, however, whether the use of these AIs will prevail. The tools in alpha testing right now.
Our 5 reading tips of the week
Neuerungen bei Google Ads sorgen für besseres Shopping-Erlebnis [Onlinemarketing.de]
Google bringt mehr Werbung in seine Apps [Internet World Business]
Google: Einkäufe von Gmail-Nutzern werden gespeichert [t3n]
Attention, Amazon Shoppers: Google Wants Some of Your Spending Money [The New York Times]
'Google is the only winner': Google's anti-tracking moves could slow Amazon's ad growth [Digiday]