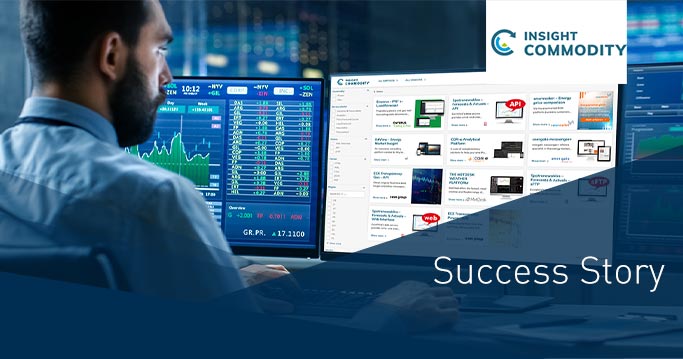 Electricity is not only generated; it is also traded before it can be supplied to consumers. European Energy Exchange (EEX) is a leading energy exchange with headquarters in Leipzig. It is part of EEX Group, which has 17 offices worldwide and belongs to Deutsche Börse Group.
The »InsightCommodity« platform, in turn, is an EEX service launched in 2020. It gives users the opportunity to obtain a comprehensive overview of available data products, services and providers relating to the energy and commodity markets of EEX Group. Find out in today's article how the service got off to an ideal start thanks to a fresh brand design and Magento as its e-commerce software.
Perfect Match: How a New Brand Gets Off to a Flying Start
InsightCommodity sees itself as an online marketplace for analytical solutions, processed raw data and the latest market news. The company also provides consulting services for everything related to trading, risk management and the procurement of electricity and natural gas.
In order to make these services accessible to customers, InsightCommodity needed advice on the selection of a suitable system as well as support from an experienced service provider to implement the e-commerce software and thus advance the development of the innovative platform in terms of technology.
Furthermore, a corporate design was to be created for the new company in order to visually underline its innovative business model.
Perfect E-Commerce Basis: Innovative Magento Platform
By establishing such a digital platform, InsightCommodity has become a pioneer in its industry, making information on data services available in one central place and intelligently pooling the data relevant to commodity price development.
Accordingly, the task was to find a software that would meet these requirements. After a consulting phase, EEX followed dotSource's recommendation to technically implement the InsightCommodity platform with Magento 2 Open Source as its e-commerce software. A few weeks after the project had started, the platform went live on schedule.
Perfect Brand Experience Design for Innovative Digital Platform
The dotSource user experience design team develops visually appealing solutions for new corporate identities and websites – from the first idea and a detailed concept to a tangible prototype.
InsightCommodity's new brand design included the development of both a logo and a corporate design. Moreover, key visuals and the screen design of the website were rethought as well. With fresh colours such as petrol, blue and green in combination with a circular element in the centre, the design convinced InsightCommodity right away.
Perfect Match: Something Electrifying for the Energy Industry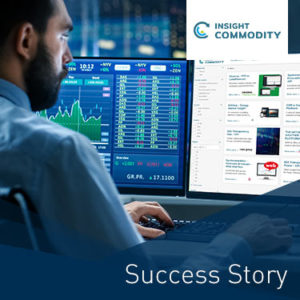 A modern e-commerce software as the ideal basis for online data trading and a fresh brand design with recognition value and style: in our new success story, we describe in detail how InsightCommodity got off to an ideal start as a pioneer in its industry thanks to a future-proof e-commerce solution and an appealing UX design.