BayWa – you have read a lot about this company on our blog lately. Yes, BayWa AG is indeed featured frequently in our weekly success stories. This is because the company is clearly on the fast track to success when it comes to digital transformation.
The Munich-based group, which is one of the market leaders in the agricultural and construction industries, also wanted to take its marketing automation to the next level. As BayWa and dotSource had already enjoyed many years of cooperation, the group commissioned the Jena digital agency to implement SAP Marketing Cloud and integrate it into the existing system landscape. Find out in today's success story how this was achieved and what added value it brings.
Marketing Automation as the Key to a Personalised Customer Experience
With the help of the right marketing automation software, it is possible to strengthen customer loyalty through personalisation and automation. With this goal in mind, BayWa AG approached dotSource with the request to
select and implement an innovative marketing automation system
replace the previously used newsletter tools
personalise the content available across the company's wide range of products and services
increase the number of newsletter subscribers
Since BayWa AG had already worked successfully with the solutions offered by our partner SAP, the company also decided to use SAP's marketing automation software for its personalisation strategy.
Marketing Automation for Real Omnichannel Experiences
In stationary retail, BayWa has more than 200 sales locations in Southern Germany and Austria. Customers have appreciated the personal consulting services at these locations for decades – something that the newsletter was to reflect because BayWa AG is successfully driving forward the expansion of digital processes and wants to offer its customers real omnichannel experiences. Therefore, a modern marketing automation software had to be part of the system landscape.
This software allows for direct customer contact and the integration of personalised offers, for example into a newsletter. To put it differently: based on settings selected and items viewed or ordered, products that are of real interest to customers are displayed automatically.
Marketing Automation – MVP According to Agile Project Principles
One major challenge of the project was not to interrupt the regular newsletter dispatch while the new system was being implemented. After the requirements elicitation and joint workshops, an MVP was designed and implemented according to agile project principles. In order to adapt to ongoing business operations, an important part of the cooperation also consisted of providing targeted training courses for BayWa employees during the implementation stage so that the new tool could be used without any problems right away.
With SAP Marketing Cloud, BayWa AG has selected a software solution that is one of the best in the field of personalised marketing automation. The tool's capabilities go far beyond sending out newsletters as it can also be used for planning and launching multi-channel campaigns.
Thanks to smart project planning and parallel training courses, it was possible to carry out all marketing activities as usual or even increase their frequency. The response from customers is positive, which is not least shown by the high newsletter opening rates.
Marketing Automation System Perfectly Integrated into the Digital Strategy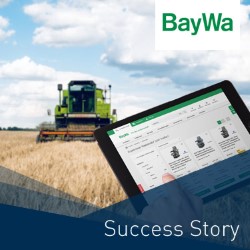 SAP Marketing Cloud fits seamlessly into the SAP system landscape. By optimising its customer engagement, BayWa AG has not only been able to improve its customer experience in the long term, but has also managed to convince the group's customers – many of whom have been loyal for decades anyway – to rely on BayWa AG when it comes to their construction and agricultural needs as well as various services – especially in times of digital change.