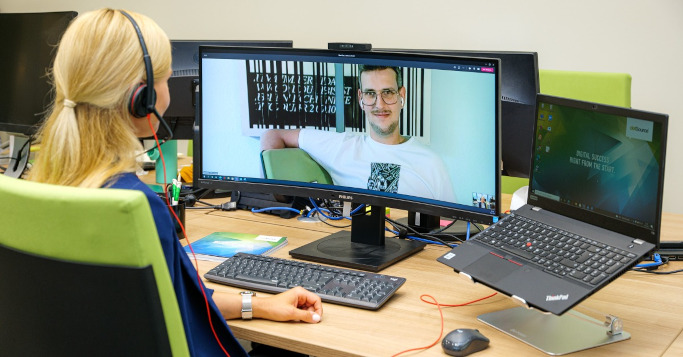 If you ask colleagues for their opinion on working from home, there is certainly no consensus. While some people take full advantage of their new-found freedoms, such as sitting in meetings in sweatpants and cranking up their favourite music, others miss the everyday office gossip and are annoyed by parcel deliverers, network problems and noisy neighbours.
The latter should be all the more pleased that the current incidence rates have led to the lifting of the obligation to work from home. However, in order to still be able to comply with social distancing rules, it is usually not possible for all colleagues to be in the office at the same time. Under these conditions, the flexible model of hybrid working has emerged. This gives employees the option of working in the office or from home. This solution seems to do both groups a favour. Nevertheless, it presents companies and their employees with new challenges.
Hybrid Office: Stay Connected
Under these conditions, smooth processes can only take place if all employees communicate intensively with each other – regardless of their workplace. Colleagues must be aware of important information and decisions, but also of availabilities in order to plan for the long term while also being able to react flexibly.
However, networking with team members while working from home is not only important for work processes. Despite physical separation, interpersonal relationships should also be maintained in order to foster team cohesion.
Lunch break conversations or funny occurrences in everyday life are known to lift the mood and make work much more enjoyable. So why not simply call your colleagues during lunch break or organise remote team events?
Our 5 Reading Tips of the Week
What Does the Hybrid Working Office Look Like? [Absolute Commercial Interiors]
Advantages and Disadvantages of the Hybrid Workplace Model [WeWork]
Hybrid Office: Maximising Your Time in the Workplace and Home Office [Fentress Incorporated]
Top 5 Cybersecurity Challenges in the Hybrid Office [Security Magazine]