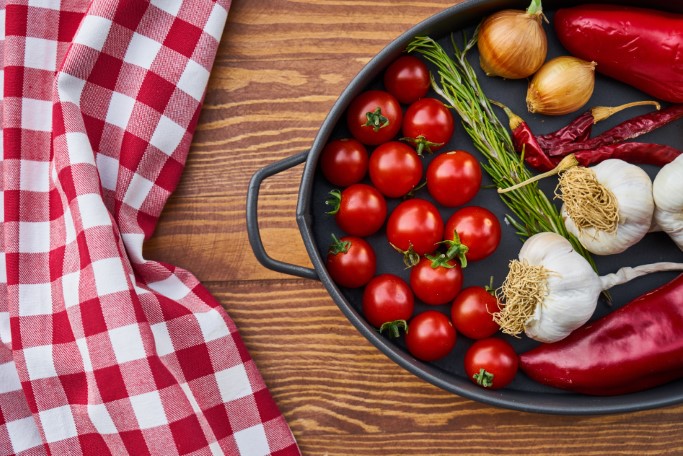 Online shopping has long been a fixture in German retail. But there are certain sectors that are slower to keep up. According to a recent survey by Digital Association of Germany Bitkom, online grocery, despite its growth, hardly reaches any new customers. How's that possible?
The e-food market is also facing a major challenge: the supply of luxury foods. To master this, supermarkets, discounters and retailers are striving for a sustainable business model.
Today, we'll explain what the current state of this unique industry is and what trends are emerging for efficient and enticing logistics.
The status quo of the e-food market
Although well over a third of consumers surveyed think they can buy groceries or drinks online in the future, the number of Internet users who order groceries on the web has increased only minimally (by one per cent).
NICHE
The following chart shows the foods most frequently purchased online: Sweets, prepared meals and preserves, alcoholic beverages, and special foods (lactose-free, gluten-free, vegan). On the other hand, fresh produce is at the bottom of the grocery list, as consumers prefer to view, handle and select such products before shopping. The sale of non-perishable and special products on the Internet will therefore become a niche market, benefiting resellers.

Source: Statista/Bitkom
LOCAL
The majority of existing food delivery services are offered in major cities. The e-food market is not nationwide, but predominantly local and urban. Therefore, the chances of it becoming an established market are low.
In Germany, Rewe was a digital pioneer and is represented by its delivery service in over 70 cities. Amazon launched its food delivery service in Berlin, Hamburg, and finally Munich, while Edeka experimented with Bringmeister in Munich and Berlin.
In fact, only 21 per cent of consumers living in rural areas have ever bought groceries online. In contrast, more than one in three city-dwellers (37 per cent) have already ordered these goods on the web.
» With increasing awareness and innovative logistics solutions, sales will also increase in online food retailing «
says Bitkom CEO Dr Ing. Bernhard Rohleder.
From your own shop to the marketplace?
The biggest players (except Rewe) limit their delivery service to certain cities to ensure the profitability of their own infrastructure. For small and medium retailers, this isn't an option, because the associated investment is very costly and risky.
For this reason, it makes more sense to shift the risk and cost recovery to marketplaces. The Bavarian supermarket chain Feneberg has closed its online shop Freshfoods and thus redesigned their ambitious e-food project. Instead of selling on their own online shop, Feneberg now sells its groceries on Bringmeister, the Edeka grocery online shop. In addition, Feneberg cooperates with Amazon in Munich.
Outsourcing food delivery
On the other hand, the discounter Lidl is trying again to implement a new approach to food delivery — initially only in Ireland.
Instead of building up their own structures, Lidl has outsourced its food delivery business in Dublin completely to their partner Buymie. The goal is to reduce the high risk of this price-driven model. Buymie is a mobile app for on-demand food. The app accepts the order from the Lidl selection and then sends a personal shopper who does the shopping at Lidl. The delivery is made within an hour.
But this business model has a few disadvantages:
The costs are much higher.
The retailer can't offer their products through their own web channels.
The retailer is completely dependent on the partner.
In Germany, however, at first glance, it looks like no one's doing this. In the long term, an alliance with Getnow could be interesting for traders like Lidl. In addition, Globus announced a partnership with food.de. Picnic also has big plans in Germany.
The trend's going international
In the US, however, this alternative is one of the standard solutions for fast food delivery. Instacart has been supplying food for Kroger, Costco, and Aldi (USA) for several years. Lidl USA has also joined this trend through a partnership with Shipt. Customers are required to pay a monthly ($14) or annual ($99) fee to receive deliveries.
Deliveroo is gaining importance in Europe. In the Netherlands, the start-up Thuisbezorgd.nl brings food to your home or office. In the United Kingdom, Deliveroo is now working with The Co-Op to provide users in selected cities with their entire grocery shopping via an app.
Let's wait and see if these new attempts will move the e-food market forward.
Our 5 reading tips of the week
Lebensmittel aus dem Netz: Wieso Marktplätze für den Mittelstand besser sind [t3n]
Prime Now-Partner Feneberg geht zu Bringmeister – Freshfoods am Ende [etailment]
Grocery Ecommerce Shoppers Prefer 3rd-Party Delivery Services Over Grocers' Own [Progressive Grocer]
Cutting The Cord: How Grocery Retailers Can Delist From Instacart And Other Platforms [Forbes]