A small seed grows into two-metre-high sunflowers, thousands of seeds turn into many hectares of crops – and good service and intelligent marketing create a strong bond between customers and companies.
This special connection is also important to myAGRAR: the online shop for farmers is operated by AgrarOnline GmbH, which has its headquarters in Ratzeburg, Schleswig-Holstein, and is part of the tradition-steeped ATR Landhandel group. With traditional sales methods, ATR Landhandel has shaped agricultural trade in Northern and Eastern Germany as well as in Denmark and Poland for around 100 years. myAGRAR, however, has also been part of the group since 2017, reaching its target group with future-oriented e-commerce and enabling customers to order not only high-quality seeds, but also animal feed, fertilisers and agricultural technology 24/7. This means that today's farmers can benefit from the same advantages in their everyday working lives that they have long been used to in their private lives.
In order to further strengthen customer loyalty and increase user-friendliness, myAGRAR wanted to integrate customer success solutions in its system landscape. How were both a suitable CRM system and marketing automation solution selected? And how were they implemented precisely?
CRM and Marketing Automation as the Key to Customer Loyalty
myAGRAR has been mixing up a rather traditional industry with the spirit of a start-up for a few years now. However, e-commerce is far more than a well-performing online shop these days. Accordingly, myAGRAR is always on the lookout for digital optimisation potential.
At the end of 2019, the company approached dotSource with the question of which customer relationship management (CRM) system and which marketing automation solution would be able to help the company in pursuing its ambitious plans and thus further increase customer satisfaction.
Salesforce CRM and Marketing Automation Creates a 360-Degree View of the Customer
After the requirements elicitation, joint workshops and a system selection process, which had also been carried out during the restructuring of Thüringer Aufbaubank's customer success strategy, the company from Northern Germany decided to implement two Salesforce solutions.
Salesforce Sales Cloud as the CRM system and Salesforce Pardot as the marketing automation solution interact optimally with each other. This now allows myAGRAR to
accelerate and improve its service
reach customers across all touchpoints and address them personally
generate more sales through cross-selling and upselling measures
CRM & Website Optimisation: Workshop Series on User Experience Design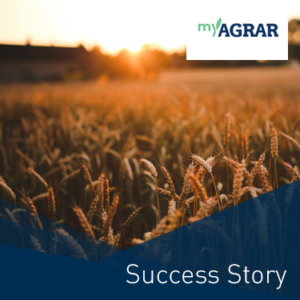 And there is even more: parallel to the implementation of the Salesforce solutions, the myAGRAR team also wanted to optimise its website. No sooner said than done: dotSource quickly organised the corresponding user experience design workshops.
myAGRAR now knows all the tips and tricks to increase the conversion rate and improve the user experience.


With Google Optimize as its tool of choice and A/B testing as the method used, the company is also continuously fine-tuning these aspects. This willingness to innovate is impressive!
Curious? More details on the workshop content and system implementation can be found in our new myAGRAR success story.