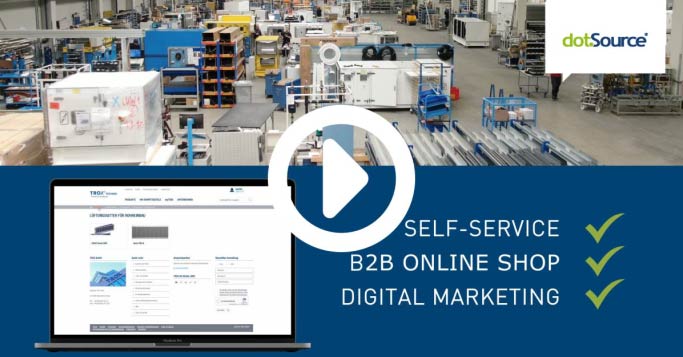 Let us admit it: at first glance, there are more exciting topics than »Production and sale of components, appliances and systems for the ventilation and air conditioning of rooms, including fire and smoke protection technology« – even in the business customer segment.
As you might have guessed, however, it is definitely worth taking a second look. Read on to find out more about the potential for successful e-business in this industry in general and at TROX with its complex B2B products in particular. These are the projects covered in today's article:
B2B Multi-Stream: It Started with Commerce
Since 2017, we have been working together with our client TROX to digitise the processes of the air conditioning and ventilation company. What started as a challenging e-commerce project five years ago has turned into an intensive partnership. We have had the privilege of working together with TROX on numerous projects and not only look back with pride, but also look forward to the future with great expectations.
We have summarised the extensive saga in a video so that you can get a first impression:
B2B Multi-Stream Pioneer TROX
Those who had invested in the digitalisation of their company at an early stage benefitted from it in 2020 – if not before. Even before this memorable year, customer demands in B2B had increased noticeably. Especially in the past calendar year, there were hardly any retailers who could still afford to not have an online shop with a good customer experience and suitable digital marketing measures without having to face financial losses and a decline in customers.
In terms of e-commerce and digitalisation, however, the refrigeration and air conditioning industry is still at the very beginning of the transformation process. In this industry, purchasing decisions are made after long deliberation and extensive price calculations. TROX's highly customisable, complex air conditioning and ventilation components and appliances require comprehensive consultation and information anyway.
B2B Multi-Stream for Holistic Experiences
Since numerous stakeholders – from investors, architects and plant constructors to facility managers – come into contact with TROX products and therefore have different support needs, the need for information and consulting services is constantly changing.
Apart from the high need for consulting services, the demands placed on user-friendly business transactions on the Internet have also continued to increase in the business customer segment, as customers want to enjoy the benefits of online shopping in professional environments as well. They want to compare prices, get information independently and place orders themselves without having to rely on salespeople as middlemen. Unlike other companies in the industry, TROX identified precisely this need early on and took it as an opportunity to make long-term investments in its digitalisation.
In search of support for the professional concept creation, development and implementation, the medium-sized company turned to dotSource in 2017. As a full-service digital agency, we have a 360-degree view of the project right from the start to ensure long-term customer success, taking all of the company's business units into account in the digitalisation strategy. This meant that the focus was not only on the existing online shop and its products, but also on its reach, marketing and all associated customer relationships.
B2B Multi-Stream: Added Value for TROX
With dotSource as its digitalisation partner, TROX has made significant progress in terms of e-commerce. The integration of a shop system into the existing system landscape, the connection of TROX's various systems (including ERP, CRM, CMS and a product configurator) as well as the introduction of a purely digital ordering process marks the company's first important step towards digitalisation.
In addition, a comprehensive digital marketing concept, including the development of channel-specific marketing and communication measures, a uniform tracking setup for all subsidiaries and training courses on how to use Google Analytics, enables TROX to immediately respond to current market conditions and Google developments.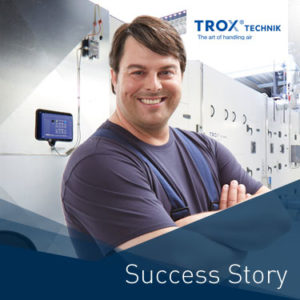 Thanks to the thorough UX design overhaul, it was possible to give pages a clear and simple design and expand existing pages with traditional B2B shop elements, improving usability by doing so. The design of interactive prototypes for a barcoding feature, for example, allows maintenance companies to view product and project information online by scanning a barcode.
Curious? The entire series of success stories can be downloaded for free here.