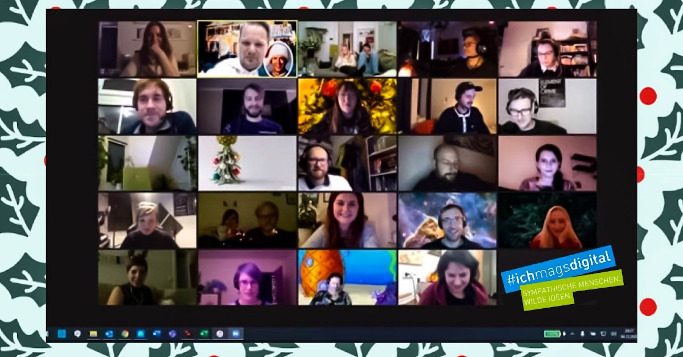 Wild, cringe, lost.
What? Dear Gen Z and Alpha, you surely know what I'm talking about. I'm a millennial and mum of a Gen Z teenager and Gen Alpha mini. Both of them know these three words – no, they actually brought them up in the first place. I'm talking about Germany's top 3 Youth Words (3-2-1) of the Year.
WILD: something freaking cool or awesome (24%), CRINGE: something embarrassing or awkward (28%), LOST: someone who is clueless, unsure or indecisive (48%). Three words that could not describe this year any better. We had many wild ideas, there were lots of cringe moments and… well, we certainly felt lost a few times, didn't we?!
Wild Christmas 2020: A Silent Night for Real
These words apply to Christmas as well. It's really cringe how everyone went panic buying once again two days ago – and how barriers similar to the ones at airport check-ins made sure that queues in front of one store didn't get too close to those in front of another.
We felt really lost when we heard that the light lockdown would become a hard lockdown once again. However, we also felt relieved because the situation won't improve otherwise.
It's really wild how thoughtful we get all of a sudden, even if we've always been a part of Team Grinch, and how we become children again and obey to »If you are a good boy/girl, then …«.
We also think back to when we said that 2020 would be the year we achieve so much. Instead, it was the year we are more grateful than ever for everything we already have.
Wild Christmas AKA Make the Best Out of It
There's no point in complaining. It's about coming up with wild ideas – also and especially during the festive season. On Christmas Eve, we'll have a remote video call with my sister, brother-in-law and their kids. It's not the same. Of course not.
But hey, at least we won't experience any packing stress or ask ourselves: »Do I have everything?«. No train travel with good old DB, no changing trains with heavy luggage and one child on the shoulders while the other one is grumpily trotting along. No hustle, no bustle, no sensory and gift overload. A really silent night, so to say. Could be worse.
We wish you a wild Christmas – #stayhome & #staysafe!
Your Handelskraft team