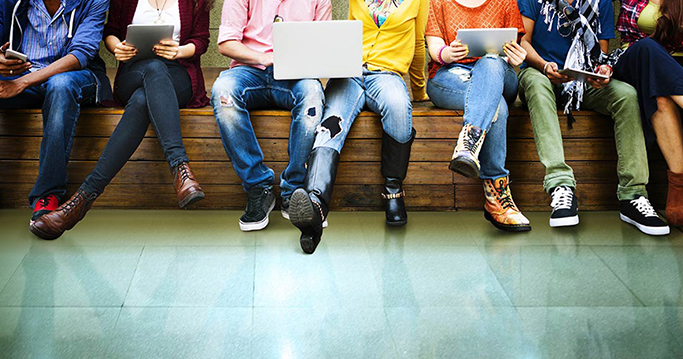 Demanding, dependent, ethical – as the first generation to grow up entirely in the spotlight of the Internet, millennials are probably the generation that has received the most criticism. However, now that brands are finally beginning to understand this target group, their successors are already entering the consumer landscape: Generation Z.
This raises a number of questions for (online) retailers: how does Generation Z prefer to shop? Which payment methods does it preferably use? And how has all this changed during 2020?
The »Social Responsibility« Generation
The successors of Generation Y are known as Generation Z (Gen Z) or zoomers. It refers to the group of people who were born between 1997 and 2012.
A study conducted by OC&C Strategy Consultants, involving 15,500 people from four generations and nine countries, shows how this generation differs from previous ones. It also highlights how retailers should position themselves towards the youngest consumers, who will make up a third of global consumers in ten years' time.
One result was that price and quality are less important to Gen Z as selection criteria for a brand or product. The youngest generation rather places value on secondary factors such as style, product presentation and sustainability aspects. In addition, it will challenge retailers with issues such as social responsibility, equality and thirst for innovation. In order to retain this generation as customers in the long term, companies should critically examine their range of goods and services as well as their ethical standards.
Generation Z may not have invented terms like FOMO and YOLO, but it tends to buy experiences rather than products – even more so than millennials. Almost one fifth agreed that they are more likely to spend money on experiences; in Germany, this figure was even higher than 20 per cent. According to the study, this preference was based on lower materialistic standards.
The »Online Shopping« Generation
Online shopping is old hat. Yes, it is. What distinguishes Generation Z from other target groups, however, is that friends and celebrities have an enormous influence on its purchasing behaviour. Although older generations can also be influenced by social media appearances of a brand, the factors influencing Gen Z are significantly more diverse.
Traditional sources of inspiration are no longer popular with this generation: only five per cent of young German consumers are inspired »while shopping«. This figure is 18 per cent for baby boomers and 17 per cent for Generation X.
The pandemic and the temporary contact restrictions have intensified the online shopping boom anyway. During the lockdown, half of the young target group bought much more online and almost as many said they would continue this habit, even if the coronavirus will no longer play a role in the future.
In addition, the fear of fraud and other security concerns have an impact on the payment process. Around 50 per cent of 18- to 24-year-old Germans would prefer to pay by prepaid card when making online purchases so that no bank account information has to be shared.
Generation Z – Insights for Brands and Retailers
Here is an overview of the key findings and conclusions of the study conducted by OC&C Strategy Consultants:
1. New Segmentation: Traditional axes of segmentation – often based on geography, age, purchasing behaviour and wealth – are becoming increasingly irrelevant to this global generation. New axes, based on the Internet and social media – sets of values, influential groups, types of experience or even celebrity fanbases – are intersecting the traditional axes. Just like the traditional segmentation, however, this »new segmentation« should also result in consumer groups with clearly identifiable purchasing habits and brand preferences so that companies can act accordingly.
2. »Individuality«: When choosing products and brands, Gen Z consumers prefer clothes, accessories and food that is unique or unusual. However, this consumer group also supports mainstream brands and likes to wear clothes with well-known logos. In other words: Gen Z wants to stand out, but only within certain limits.
3. Adding Value Through Experiences: Experiences can make the biggest contribution to value creation if they are seamlessly integrated in the brand DNA or the retail concept and offer something consumers really want – over and over again, not just once.
4. Consumer Communities: Members of Generation Z are heavy social media users. They have more profiles, check their accounts more often and spend more time scrolling through their feeds than previous generations. The key question for brands and retailers is: how do I encourage my customers and brand ambassadors to interact with each other and build something that new customers want to participate in?
5. A Convincing Story: The Gen Z consumer is demanding, subject to short-lived influences and tends to go through more complex purchasing cycles. In order to be visible in an increasingly complex environment, brands consistently have to communicate who they are and what they stand for – a convincing story has never been as important as it is today.
Our 5 Reading Tips Of The Week
A Generation Without Borders [OC&C Strategy]
»Success in Mobile Commerce« White Paper [dotSource]
Generation Z schätzt Onlinekauf und Barzahlung [ONEtoONE]
Das Kaufverhalten der Generation Z [Swiss Direct Marketing]
Die Gen Z konsumiert mit Bedacht [Springer Link]