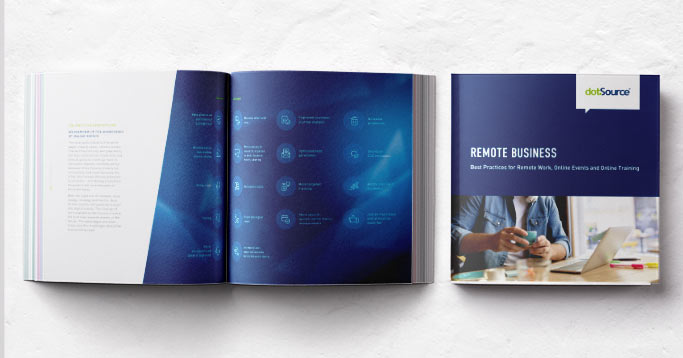 The world is upside down because of something that can only be seen under the microscope. In the working world, however, COVID-19 accelerates changes that started long before the pandemic – and that cannot be undone once the global dangers of this virus are gone.
As terrible an occasion as it is, as innovative are the reasons why millions of people worldwide are now even able to work together productively in many, by no means all, industries while physically isolating themselves from each other.
This is only possible because digital structures turn remote business into real business. Based on
selected use cases,
real insights,
concrete tips and
short portraits of the most important providers and tools,
the brand new »Remote Business: Best Practices for Remote Work, Online Events and Online Training« white paper shows how strong teams in the fields of business, events and education can achieve great things. It examines both technical areas and ideational aspects of new work because if digital collaboration is to succeed, the right mindset is just as important as the right tools.
Remote Business: Online Is the New Offline
Whether it is for the duration of an interim phase or for a well-founded, long-term change: dealing with aspects of remote business pays off – from formal organisation and the right software to the transformation of mindset and management. Nothing will ever be the same again after the coronavirus.
The question of analogue or digital will be answered with »both« in the future: people will work both in the office and from home, events will take place in both analogue and digital formats and knowledge will be transferred through blended learning – the combination of face-to-face and digital phases.
Whether it is remote work, online events or online training: the white paper provides best practice insights into each business area, concluding with valuable tips and benefits. Here are some of the main topics the white paper touches on:
Digital Collaboration
Remote Work & New Work
Remote Workshops
Remote Warm-Ups
Remote Decision-Making
Digital Events
Client Conferences, Virtual Trade Fairs, Annual General Meetings
Digital Education
E-Learning
Blended Learning
Digital Private Lessons
An Overview of Providers and Tools
WebEx
expo-IP
Miro
Mural
… and many more
Remote Business: Best Practices for Your Online Projects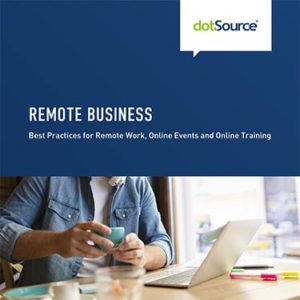 Do you also want to get into remote business quickly and productively or expand your digital presence?
Have you planned an event and do not want to cancel it, but rather organise it online?
Are you looking for digital training opportunities for you and your employees?
Then get the new white paper and find out which strategies, methods and tools will not only enable you to make the temporary transition to remote working, but will also succeed in the long term.