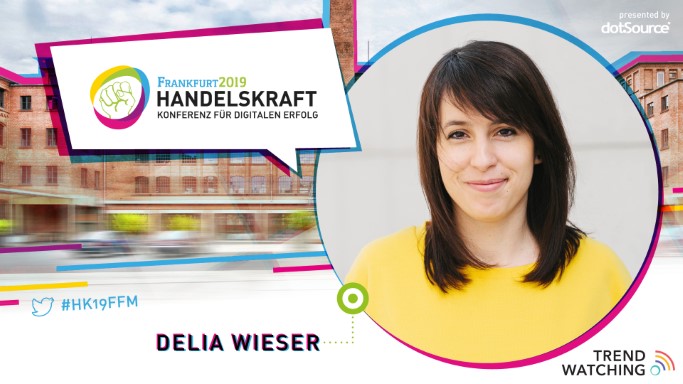 At the beginning of the year, trends are a recurring theme. But what are trends and where do they come from? How can we recognise them and what are they good for? Trends open up business opportunities, but in order to benefit from them, you need to go deeper, observe attitudes, opinions, and habits and understand changes. This is the only way dealers, manufacturers and brands can deliver what consumers want, even before they know it.
Delia Wieser (formerly Dumitrescu), the co-author of the book Trend-Driven Innovation, explains in her exciting opening keynote speech at Handelskraft Conference 2019, how companies are coming from the many trends to business-specific innovation.
In order to bridge the time until the conference without having to forego trend input, today interviewer Wiesle, lead architect at TrendWatching, used exclusive use cases to reveal exclusively what lies behind the megatrends and how to use them to create their own digital business strengthens.
Companies are obsessed with trends especially at the beginning of a new year. But what good is it to know that they exist when companies do not know how to successfully apply them?
At the end of every year, media publications and trend agencies enter a "trend battle" and share their annual forecasts of trends to watch in the coming year. There is definitely no shortage of insights and while watching, reading, sharing and discussing them is great, companies need to remember that trends are nothing if you don't apply them to launch meaningful innovations of your own.
The brands and organisations living these trends are already setting consumer expectations. Companies need to keep asking themselves: how will these trends shape the expectations of our customers? What opportunities will the new behaviours they reflect present to our organisation?
Which consumer trend will be the most challenging in 2019 and why?
It's very difficult to pick only one because a trend's impact will always be highly dependent on the context in which it is applied.
If we consider e-commerce, I would argue giving people highly personalised experiences while protecting their privacy and giving them control over their data will be a challenging task for organisations in 2019. We call this trend DATA GATES and it is about consumers who will welcome organisations that provide them with greater autonomy and security around the collecting and sharing of personal data. For example, My Vista, a US-based platform, will give travellers the power to decide which establishments can access their profile, to enable personalised service. Instead of trusting hidden algorithms, users can edit their own tastes.
Artificial Intelligence is on everyone's lips. It is penetrating all areas of life and its influence is endless. But how can companies deal with the challenges of coexisting with intelligent machines?
Technological advancements have always triggered excitement, progress, and concern. To make sure companies are not only creating new products and services for the sake of technology, they first need to make sure that their new innovations are grounded into human basic needs and therefore truly meaningful for their customers.
There is a lot of talk about new work. What does this trend mean to you and where should companies start?
In 2019, tectonic forces reshaping economies and job markets around the world – automation, AI, and inequality – will push rising numbers of consumers to ask difficult questions. What does the future hold for me? What will happen to my job? What skills will my children need to succeed?
There will be no shortage of brands hoping to distract consumers from those concerns. But those that truly care will go another route: they will partner with customers, citizens and employees, and help them gain the new knowledge, skills, connections, and platforms they need to win in a disrupted future.
Last year DBS invested 14.8 million USD into a training program that teaches employees digital banking skills. The 5-year program includes AI-powered learning which will make personalised course recommendations and help employees collaborate with co-workers.
Nearly 70% of consumers feel brands should engage on social issues and even take a stand on them. How can businesses influence without compromising their interests? Are they ready to meet this demand?
Doing business with purpose should be part of every single company DNA. In 2019, committed brands will need to reach even further in their efforts to enact positive change and fill in the gaps left behind by governments and bureaucratic institutions unable or unwilling to deal successfully with new and complex shared challenges.
August 2018 saw Microsoft announce that all suppliers will be required to provide their employees with paid parental leave. The company cited Washington State's recently-announced parental leave policies, as well as the increased morale among its own employees, as inspiration. Microsoft is looking to make a positive impact that goes beyond the walls of their own business, so companies need to ask what kind of customer expectations does that set? And also remember that consumer expectations travel across industries, regions, and demographics. No matter what you do and where you come from, people will expect exactly the same thing from you.
It is your first time at the Handelskraft Conference. What are your expectations for it? What can guests expect from your opening keynote for the Handelskraft Conference 2019?
Yes, very happy to join the conference for the first time in 2019 and many thanks for giving me the opportunity to open the stage. I promise to make this equally engaging and insightful.
Get your tickets now!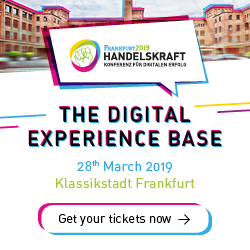 If you don't want to miss Delia Wieser's session and many other exciting formats on trends like AI and new work, you should secure your ticket for the Handelskraft Conference 2019 here!
Renowned companies such as Würth, Stabilo, and TROX are already planning on being there.