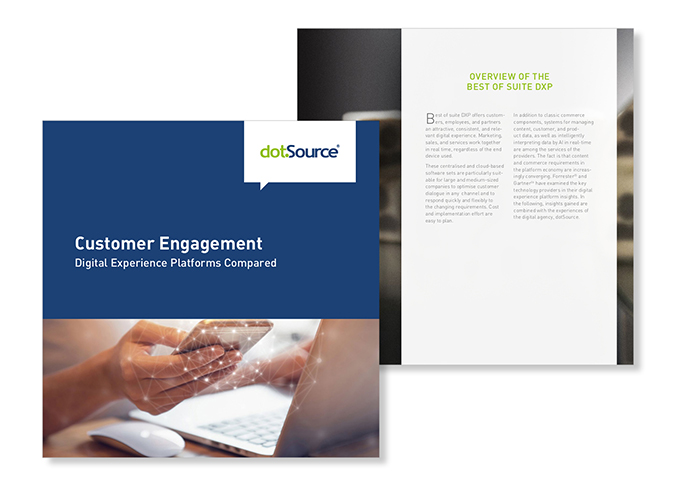 Nowadays anyone can connect to anything and everyone through the Internet and exchange with different technology. Technological efficiency is often the key to success in these connections between people, but also between people and product or people and services.
82 per cent of marketers believe that they know how their clients want to interact with their business. The problem: Almost a quarter of all clients disagree with this statement.
In times when purchasing and sourcing have become commonplace across all touchpoints, it poses a major challenge for brands to provide their customers with meaningful information across all channels along the entire customer journey as well beyond to accompany. The tricky thing to remember: Customer engagement. But how can we create the most consistent, contextual and relevant customer experiences possible?
This is precisely where digital experience platforms come into play. Success stories such as Facebook, Spotify, or Zalando show that digital platforms are a meeting place between all stakeholders (customers, partners, employees) to generate exponential growth and high value.
Moving towards the best digital experience
Precisely because the increase in touchpoints means a multiplication of communication channels, a 360-degree view of customer behaviour has become indispensable in order to generate and maintain competitive advantages.
It requires intelligent management and evaluation of the customer data so that they can turn that into added value for the user. When choosing the right measures, cutting-edge technologies such as artificial intelligence and the Internet of Things will become more important.
On-premise solutions give way to cloud-based solutions. Software architectures based on microservices and flexible APIs are in vogue as they enable fast, scalable, and individually relevant shopping experiences
The effort that needs to be done to meet the change is not exactly low. But it's worth it. Almost half of all Germans find it positive that companies are constantly introducing new technologies that improve the quality of the customer experience.
As customer expectations grow, tech giants such as Salesforce, SAP, IBM, and Adobe offer all the key customer engagement functions in digital experience platforms.
Other vendors focus on different best-in-class systems and argue that a suite can't contain the perfect tools for every requirement.
However, the focus of both approaches is an excellent user experience.
Digital platforms as a business model
Digital platforms for marketing, sales, and services ensure long-term customer loyalty and a deep understanding of user needs, driving innovation and new business models. In the B2C business, online platforms and marketplaces are already established business models thanks to Amazon, Alibaba, and Google. However, examples such as manroland or Europages prove that digital platforms in the B2B sector are also gaining in importance.
But this strategy is only fruitful if you also open up for agile methods and interdisciplinary teams come into play that makes it easier to focus on the perspectives and desires of the users.
Download the white paper for free!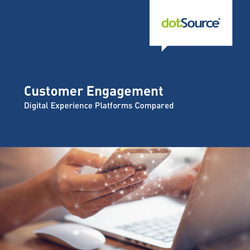 Why do companies need a customer engagement strategy and how should it be implemented? How can companies benefit from digital experience platforms in the long term? These and other questions can be found in our brand new white paper »Customer Engagement: Digital Experience Platforms Compared« where we compare leading providers. This gives retailers and manufacturers the perfect guide for delivering excellent customer experiences. You can download it for free, here.