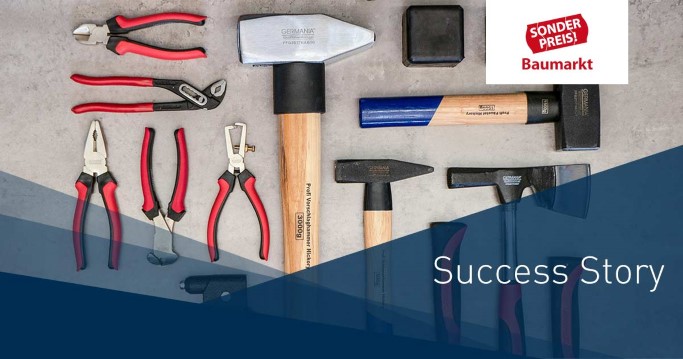 Germany is the country of DIY stores. Nowhere else in the world are there so many stores for gardening, building and DIY supplies per capita as in the land of the alleged poets and thinkers. The industry's e-commerce is flourishing as well. With more than 270 branches in Germany, FISHBULL Franz Fischer Qualitätswerkzeuge GmbH from Neustadt bei Coburg in Franconia has established itself in the DIY store industry. The company is mainly located in Southern and Eastern Germany. The history of Sonderpreis Baumarkt, which was founded in 1995 by two brothers, is remarkable, as the company evolved from being a market vendor to a multi-branch company with online shop.
The Franconian company has always demonstrated a special feeling for its customers and their needs. This feeling now had to be adequately transferred from analogue to digital. Our new success story impressively shows how this was achieved.
If You're Going to Do It, Do It Right: Digitalisation from the Small Screw to the Big Sledgehammer
Those who carry out building projects at home themselves know this problem: the tailor-made built-in cabinet is almost finished, but a hinge and six screws are still missing. Who would want to buy another bulk pack?
Two brothers, who once founded FISHBULL Franz Fischer Qualitätswerkzeuge GmbH and still manage the company today, saw the business potential in selling ironmongery at a price per kilo and not in specific quantities.
This strategy was something the company, which is now successful nationwide, also wanted to transfer to its e-commerce business. Since 2014, Sonderpreis Baumarkt has been running an online shop based on the German e-commerce software Shopware. In November 2017, the DIY store company approached dotSource with the request to jointly develop a tailor-made digital strategy.
If You're Going to Do It, Do It Right – and Digital First!
It quickly became clear that it would be important to expand the existing system landscape into a digital platform to ensure future success.
The main goal was to implement a powerful PIM system to make high-quality and enriched data available across all channels and to automate many processes that had previously been handled manually and were therefore error-prone and time-consuming.
If it is intelligently designed and well maintained, a PIM system becomes a company's »single source of truth«. Duplicates and data silos are avoided, product information can be managed specifically for each channel and displayed efficiently. This applies, for example, to print publishing products, which will continue to play a major role in the DIY store industry with its branch business in 2020 and beyond.
If You're Going to Do It, Do It Right: Heading Towards a Successful Digital Future with a New PIM System and Modern System Architecture
The large number of subprojects was the big challenge, but also the special attraction of the project. Besides the selection and implementation of Akeneo's PIM system along with a print output tool and a digital asset management system as well as the upgrade of the e-commerce software, two other important items were added to the agile project agenda: the replacement of the online enterprise resource planning system and the implementation of a tool that automatically integrates supplier data into the PIM system – the Akeneo Onboarder.
If You're Going to Do It, Do It Right and Think Outside the Box!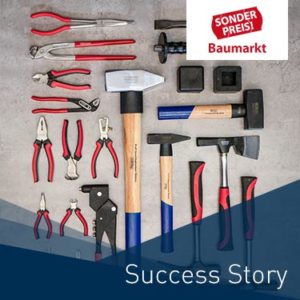 With the help of dotSource, Sonderpreis Baumarkt has adequately transferred its former innovative business model to the digital age while maintaining a remarkable openness. In the future, the platform will be further expanded to always ensure excellent customer experiences.
Read our new success story to find out how Sonderpreis Baumarkt promotes the linking of stationary retail and e-commerce through various measures. These range from the implementation of a PIM system and a new digital asset management system to the migration of the e-commerce software.