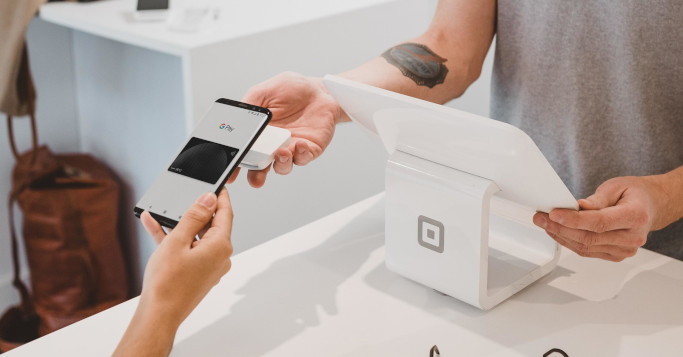 The piggy bank of children in Denmark looks weird: it is black, not pink. It is made out of plastics and metals, not porcelain. It is rectangular, not round and no coins disappear in the slot. Instead, the charger docks – if the charging process is not wireless anyway. This is because the average Danish child already receives his or her pocket money directly on the smartphone these days. 13-year olds like August from Copenhagen simply hold their phone close to payment terminals when they want to pay for a bag of liquorice at unmanned checkouts in the supermarket.
What is already common practice in future-oriented Denmark also slowly gets going in Germany: mobile payment via smartphone – that small supercomputer we all carry around in our pockets. Cash is increasingly becoming a case for the history books. Credit and debit cards are also used less frequently. But how do payment methods actually change?
Payments in E-Commerce: ECC Study Reveals Trends
Customers are getting smarter and smarter. Not only do they use mobile devices for private and professional communication and research, but they are also changing everyday habits such as paying for services and goods.
The ECC has been analysing this development in its annual study for almost half a century. Recently, the Cologne institute published Payment Study Vol. 24.
The main results of this year's edition barely differ from previous years: digitisation leads to more online purchases; customers never pay with cash online, less and less frequently via invoice or direct debit, but they increasingly rely on payment service providers such as PayPal. Almost two years after their launch in Germany, Google Pay and Apple Pay have also become part of the user habits of digital natives and digital adaptives. To put it differently: not only the piggy bank is exchanging ceramics for plastic, but also wallets and purses are less and less often made out of leather.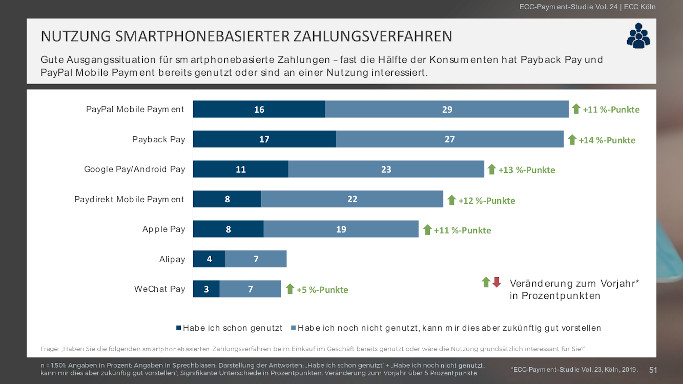 Payments in E-Commerce: Customer Centricity Is Everything
The ECC analysts were able to trace further shifts in financial business. It became apparent that fintech companies continued to stimulate the payment market with their digital products in 2019 and that payment methods such as Paypal, Payback or Klarna gained market shares in online shopping even without a full banking licence.
Thanks to its uncomplicated processing, Paypal has been popular among users for years. Customer centricity for a positive customer experience are the magic words. Paypal is extremely easy to handle; Payback allegedly provides discounts because you collect loyalty points when making on- and offline purchases and because you benefit from cashback mechanisms for future purchases.
And the Swedish company Klarna makes a name for itself as an intermediary service provider for purchasing on account and steps in when the customer himself is short of money or fails to pay on time. This way, these companies are taking over from the traditional banking and credit card industry – not least through their speed and user-friendliness.
Payments in E-Commerce: Convenience as a USP
Users seem to be much less interested in the topic of data security than in the user-friendliness of the launched products. One of the study's co-authors, Mailin Schmelter, expresses herself as follows:
» Despite certain concerns with regard to data security, fintech companies and their services are becoming increasingly popular among users, no matter whether they are customers or retailers. «
This finding of the ECC is not something new either – in fact, it is quite the opposite as Schmelter, deputy head of Customer Insights at the ECC Cologne, concludes:
» This development is sustainable and underlines the need for action on the financial market. «
Payments in E-Commerce: PSD2 Directive Changes Purchasing Behaviour
Referring to the PSD2 directive as something new would be incorrect: this directive for cashless payment transactions has been in effect throughout Europe since January 2018.
Nevertheless, the new rules still cause a stir and – as reflected in the latest ECC study – make retailers feel insecure, in particular in connection with the GDPR.
Essentially, the PSD2 directive wants to make the identification for online payment transactions more secure, for example via a two-step authentication process. According to the ECC analysts, however, this has mainly led to a further decline in the acceptance of credit cards in Germany, which had already been low, because it has become more difficult to use them in e-commerce.
The fact that many customers have recently received a letter or an e-mail from their house bank, informing them that credit cards will be subject to charges in the future, regardless of their annual turnover, will most likely not have increased the popularity of this payment method among customers and has put fintech service providers in an even better position because they also manage to design multi-step authentications in a user-friendly way.
Payments in E-Commerce: Fintech Companies Seek Banking Licences
It is very likely that August from Copenhagen and his parents chose a fintech service provider for their pocket money transactions instead of a youth account at a traditional bank. This is because you often only need an e-mail address to authorise someone like August to carry out financial transactions.
This trend is not only omnipresent in future-oriented societies like Denmark: even if young people are old enough to open their own current account with a »real bank«, the success of fintech service providers does not stop. According to the ECC analysts, it is more likely that successful fintech companies seek banking licences than banks becoming mobile payment service providers.
Our 5 Reading Tips Of The Week
Die smarte Revolution – Grundsatztext zu digitalen Bezahldiensten [Süddeutsche Zeitung]
Sweden's Klarna becomes biggest fintech firm in Europe [The Guardian]
Acht Payment-Anbieter im Vergleich – Servicetext zum Thema [t3n]
Bullshit Banking – preisgekrönter Investigativ-Text zur Smartphonebank N26 [WirtschaftsWoche]

Was steckt hinter der neuen EU-Zahlungsrichtlinie? – Artikel zu PSD2 [Computerwoche]