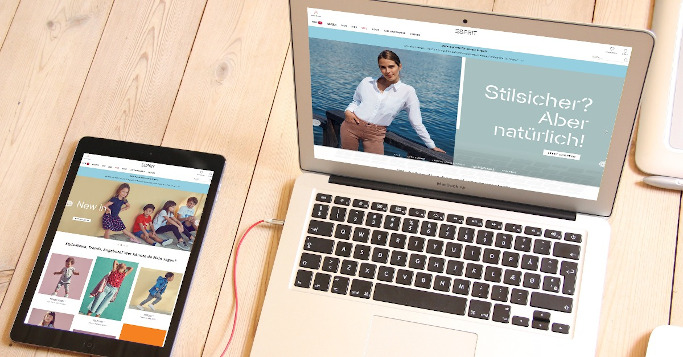 Our client ESPRIT took first place in the e-fashion page speed ranking. On behalf of the German trade journal TextilWirtschaft, the Hamburg-based e-commerce service provider Baqend examined the page load speed of the 50 fashion online shops with the highest turnover. The results of the study are clear: the shop pages of ESPRIT.de load the fastest, clearly outperforming competitors such as Zalando (10th place) and ASOS (22nd place). We are extremely happy for ESPRIT and congratulate them on this outstanding achievement.
ESPRIT Is Ideally Prepared for the Google Update
First come, first serve. How true, how true. Online shop operators who want to appear at the top of Google's search results – and thus be immediately visible to customers – must keep page speed under 2.5 seconds. There is no doubt about this because load time is a ranking factor.
Those who still have not understood this and have not implemented appropriate measures will start struggling in May at the latest. This is when Google will publish its next major ranking update and take an even closer look/measure the performance even more precisely using the »Core Web Vitals«.
Besides already established factors such as Mobile Friendly, Safe Browsing, HTTPS and No Intrusive Interstitials, the new Core Web Vitals Largest Contentful Paint (LCP), First Input Delay (FID) and Cumulative Layout Shift (CLS) are used to measure
the load time of the largest element in the visible area of the website
the time it takes for the browser to react to the first user interaction (e.g. click on a button)
the visual layout stability while using a website
Retailers – be it fashion retailers in particular or online retailers in general – must therefore quickly (how telling 😉) adapt their online presence to be able to provide an ideal user experience. In addition to security and interactivity, other factors to be considered are fast load times, high-quality content and accurate product data – the good old basics for successful e-commerce.
ESPRIT Between Core Web and Business Vitals
Core business vitals are old but gold as well – and their importance cannot be emphasised often enough, especially in the context of their Google counterparts: invest in user experience! Create user experiences that remain in the memory, bring added value, turn visitors into buyers and one-time buyers into returning customers.
Make sure that toolset, skillset and mindset harmonise. That is easy to say, but it is the only way to stay one step ahead – just like our client ESPRIT did, who relies on B2C Commerce Cloud as well as the CRM and marketing automation solutions of our partner Salesforce.
Industry giants like Zalando employ around 2400 developers to ensure that their platforms performs well. dotSource has about 240 development experts. About 20 of them are involved in the ESPRIT project. This makes the achievement of the small, innovative team all the more impressive, and it is rightly rewarded with this success.
Find out in our new »Salesforce Commerce as the Basis for International Multi-Cloud Business in B2C« success story how ESPRIT and this team managed to integrate
a suitable technology stack,
corporate image change and branding,
customer expectations,
trends and Google updates
into commerce, CRM and content strategies, thus ensuring that the company not only tops the rankings, but also remains in customers' minds.
ESPRIT International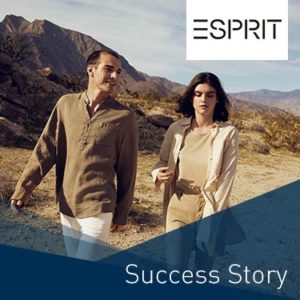 We are looking forward to accompanying ESPRIT on its future journey and see the achievement of our loyal client as confirmation that it pays off to master the good old basics of e-commerce and to be able to react flexibly to trends as well as changes in technologies and customer expectations.





Thank you, ESPRIT – for placing your trust in us, for the great cooperation on the project and for your inspiring keynote speech at the Handelskraft Conference 2021. We are incredibly proud of this journey and congratulate you on this well-deserved success. What an outstanding achievement!