We can find Röchling products practically everywhere we go – in cars, on bouldering walls, on playgrounds. The semi-finished products of the world's leading manufacturer of engineering plastics are available in three basic shapes: sheets, blocks and rods. However, the three basic products are required in countless variants, which makes it so difficult to map them digitally. Our new success story shows how this can be achieved nevertheless.
B2B Commerce for Maximum Individuality
Röchling is present where its customers are – 11,500 employees, 90 locations, 25 countries. The Röchling Group is divided into the Industrial, Automotive and Medical divisions.
For decades, Röchling Industrial has offered the service of shipping and invoicing for its semi-finished products, even in very small quantities and in small formats requiring special processing, in order to perfectly meet its customers' requirements.
This variety contradicts previous logics of e-commerce systems – a special challenge that had to be mastered by everyone who participated in the tender.
B2B Cut-to-Size Calculator as the Key to Success
dotSource and Salesforce took part in the tender with the new Salesforce B2B Commerce Cloud. During the pitch, they convinced Röchling to work with them by presenting a proof of concept for an innovative cut-to-size calculator and a draft for the new web design of the B2B e-commerce platform.
After the POC, an MVP online shop based on Salesforce B2B Commerce was built in line with the principles of agile project management. It was initially made available to selected customers before gradually opening up to more and more customers.
B2B Commerce Cloud as a Particularly Flexible System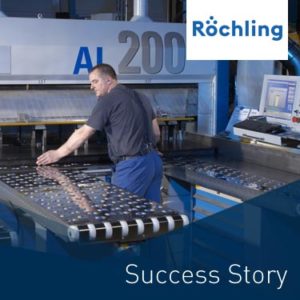 The result is a modern online shop with highly individual ordering functions that performs optimally on desktop computers as well as mobile devices and on all common browsers.
The fact that no two orders are the same can now be mapped online and allows the company to start into a digital future.