Since the beginning of our breakfast series, Berlin has been one of the strongholds of our cities tour: Two years ago, we went to the start line as the warm up for Exceed, and last year Alexander Graf tolled the death bells of trade with us. This year will be more conciliatory with the topic cross-channel marketing, but no less exciting.
Registrations have already broken all records. There were 15 RSVPs before the topic was even made public and there are numerous repeat offenders on the guest list. There could hardly be a bigger compliment for our tried and true format of breakfasts, networking, and gaining new knowledge.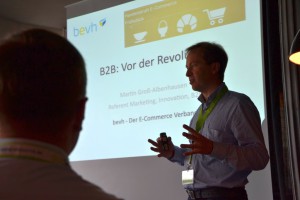 In cooperation with our partner Adobe and Martin Groß-Albenhausen (CEO bevh Services GmbH) we plan to exchange ideas on the digital customer journey, which runs along numerous touch points, with the smartphone as a key point, on the 24.4.2015 from 08:30.
The main problem: customers are not loyal. They use channels when and how they want. In familiar circles, we would like to discuss how you can connect the channels in a profitable way and provide the customer with what they require in the corresponding context. The place of action is Fabrik 23 in the heart of Berlin.
The event is almost booked out, but you can try your luck at:
www.dotsource.de/Handelskraft-E-Commerce-Fruehstueck/