Folklore says that cats have nine lives. We also reinvent ourselves every year. However, we didn't just use the e-commerce turbo year 2013 to storm ahead at full tilt. With more than 103 staff, by the middle of the year it was time to reorganise and take a look within before continuing with fresh new power. The results are visible, for instance, on our new homepage.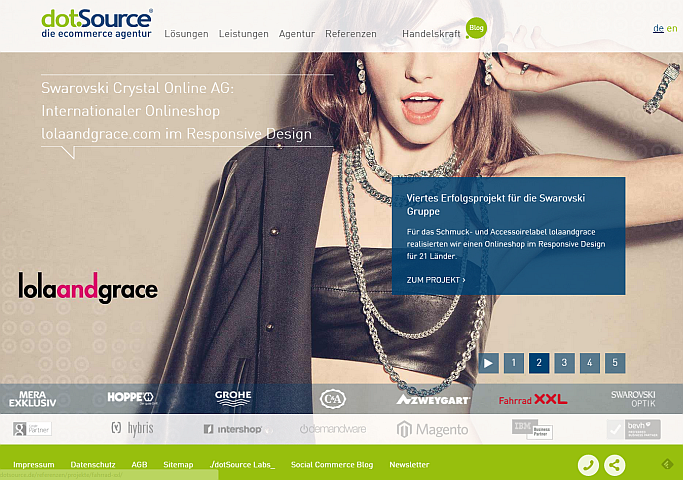 New projects and partnerships
In 2014 we also made numerious customers happy. We realised exciting new e-commerce projects, including ones for Joyou, Lensbest and lolaandgrace.com.
monoqibusiness.com, oppose-fashion.com and yink.com were some of our clients in the B2B sector.

Our partner landscape is expanding. We're Adobe Business Solution partners, Advanced partners of eZ Publish, for whom we developed a Magento Connector.
We also made an alliance with the real time personalisation experts from prudsys. The signs are clear on the topic of digital transformation.
"Digital is better"
The world is becoming digital – this is also the focus of one of our whitepapers from this year on the topic. We haven't just shared our e-commerce expertise solely in (around 300) blog posts, we also published a total of seven whitepapers on e-commerce and online marketing topics. We released the annual Trend Book for the third time, which examines the most important trends in electronic trade und the title "Digital ist Besser" – the name is the program.
At home everythere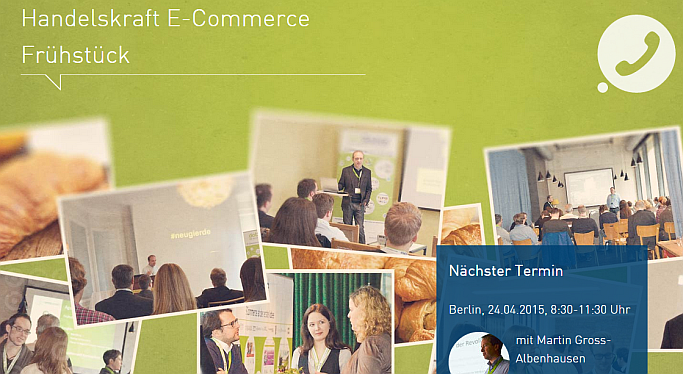 Our Handelskraft E-Commerce Breakfasts in 2014 once again led us to eight cities in Germany and one in Switzerland and brought together traders and manufacturers at one table. Our home game in Jena, Thuringia was a great success. Those who always wanted to know what happens at one of these breakfasts can get an idea from our video retrospective .
The K5 and the dmexco were further memorable highlights of the trade fair season 2014.
The world according to dotSource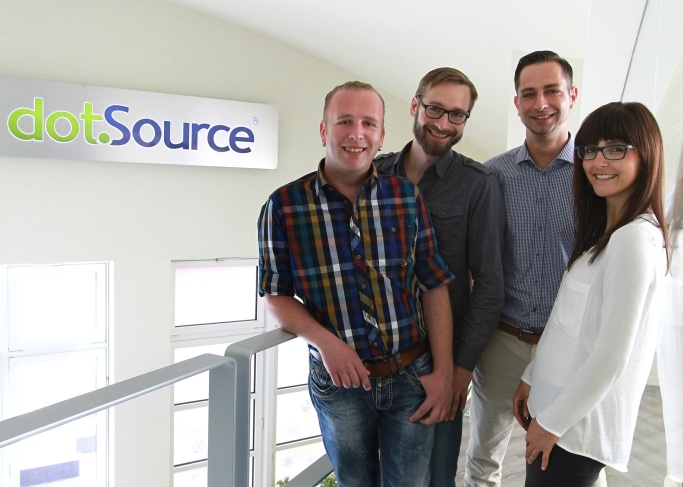 The year began with some new comers. We were happy to greet four Online Marketing Experts, who round off our service portfolio in the areas of SEO, SEA, newsletter- and conversion optimisation. Our sometimes a little nerdy team, who have sometimes demanded we change the agency's name out of a love of Mate , won all our hearts, and not only those of the new staff: 2014 saw ex-colleagues come back to us four times.
For the first time, since their proud opening three years ago, it is getting full in our agency's offices, and there are rumors that plans are being made for new offices. This hasn't stopped us from occasionally letting rip in our holy halls. Apart from the compulsory team event, there are monthly team parties, whose mottos range from the 1990s to Oktoberfest. The view of the fantastic Jener culture arena sweetens many a summer evening for us, when we round off the day with Travis, Flogging Molly and Bosse.
Off into our tenth year!
We're just like the typical fourth grader who waits feverishly for the two-digit birthday and have a lot planned in the meantime. The mission for our tenth is year is still: Digital success right from the start. We are looking forward to getting started again together with our clients and partners