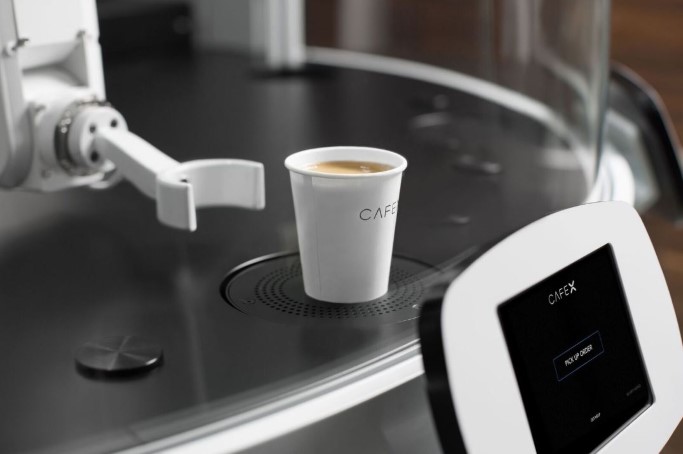 In times of 'Star Wars', the roles of C3PO and R2D2 already hinted that humans and robots were destined for perpetual close collaboration and understanding. Now the spread of the Internet, the continuous progress in advanced technology, and its applications in every aspect of human and business life make that fiction come true for consumers.

Robots are starting to become visible to the public in unbelievable roles. Thus, the latest expression of this new ecosystem is called Gordon, who intends to revolutionise the way we order and consume coffee and, ultimately, to destroy Starbucks' empire.
Automation versus human touch
The smile of a barista, the intense coffee aroma, the distinctive sound dishes produce when they make contact with the bar, the typical hustle and bustle of cafes, and such fabulous coffee art on your latte that makes your day might no longer be normality but rather luxury. A new batch of robots is already available on the market to replace the imperfection of human hands and make processes more reliable.
The automation of every mechanic activity is not new. Classic and old industries such as the automotive industry have been using robots for decades to build cars. However, they were invisible to end consumers, who now observe with amazement how robots are slowly becoming part of their daily lives.
Automation seems to be the key to reach business excellence. Above all because rush is the most distinguishing feature of our digital world. By means of automation it is possible to reduce costs, prevent errors, increase efficiency and effectiveness, and to cope with high levels of demand without suffering.
Last week, the start-up Café X opened a new concept of coffee shop based on automation and mobile principles in San Francisco. Instead of getting your daily cup of joe from a friendly barista, you'll get it from a robot. Instead of having misunderstandings, bad coffee, and longer waiting times, you will get YOUR cup of premium coffee in seconds.
How it works? You place your order remotely via smartphone from the Café X app or at the coffee shop via iPad. The robot Gordon, who is able to prepare 100 to 120 cups an hour, receives your order, prepares your coffee in less than a minute and when it is ready, it sends you an SMS with a four-digit code that you enter at the robot's coffee shop (or kiosk). Once you do, the robotic arm grabs your cup of coffee from one of the eight warming stations where it might be waiting, and gently rests it on a small shelf from where you pick it up. Digitally said and done.
It is worth to mention that one employee is also at the store to deliver a more personalised experience, do marketing, and to help those customers that struggle with the mechanism.
On the other hand, the giant Starbucks follows its own path. Starbucks COO Kevin Johnson recently said that he cannot imagine a Starbucks without passionate baristas because they are "in the business of human connection". This means that, although they embrace technology by placing big bets on their mobile app, they will continue reinforcing their identity mark based on human capital and stunning stores – a business idea which perhaps will be only reserved for special occasions in the future.
Robots seen as colleages and much more…
The human touch is unique. It adds signs of imperfection but also puts emotion into our "coffee break", which is priceless for many coffee lovers. Gordon is not able to make coffee art or to draw a smile next to your name on your cup yet.
However, this obsession for perfection and for gaining time ends in the renouncement of human touch and, consequently, in the inclusion of automation (in the form of a robot) in activities of daily living. Actually, robots come to stay and aim to become not only your preferred barista but also your new cleaner, your next fellow, your loyal comrade, or even your perfect shopping companion. Are retailers and, especially, consumers ready for it?
Our 5 Reading Tips of the Week
FedEx Bets on Automation as It Prepares to Fend Off Uber and Amazon [MIT Technology Review]
Mensch und Roboter arbeiten Hand in Hand [Maschinenmarkt.ch]
Robot Baristas Serve Up the Future of Coffee at Cafe X [Wall Street Journal]
Japan's robot chefs aim to show how far automation can go [Financial Times]