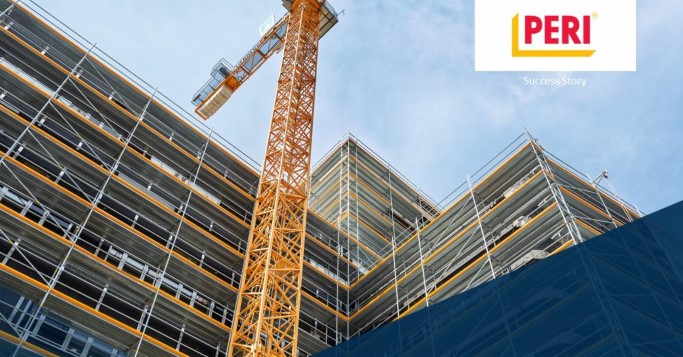 Buildings have been getting taller and taller in the 20th and 21st century: since 2008, the Burj Kalifa in Dubai has been the world's tallest building at 828 metres; between 1931 and 1974, the Empire State Building in New York led the field at 381 metres.
Without innovative scaffolding, none of these buildings would exist – and archaeologists believe that even the impressive 18,000-year-old Lascaux cave paintings in Southern France were created with the help of scaffolding.
For more than 50 years, the family-owned company PERI has stood for exactly this: innovation in the field of formwork and scaffolding technology. PERI products are used for large-scale construction projects all over the world. The company is headquartered in Ulm, has about 70 international subsidiaries and almost 10,000 employees. In spring 2019, the company approached dotSource with a challenge that did not address the wholesale and large project business, but rather aimed at construction companies with up to 20 employees because the global market in this segment is huge as well. In our new success story, you can find out which digital solution PERI and dotSource have used to open up this new business field.
MVP: Excellent Scaffolding for Small Construction Companies
PERI's goal was to develop a compact digital solution with which even smaller customers could use PERI's modern and safe formwork and scaffolding technology for their projects.
For strategic reasons, a minimum viable product (MVP) was to be implemented. Within a short period of time and at reasonable costs, a web portal was to be created in order to test whether there is demand for the products among the new target group. Valuable data and insights were to be generated this way. For testing purposes, the new solution was to be developed for PERI's international subsidiaries in Hungary and Denmark.
MVP and Agile Project Management Ensure Success
dotSource first drew up an agile project plan and created so-called proto-personas of the target group before conducting and evaluating specific interviews. These studies were followed by an ideation workshop to further specify the customer journey and to develop a draft of the web portal using live prototyping.
In this context, it became apparent that the website should definitely include a 3D configurator – something that was completely new for the industry. After extensive analysis of the existing technologies, it was decided to use Webflow as the CMS and Sketchfab as the basic software of the configurator.
MVP International: The Hungarian Version Is Followed by the Danish
About two months later, the MVP of the Hungarian portal was ready. From now on, the website makes it extremely easy for smaller construction companies from Hungary to configure their own PERI UP Easy scaffold and to calculate the costs.
In addition to the configurator, trust-building content in the sense of modern content commerce was also integrated into the website: testimonials and references are placed just as prominently as contact details for personal consulting
After the Hungarian MVP, PERI and dotSource worked on the Danish version. What makes it so special is that scaffolds are offered for rental.
MVP & Everything After: Digital Marketing for Increased Reach
A web portal alone does not ensure that an offer is actually used. Accordingly, dotSource developed modern digital marketing measures for PERI in a workshop that took place at the same time as the concept creation and programming of the website. These measures were designed to optimally tailor the website to the target group and to increase reach as well as visibility.
In order to ensure country-specific implementation, the action plan was handed over to a local Hungarian digital agency at the end of January 2020. This agency will be responsible for PERI's digital marketing from now on.
MVP: Data-Driven Innovation for New Business Fields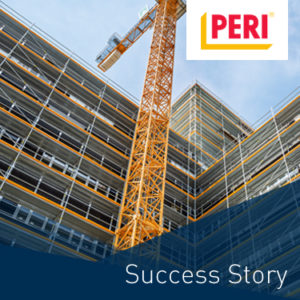 With the MVP, dotSource developed a digital solution for PERI in just eight months instead of the twelve months that had originally been planned. This solution is specifically tailored to PERI's new target group. Thanks to the MVP approach, the scaffolding manufacturer takes a reasonable entrepreneurial risk and also collects valuable data that shows whether the innovative approach pays off.
The website has an appealing design and impresses with target-group-oriented user guidance as well as a CMS in the background that can easily be used by PERI employees. The innovative 3D configurator is a novelty in an industry in which relatively little digital advance planning was previously possible.