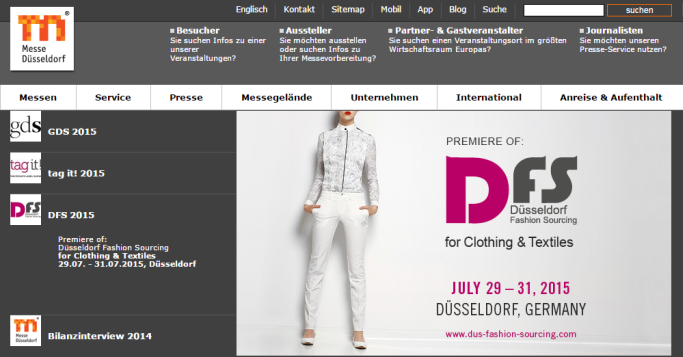 We're rocking e-commerce in our tenth year, as you know. Right at the start of the year, we were able to follow-up our motto with action: with our pitch for a B2B online shop for Messe Düsseldorf, one of the leading trade fair associations world wide, we won through against other full service digital agencies. This is the largest single contract in our agency's history to date.
From strategy to design: everything new with Messe Düsseldorf
With a turnover of 412 million Euros in 2014, the Messe Düsseldorf Group counts among the most successful German trade fair associations. More than 31,000 exhibitors presented their products to 1.4 million industry visitors in Düsseldorf this trade fair season. With around 50 trade fairs and approximately 80 to 100 events of their own and international participation, as well as contract events overseas, Messe Düsseldorf GmbH is one of the leading export platforms world wide.
Now it is time to bring the systems up to a corresponding level. Messe Düsseldorf's current SAP-based online shop was designed and implemented in 2001. In order to improve usability and range of services for exhibitors and booth constructors, we replaced a lot of out-of-date technology with a sustainable digital solution, which takes over far more functions than the previous systems.
One central service portal for all partners
Alongside the migration of the system landscape to hybris Commerce Suite, we implemented a responsive design with three different view ports. This allows exhibitors to use the onlineshop via smartphone and tablet during set-up periods and improve their work processes in the future.
E-Commerce rarely comes by itself, so we integrated more systems into the online shop, including web analytics, CRM and SAP.
In the future, a new service partner portal will allow exhibitors, service partners, and Messe Düsseldorf access to one central system. This informational advantage helps all those concerned with the planning and running of events, while Messe Düsseldorf get a better overview of the services their service partners deliver.
The B2B online shop implementation project has already kicked off with the concept phase, and is expected to be completed in the summer of 2017. Thanks to agile project management, we also expects some sprints in this project marathon. We're looking forward to it 🙂