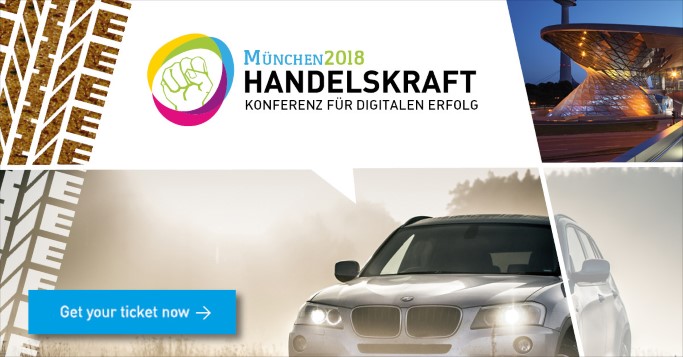 The future of business is undoubtedly digital. At the Handelskraft Conference on the 20th of February 2018 in Munich, we want to mobilise retail, talk about real business and tell real stories about the digital reality and its challenges – with trends, best practices and new impulses.

Retailers and manufacturers must break new ground to assert themselves against the competition in the market: Business models must be adapted, strategies rethought, and technical platforms developed further.

No digital project has to follow a straight and narrow path – most of them are more reminiscent of an adventurous off-road track. In order to reach the checkpoints, you need the right equipment and knowledge. This is what we want to offer our participants at the Handelskraft Conference.

Furthermore, live simultaneous English translation will be available for our international guests for the first time!
Finding new paths for successful retail
At the conference for digital success, many new paths to successful retail will be discussed. With trends and new impulses for more agility, innovation, and better change management, we'll show what needs to be set in motion to break new digital ground.
In cutting-edge sessions, practical presentations, and personal consultations, participants are optimally equipped to master digital challenges. They will have the opportunity to learn from the experience of our experts and meet with companies that face similar challenges.
Additionally, together with reliable partners and a good network, our guests can take off with their digital project and increase their reach, their number of customers, and ultimately their sales.
But perfect networking opportunities not only exist at the conference itself, but also at our warm-up evening on 19 February and exclusive tour of BMW Welt! Sign up now!
There are no barriers, only challenges
Our experts won't just throw buzzwords around, but fill trend concepts such as change management, content commerce, and marketing automation with concrete content. In 2018, the Handelskraft Conference will once again be a unique mix of different experts who look at digitisation from different perspectives:
David Mattin: »Digital Innovation for Humans – Four Digital-fuelled consumer trends for 2018 and beyond«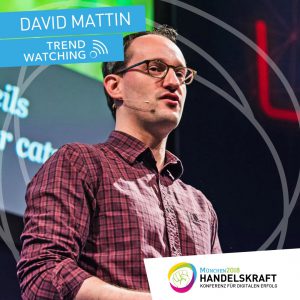 In 2018, the digital world we've built is far from everything we hoped it would be. But innovation can still – and must – change the world for the better.
In this fast-paced session, TrendWatching's Global Head of Trends and Insights, David Mattin, argues that digital innovators need to stop obsessing over new technologies, and get obsessed with human nature. David will share four key digital-fueled consumer trends that every digital innovator, marketer, founder and CEO must have in their radar for 2018.
Dr. Martin Kassubeck: »Make Business not Buzzwords – Change is Important, but Customers Don't Care – Five Points from the Conception of Digital Sales at NürnbergMesse GmbH«.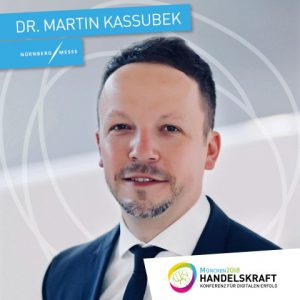 Martin Kassubeck knows from his own experience that 7 out of 10 CRM projects fail. As Head of Strategy and Corporate Development at NürnbergMesse, he knows best that a project is more than just Buzzword bingo.
In his keynote, Martin shows how to be one of the 3 out of 10 who doesn't fail and shows five learnings from the conception of digital distribution at NürnbergMesse.

All of this will be profoundly enhanced by an impressive backdrop: the BMW Welt in Munich. This stunning location is the perfect metaphor to show the spirit of the Handelskraft Conference since the same applies to digital products and services as to the automotive industry: Function, design, and emotion determine success.
Get your ticket now!
At the Handelskraft Conference on February 20 at BMW Welt in Munich, we want to use the right tools to mobilise retail together, with you. In the keynotes, sessions, and roundtables you will be optimally briefed by our industry experts. There is also the opportunity to network with digital decision makers such as BayWa, MusicStore or Messe Düsseldorf. Secure your ticket now and dive into the world of business of tomorrow!
Spread the word among your international colleagues! For the first time ever, we will offer our international guests the possibility of live simultaneous English translation. Simply select the appropriate English ticket category or contact us by e-mail.