In Social media marketing, you often ask yourself which social network works best for what content. When it comes to video, marketers could rely on YouTube for years: a networked specialised in video, which generates lots of views and lots of clicks if all goes well. But these rosy days could be over soon…couldn't they?
Because as we all know, you can share videos on Facebook. Everyone who scrolls through their Facebook feed from the comfort of the couch knows it: videos are played automatically, which means that you do what one or another to the end thanks to this auto-play function. What other tricks is Zuckerberg using to grasp the video throne, and does anyone have the slightest chance against Youtube?

3 seconds are enough
7 milliard views – this number is Youtube's pride. Facebook is catching up slowly with 4 milliard daily views at the moment. But the viewing habits and how 'views' are measured differ greatly between Youtube and Facebook.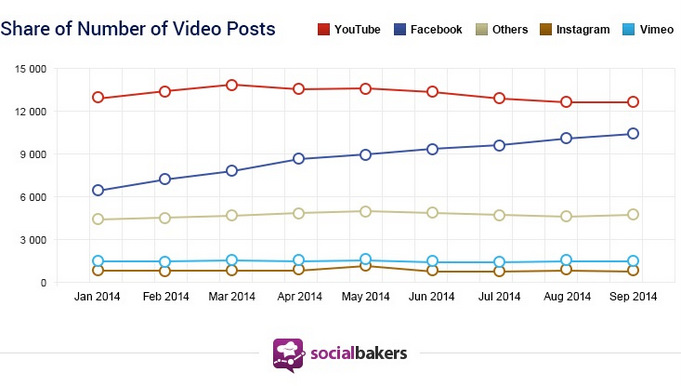 In contrast to Facebook, people visit YouTube with the clear intention of watching a video. On top of this, there are the innumerable views which are generated on other websites through embedded videos. In some data, a view on YouTube only counts if the user watches the video for approx. 30 seconds. BTW, videos with the auto-play functions are generally not counted..
Viewing habits on Facebook are different: users scroll through the feed, 'coincidentally' find an interesting video, which plays automatically on mute. Targeted video searching? No such thing here. Additionally, a view counts after only 3 seconds of viewing time – a tenth of what YouTube sets. And the automatically played videos count as well, which are played for 3 seconds in a feed. The situation is similar for videos on Instagram.
Facebook as a YouTube competitor?
Just from the number of views, marketers should have already asked themselves whether or not they should be changing from YouTube to Facebook. But if you to take into account that Facebook is driving the artifially driving the numbers of views up with these "mean" tricks, you shouldn't lump YouTube and Facebook into the same basket. While the one is intended for targeted searches, it is only worth promoting videos on Facebook if they have viral potential. The best example was the Ice Bucket Challenge Summer 2014, which really drove up Facebook views.
» Forbes: Back in 2014 when the Ice Bucket Challenge was at its peak, Facebook revealed that more than 1bn people per day were watching its videos. «
I don't see a true competitor in Facebook yet. But considering Facebook has got into it with Google more than once – key word: Atlas – we'll have to wait and see what surprises Zuckerberg has waiting around the corner after Instand Articles. Development into a "real" video platform sounds realistic, but needs a lot of work, and most of all, should happen without the tricks mentioned here, which artificially drive up viewing rates.
Uninteresting for B2B?
Even as a B2B company, you should know the differences and significance of the view of platforms. Videos aren't just exciting in retail, but you can reach your target group with moving picture in B2B as well, in the form of tutorials, product films, or company films for instance. To score in social media marketing as a B2B company, you still need a functional online shop though. More on this in our free B2B Whitepaper!