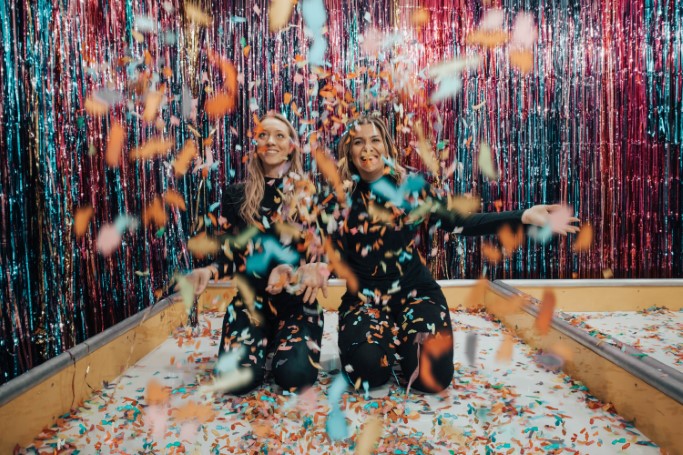 Consumers still want to go shopping, see products with their own eyes, touch them and interact directly with brands. Offline is far from being dead, it is currently experiencing a boom instead – whether it is pop-up stores, events or eventful product demos. Digital brands are positioning themselves quite quickly and vehemently in the physical world in order to meet customer requirements.
With such stationary concepts, the product itself has fallen behind. It is important that the customer feels comfortable, has good memories of his visit and ultimately passes these on through word-of-mouth or »social propaganda« so that brand fans become enthusiastic customers – and vice versa.
For this reason, a type of marketing that promotes interaction between customer and brand in order to permanently strengthen customer relationships is becoming more and more important. We're talking about experiential marketing! What is it all about and why is it so important for retailers, manufacturers and brands nowadays?
Experiential Marketing Generates Commitment and Enthusiasm
HubSpot defines experiential marketing as follows:
» Experiential marketing or engagement marketing is a marketing strategy that invites an audience to interact with a business in a real-world situation. Using participatory, hands-on, and tangible branding material, the business can show its customers not just what the company offers, but what it stands for. «
Experiential marketing has already existed for several years. Whether GAFA conferences or more recent formats such as Salesforce's Dreamforce: digital companies have been putting their brand »on the street« for several years now.
At these events there is also space for learning, for the exchange of knowledge and ideas, and of course lots of fun. In the end, the visitor is so impressed that he enthusiastically talks about the brand and the event, shares the experienced moments and recommends the company, both with analogue and digital means. This way, organisers not only win a customer and a fan, but also a brand ambassador.
Experiential Marketing – Between Being There and Customer Loyalty
The reality is that more and more people want to experience moments and events that they can capture in a photo and share with their friends. Thus, it is the marketers' task to create these surroundings and moments. It is therefore no surprise that more and more interactive and »instagrammable« spaces and areas have emerged recently.
In fact, the most wide-spread form of experiential marketing can be found in the so-called pop-up stores – from shops to restaurants and cafés to events. With the combination of product exclusivity and transience, companies test new products without taking too great a risk, boost sales in the short term and create unique, memorable brand experiences.
The Museum of Ice Cream in San Francisco (MOIC) is a good example of social media resonance. The exhibition is designed so that visitors experience, feel and share moments on social media. Ice cream is only the peg to hang it on. If you look at the Instagram photos, it becomes apparent who the MOIC is aimed at: young, social-media-affine people who capture great moments on their Instagram feeds. On the other hand, the Lego Store Experience is a well-known example of experiential marketing. There, families with children as well as brand fans interact with different stations or seek advice from experts. In person.
Another example of good experiential marketing is the Google Assistant Ride 360° Tour, which the Internet giant recently showcased at CES 2019: a sophisticated attraction which illustrates and exemplifies with exciting rollercoaster and car rides and many eye-catching animations how the virtual, AI-supported helper Google Assistant can make everyday life easier.
» It was a unique way to convey the Google ecosystem, and it was powerful enough that people even watched the experience online – those who weren't there still wanted to experience it. «
Experiential Marketing Strengthens Customer Relationships
Given these examples, the objectives of this type of marketing are therefore, on the one hand, to increase enthusiasm for an event or a brand and to arouse excitement. On the other hand, brands can use this strategy to create such emotional ties with their customers that relationships are strengthened over the long term. What works best today is not the product itself, but the experience that is generated around it. So the question is: how do you entertain and inspire your customers?
Our 5 Reading Tips Of The Week
The Evolving Role Of Experiential Marketing In Building Global Brands [Entrepreneuer]
Netflix secures New York's Paris Theater as its own experiential brand hub [The Drum]
Coca-Cola, Ikea, KitKat: Beispiele für Erlebnismarketing [Absatzwirtschaft]
A day in the life of… Meredith O'Shaughnessy, founder of experiential agency Meredith Collective [Econsultancy]
Focusing on Hospitality Made the Taco Bell Hotel So Successful [Adweek]