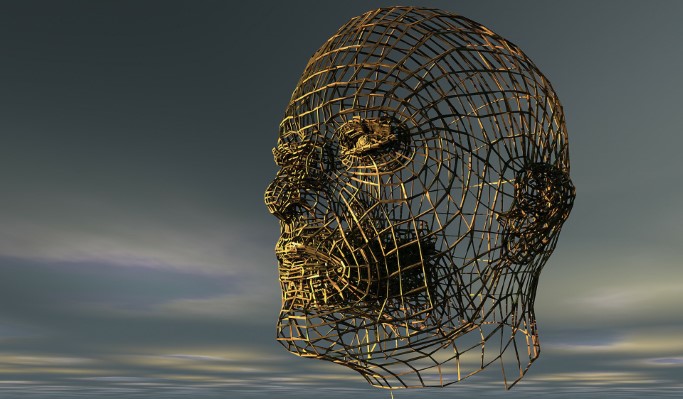 Parts for cars and aeroplanes and even implants for humans… All could be manufactured on demand with 3D printing. 3D printing/manufacturing is getting trendy again. According to market research firm IDC, four out of ten manufacturers will utilise it in the next three to five years. Factors contributing to the boom include advances in hardware and software as well as an increasing variety of materials that can be used in such processes.
3D printing or additive manufacturing is becoming a major pillar of the fourth industrial revolution. More and more manufacturing companies are discovering 3D printing technology for themselves. Which sectors are using it more and more today? And more importantly, what are its strengths compared to traditional manufacturing approaches?
3D printing: Where are the advantages?
Where do additive and traditional manufacturing processes differ? Especially in the way products are made.
Additive processes build objects by adding material layer by layer and applying them in the form of tapes or powders, while subtractive manufacturing removes the material in solid form to make parts through a mould. In practice, additive processes bring about a considerable advantage.
Speed.
Speed is the biggest advantage since objects can be manufactured at higher rates. Whether it's highly complex pieces or simple objects, design and manufacturing processes that used to take days or weeks to complete can be done in hours using 3D printing.
Efficiency
The reduction in production time, in turn, significantly reduces development and production costs. In addition, additive processes provide far greater flexibility, as prototypes can be improved quickly and designs can be changed at short notice.
Individualisation
In contrast to mass production, where products and objects are produced in a uniform way, objects, pieces and goods can be created individually and personalised using 3D technology. Especially in certain areas, such as medicine, this individualisation is not just a wish but a must. Others that can gain from this benefit are the fashion and jewellery industries. There are also niches in B2B in which individualisation is becoming increasingly attractive, especially for small batches.
Sustainability
The production of workpieces using 3D printing produces significantly less waste than traditional production processes. Manufactured only when a part is needed instead of pre-producing whole batches. The amount of material used is also lower in most cases. In addition, transport costs are reduced because the production chain is shorter, for example, when individual components no longer have to be purchased separately from suppliers.
3D printing: These industries are moving forward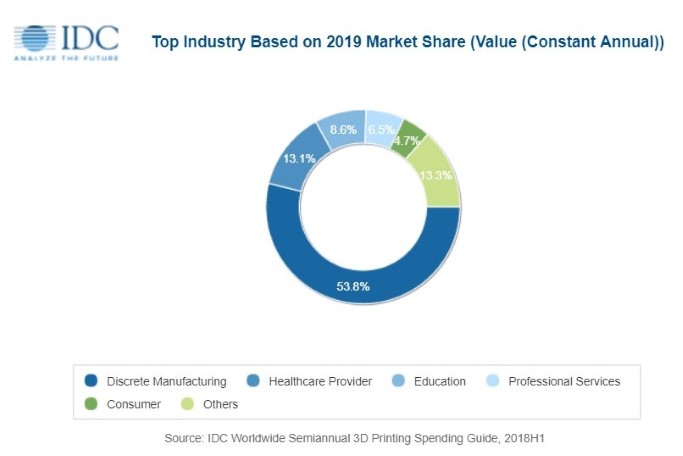 Source: IDC
According to the IDC, the discrete manufacturing, i.e. the creation of individual parts (this includes cars, aeroplanes, trains, electrical appliances and clothing), is the dominant industry for the use of 3D printing. Healthcare providers are the second largest industry, followed by education and professional services.
The automotive industry was one of the first to apply these techniques to its production processes. In the last ten years, German automaker BMW produced one million parts using additive manufacturing, and this year production will rise 42 per cent over the previous year.
VW, Audi and Daimler are also using the technology, mainly because of the savings in warehousing and logistics costs. Spare parts can be made as needed instead of being stored for many years.
The personalisation of vehicles and components is now also the focus. With MINI Yours Customised, customers can design their own components such as turn signals and dashboards. They create their designs in the online shop and the parts are then printed in 3D.
With 3D printing, products can be made with the required properties when and where needed. But we are still quite a distance away from large 3D machines or printed clothing.
Our 5 reading tips of the week
Die Deutsche Bahn verkürzt Lieferzeiten [CIO]
The Best 3D Printers For Kids [Forbes]
8 ways small businesses can tap into 3D printing [The Next Web]
Silicone 3D printing startup Spectroplast spins out of ETHZ with $1.5M [Techcrunch]