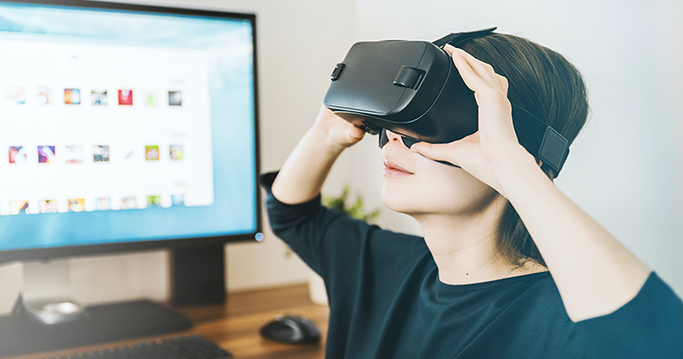 Zoom meetings. Conferences on Slack. Calls via the Teams app. Homeschooling. Doctor's appointment via a surgery portal. Video chats come into play wherever conversations of a formal nature take place. They often work according to the same principle.
Are they efficient? Yes. Can they digitally reproduce real conversations 1:1? Not always. What a shame, really. Where are the holograms inspired by sci-fi movies when you need them? They could soon become reality.
Virtual Reality as an Option for Business Meetings?
The start-up Spatial offers a different perspective at least. The collaborative workspace app, which is now also available for the popular Oculus Quest VR headset, features 3D group meetings with several realistically depicted participants, as shown here in the Spatial.io demo:
Whereas many video chat alternatives still try to make video meetings look more creative with cartoon avatars or floating video tiles, Spatial uses holograms that show participants with their real faces, realistic head and hand movements and synchronised lip movements – without 1.5 metre distance and without FFP2 masks.
The interior of rooms can be modelled in detail with furniture, tables and plants – just like in a real office, including handshakes and hugs. There is practically no interpersonal communication that cannot be covered by the Spatial holodeck. This is a real innovation that could usher in the post-video chat era.
That is how Spatial imagines it, at least. But can it replace traditional video conferences?
Virtual Reality > Video Conferencing?
It comes as little surprise that Facebook is also thinking about integrating virtual rooms into its platform in the future. With the VR platform »Horizon«, the social media giant wants to bring together users via headsets and offer a virtual workplace in »Infinite Office« before the end of the year – including all conceivable facial expressions and gestures, of course.
However, the technology is still in its infancy. In practice, the 3D images seem somewhat stiff and immobile, even anti-authoritarian at times. The technical hurdle is just as high as the ethical one. Some test participants even reported that they felt sick or dizzy after visiting the virtual rooms. Others pointed out that there were no clearly defined rules in the virtual space, as the virtual reality was more about playfulness than process optimisation.
It goes without saying that providing a comprehensive virtual work experience is not easy. The first tests of virtual rooms at least give cause for optimism that some companies will put this into practice in the not too distant future and that holography and mixed reality will then be as suitable for working from home as desktop computers and laptops are today. In the future, such technologies may be particularly attractive for the event industry in order to present trade fairs as realistically as if participants were there live – although they are actually at home.
Our 5 Reading Tips of the Week
Remote Warm-Ups Revisited: Boosting the Mood and Outcome of Your Next Online Meetings [Handelskraft]
4 Reasons Why You Should Move Your Next Video Call to VR [The Leadership Network®]
How Video Conference Calls Have Transformed the Way We Communicate [RingCentral]
4 Ways Digital Collaboration Drives Efficiency and Value [Coolfire]
AR and VR Are on the Rise in Construction [Handelskraft]