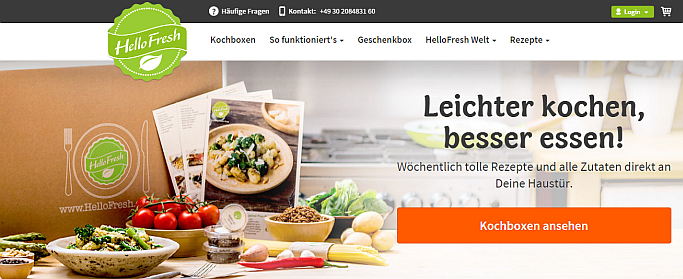 There's one number that currently astonishes the industry: Hello Fresh is worth 2.6 billion €. Anyone who considered 600 million overrated can rub their eyes in disbelief now. The start-up that delivers cook boxes for your high-class culinary evening apparently prepares its flotation.
The food industry is increasingly getting in motion. Whether it's Tengelmann's difficulties, Rewe Digital's efforts, or the trembling at Amazon Fresh's launch in Germany – not a single week passes without exciting news.
While Jochen Krisch allowed Hello Fresh to talk about their plans and processes in detail and praised the market dynamics at the K5 conference, others are alarmed: Telebörse's article "Hello Fresh – hello brain!" already warns about the fantastically rated start-up:

» The bubble glows iridescently for start-up businesses. Want an example? How about the Berlin delivery service Hello Fresh? Here you really can't discern a billion rating. «
Are the numerous funding rounds and explosively shooting up ratings signs of a new bubble or can we simply ascribe them to the new dimensions that e-commerce businesses take? In my opinion both theses aren't mutually exclusive. What do you think?
Our reading tip of the week: