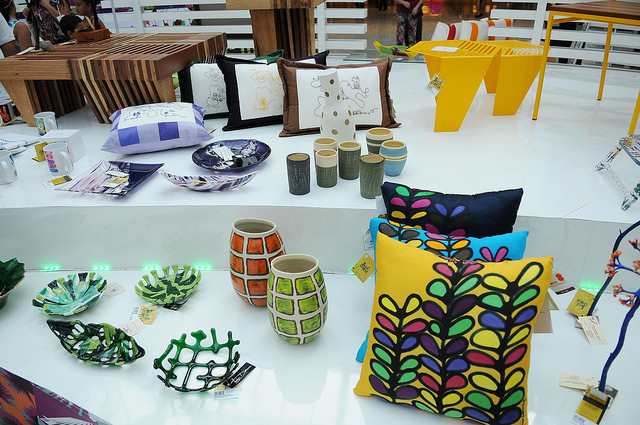 Many voices anticipate the burial of brick and mortar stores however, it seems they will have the chance to retrain into something else taking advantage of their strengths to survive, coordinating together with digital solutions to offer experiences instead of only products and services.
The world is already digital, e-commerce and online shops are breaking their current horizons, transforming business models, changing drastically the role of every agent involved in the business process and creating new concepts.
For example, shoppers are changing their behaviour because of the free use of smartphones and similar devices. Today people, especially millennials, check their phone at the store, comparing prices and features in the competition. Others prefer to go to the store, try and touch the products they are interested in and afterwards order online.

Brick and click
This fact together with the future perspective of retails (Think Big) led me to think in the conversion of brick and mortars into fulfillment centers as a great opportunity to really be adaptable to changes that the new era is forcing companies to take. Customers are more demanding than before and have new expectations, so companies should put the focus on them to meet their needs, as we already mentioned in previous articles.
One way to do so is to use stores as showrooms, guided shops or fulfillment centers. That is what, Stephen Laughlin, a vice president and general manager at IBM, stated to Computerworld last week: "We're on the cusp of a lot of change. It's not just about the technology, but it's about business models…You need brick and click together, but the roles are going to evolve in terms of how they work together. We'll see the role of the store becoming a showroom".
In 2025, the retail panorama will reflect this tendency according to the IBM's Retail 2015 report which is going to be fully released in February.
It makes sense because, on one hand, the physical stores can fill the gaps of digital services: the capacity to experience products and services with the 5 senses, letting shoppers touch, feel and try selected merchandise; and on the other hand, brick and mortar stores will be totally digitalized as they will order the shopper's purchase online and then ship it to the shopper's home.
In connection with the idea of merging both concepts into one, you can find an illustrative infography , made by whisbi.com, about this trend and found in the RetailNext's blog.
Already in place
This new concept has been already putting in practice by some e-retailers in USA, like Bonobos, which offers "Guideshops", a place where you can try on and order all the items that are online, or the women's apparel Modcloth.
Furthermore, the pop-up shop concept, which was born a few years ago, is gaining more followers again as a need to face the challenges of the retails panorama. A pop-up shop is a creative and effective way to always invigorate the shopping experience of consumers through innovations and spontaneity.
Moreover, showrooms or temporal showrooms are very popular among small webshops to offer an added-value and a more complete experience to their customers. Some small business use social media channels like Instagram or Pinterest to promote initially their online services but after building up an extensive client portfolio, decide to take a step further creating or organising a showroom where customers can also find selected lines, discounts and enjoy a brand experience together with other shoppers in a festivity of their life style.
In Germany, during the Internet World trade show, weShop, a holistic shop solution, developed by the communication agency Serviceplan together with Vitrashop, Cancom, Cisco and NEC, illustrates a futuristic store where visitors can experience an individualized customer approach using beacon technology and style advice via video conferencing, among other innovations.
Considerations
However, this extreme change predicted by the IBM report will be more complicated to face for global and multinational companies, because it might require a significant transformation in terms of retailer supply chains so it is unlikely, according to some experts, to complete the transformation within 10 years and even unaffordable for others.
What it clearly shows is that the path towards the complete digitalization of our entire world, habits, and environments is unavoidable, for companies, as well as the union between brick and mortar stores and webshops in that new era.
These first insights of the report don't leave anybody unmoved and so many questions arise: which stores will survive the so-called retail apocalypse and how? What is the perfect formula: 100% digital or the conjunction of both as IBM predicts?
Our 5 reading tips of the week: