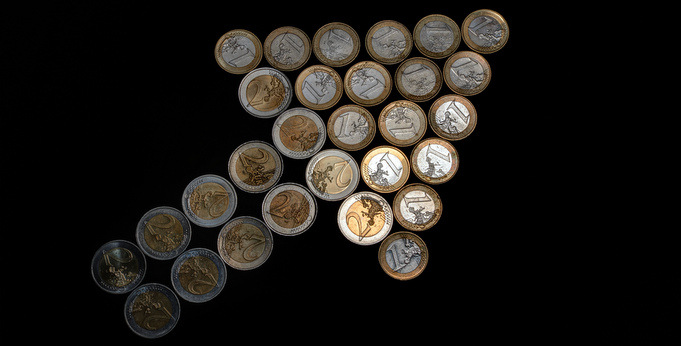 The German-speaking area e-commerce is in top form, growing at fast-pace, and concentrating even more strongly. The biggest players are keeping up a solid lead whereas the smaller can't catch up. This is the result of the rankings of the 1,000 biggest online shops in Germany "E-Commerce-Markt Deutschland 2017" and the Top 100 onlineshops in Austria and Switzerland "E-Commerce-Markt Österreich/Schweiz 2017" from EHI and Statista.
Sales growth and high concentration
Germany
The German e-commerce continues to grow. In 2016 the turnover of the top 1,000 online stores increased by about 11 percent compared to the previous year. Meanwhile, the ten biggest shops account for 40 percent of total sales.
The most successful German online shop is, unsurprisingly, Amazon.de, which has dominated the German e-commerce market for many years and in 2016 had a turnover of 8.1 billion euros. Otto.de follows the Seattle giant with a turnover of 2.7 billion euros and Zalando, which generated 1.1 billion euros.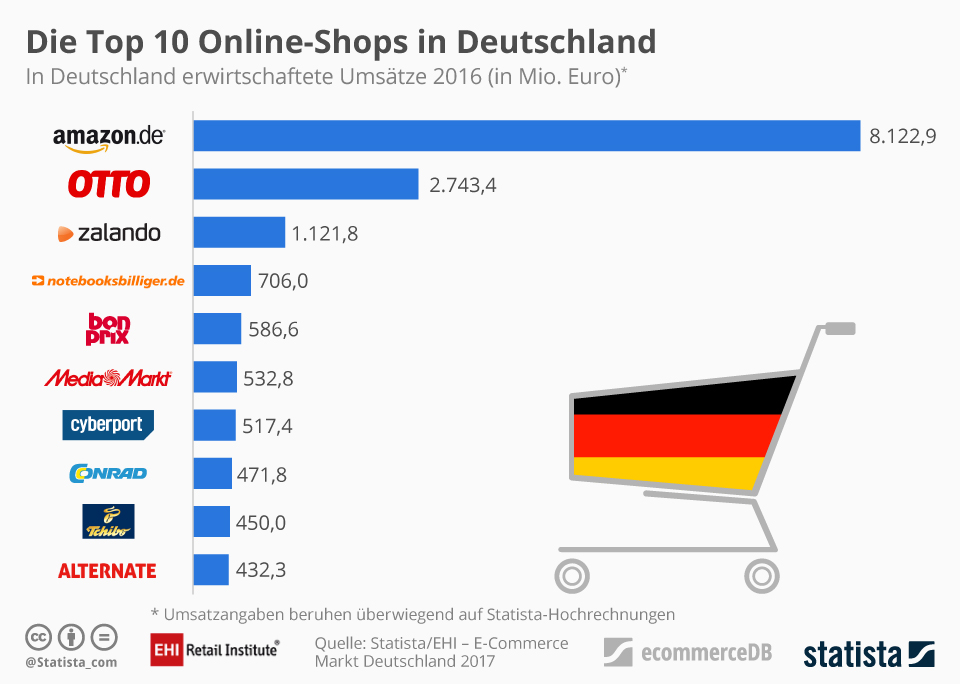 In total, the 1,000 top-selling onlineshops recorded sales of around 40 billion euros in 2016, 4.1 billion euros more than the previous year. The top 10 generated 15.7 billion euros, whereas shops with the rank 501 or lower generated less sales than in the previous year for the second time in a row.
This situation promotes strong concentration within the market, which gives the smaller shops a disadvantage.
Switzerland and Austria
Sales of the top 100 Swiss online shops increased by 12.8 percent to around 5.5 billion francs. A similar situation can be seen in Austria, where the 100 top-selling online shops generated 2.1 billion euros in physical goods on the internet in 2016.
The market concentration here (as well as in Germany) remains high. In Austria, the top 3 generated around 40 percent of the total turnover out of the top 100 and in Switzerland, 30 percent.

The front runners in Austria are Amazon.at (556 million euros turnover), followed by Zalando.at (174.3 million euros) and Universal.at (111.1 million euros).
Unlike in Austria and Germany, Amazon does not have the leading market position in Switzerland. However, the largest three online shops are very close to one another. In first place there is Digitech.ch (with sales of 602 million francs), followed by Zalando.ch (534 million francs), and then Amazon.de (475 million francs).
Mobile commerce is taking root
Six out of ten users say that their expectations of their mobile user experience are not fully met. It's looking like merchants are trying to change that impression. According to one study, almost 90 percent of German retailers have adapted their online shops for mobile devices, which represents an increase of 10 percent compared to the previous year. That's good news, but retailers should not stick to this standard. Instead, they should look for new ways to make the user experience even easier.
It's worth noting that more and more retailers are responding to the omnichannel demands of digital customers. Overall, the proportion of retailers that offer different touchpoints (in addition to the desktop online shop, catalogs, mobile version of the web shop, or stationary stores), has increased slightly, from 925 to 959.
Social commerce on the upswing
Social media is winning in importance, to strengthen customer loyalty.
» "Using social media as a direct approach, we can convert normal customers into loyal fans",
Christoph Langenberg, e-commerce expert at EHI. «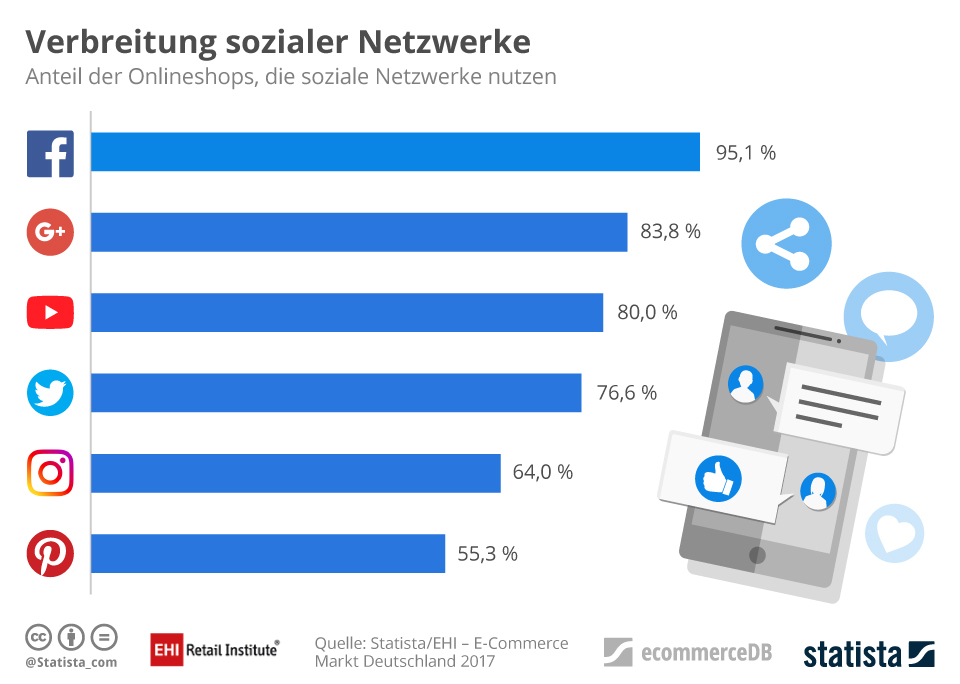 As the graph shows, Facebook is the most used social network by merchants, followed by Google+, and YouTube. The video platform has become very popular lately, and it should come to no surprise that it has overtaken Twitter. In fact, 29 percent of customers prefer product videos to product descriptions.
Facebook is the undisputed social media king, and Facebook's new marketplace feature is an important strategy to link content and commerce.
It offers some starting points in terms of social commerce, to turn users into buyers or to bring the user closer to the sales department. Here, however, a long-term strategy is the most important prerequisite for having a presence on Facebook and using Facebook as a sales channel. In addition, the social network should always be integrated into the entire marketing mix to become part of the buying process.
Our 5 Reading Tips of the Week
Essen bestellen mit Facebook [Internet World Business]
Kampf gegen Amazon: Rewe steckt Milliarden in die Digitalisierung [t3n]
Top 100 Player: Die deutsche Modebranche im Online-Raster (2016) [Exciting Commerce]
"Immense Nachfrage": Hunkemöller zieht es in Schweizer Einzelhandel [Neuhandeln.de]
Warum Alibaba für deutsche Händler in China die erste Adresse ist [etailment]