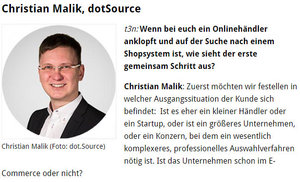 Our CEO Christian Malik gave an interview to the online presence of t3n at the dmexco. Topics included criteria for selecting shop systems
From the strategic consultation to the final system
Christian explains the process of a client consultation in detail, also giving tips on preparing for such a talk and naming criteria for the selection of a shop system. A special emphasis here was laid on the strategy phase and so with, on the question if there is a strategy at all and if yes, what it looks like. The complete interview, conducted by Jochen G. Fuchs is available on the t3n-homepage.
Learn more: Whitepaper "Selecting E-Commerce Software"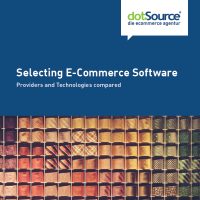 In our new whitepaper, we provide an overview of the central decision making criteria for the selection of e-commerce software and introduce Germany's more important systems nad providers in entry, mid and enterprise areas. We have also taken on an evaluation of the systems in a DACH centred matrix. The Whitepaper can be requested here.