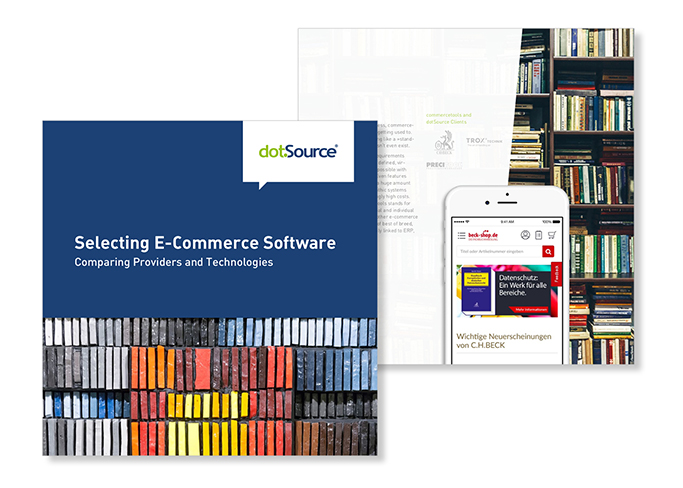 As for e-commerce in 2019, there are two important pieces of news: Good and bad. First, the good news. E-commerce is growing and growing, it is and remains one of the strongest growth markets in the DACH region's economy. From 6.4 billion euros in 2005 to 35.6 billion euros in 2014 and 53.4 billion euros in 2018.
But with or without growth, online commerce is also a competitive market, especially in B2C, but also increasingly in B2B. What to do to maintain competitiveness or even become a pioneer? One of the most important success factors is selecting and implementing a tailor-made e-commerce system. But which e-commerce software suits whom? And what developments are there?
The answers lie in our updated white paper »Selecting E-Commerce Software – Comparing Providers and Technologies«.
Not only do we describe the leading providers for different sizes of companies from start-ups to Enterprises but we also explain why online stores are evolving towards e-commerce functions as part of a DXP and how technologies such as Framework or SaaS differ.
Success in e-commerce doesn't require software
Here's another tip. In order to be successful in e-commerce today, it's no longer absolutely necessary to have shop software. Instead, it requires a tool that fits into the system landscape and corporate strategy. In other words… What used to just be an online shop has to become an intelligent transaction platform.
Today's customer journey isn't just about clicking and buying, but rather all the touchpoints that can make up a digital experience platform. That means that it's more important than ever in the mess of e-commerce providers and systems, to keep your eye on the goal.
The commerce vendor matrix provides an overview
In addition, practical overview tables and the updated dotSource vendor matrix provide an exclusive assessment of which systems are leading based on independent criteria.
It's striking that all major players have strategically expanded their portfolios in recent years through acquisitions. That's why in this white paper we're going to focus not only on the specifics of the tools, but also on the company's history, including how Salesforce integrated Demandware or SAP hybris, and how the development of Magento, which has been owned by Adobe since 2018, is taking place.
The white paper also analyses the strengths and weaknesses of major players, including Salesforce, SAP, Magento/Adobe, IBM, commercetools, and Intershop, and what all of these developments mean for e-commerce providers in both B2C and B2B.
The right tools for B2C and B2B
In addition to comparing providers for B2C and B2B, we provide extensive recommendations on what decision-makers should look for in e-commerce software selection.
But we don't just focus on enterprises, we also have chapters for smaller and mid-sized companies that want to get fit in e-business.
Last but not least, we focus on strategic issues and focus on what matters in-house for a system change or upgrade.
Download the e-commerce white paper for free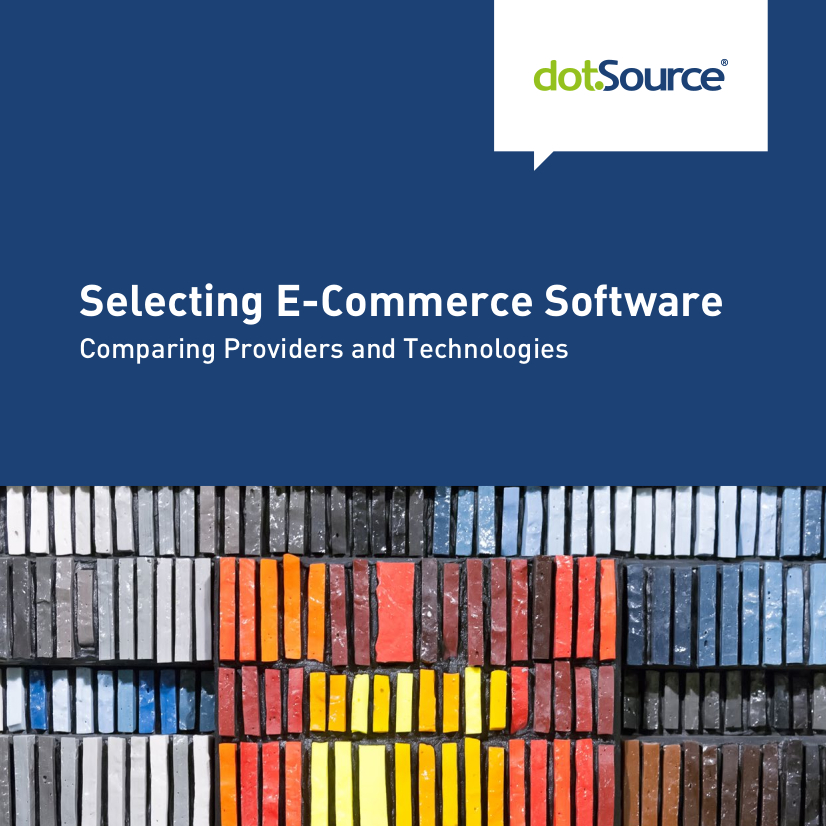 We provide a clear view of future-oriented, e-commerce technology. That's what this publication has, and more, to offer.
The updated whitepaper »Selecting E-Commerce Software – Comparing Providers and Technologies« is available here exclusively for dealers, manufacturers and publishers for free download.